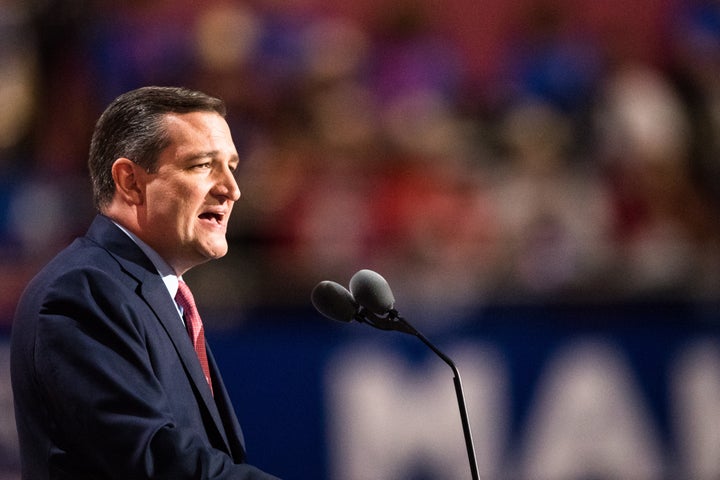 The poll, conducted in the two days following the convention, found only 33 percent of voters have a favorable view of Cruz. Prior to the convention, a survey put Cruz's favorability at 60 percent among Republican and Republican-leaning voters, according to CNN.
The poll also showed an overall bounce for Trump ― not an uncommon result for candidates immediately following their party's convention, in part because they often unify the parties.
At the Republican convention in Cleveland, many GOP voters unified against Cruz. After making a failed bid for the nomination, he declined to endorse Trump and told Republicans to "vote your conscience."
Cruz was met with boos from the crowd, but didn't back down the next day, saying it was personal because of Trump's attacks on his wife and father.
"[I'm not going to] come like a servile puppy dog and say, 'Thank you very much for maligning my wife and maligning my father," Cruz told the Texas delegation at the RNC.
Trump later said he didn't want Cruz's endorsement anyway and wouldn't accept it. He said Cruz "would've been in better shape for four years from now" if he did endorse Trump.
"Somebody got booed the hell out of a place by thousands and thousands of people," Trump said on Friday. "There wasn't one person in the room ― not one. And then they said there may not be unity. Unity? There wasn't one person in the room, including the Texas delegation, right? Honestly, he may have ruined his political career."
Cruz has low overall favorability nationwide in the new CNN/ORC poll. Twenty-seven percent of all voters surveyed said they had a favorable opinion of them, including just 18 percent of those who lean Democrat.
Of course, this is a single poll that took place immediately after the flap, and there's a lot of time for Cruz to regain his footing with conservatives. He doesn't have to run for reelection until 2018, or for president until 2020.
Best Photos From The Republican National Convention
Popular in the Community