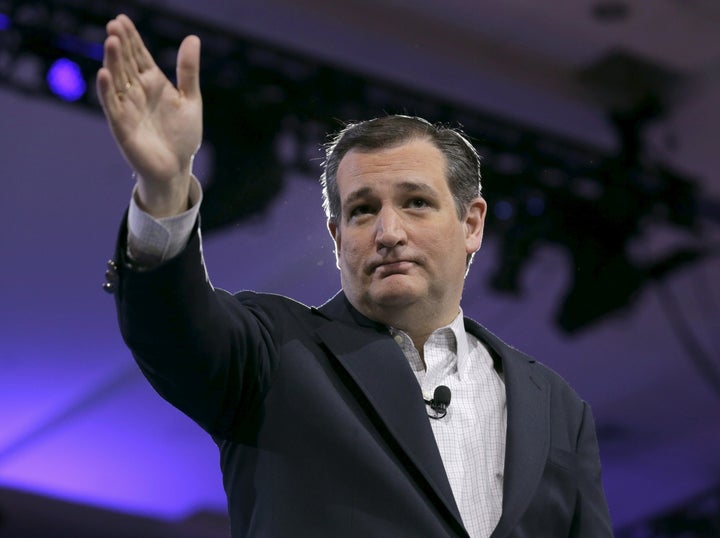 HOUSTON -- A bejeweled woman in a festooned hat mingled with a mustachioed man in a red, white and blue bow tie, as each double-fisted white wine from the cash bar. A few feet away, a local congressional candidate exchanged "howdies" with cowboy boot-wearing GOP donors, as they entered the Harris County Republican Party fundraising dinner on Wednesday night.
This was Texas a week before the state's pivotal March 1 presidential primary.
The hometown candidate was well-represented here, via the "Ted Cruz for President" stickers that nearly half of the attendees had affixed to their tuxedoes and gowns.
These were some of the very same influential conservatives who helped launch Cruz in early 2011, when he set out on a long shot Senate bid. Cruz often jokes that at the time, he was polling at 2 percent in surveys that had a margin of error of 3 percent.
Five years later, Cruz is asking Republicans here in his home state -- the heartbeat of American conservatism -- to help him live to fight another day. On the eve of the Texas primary, Cruz's 2016 presidential bid increasingly looks like a fading prospect in the face of Donald Trump's mounting electoral success.
Yes, Cruz is the only Republican remaining in the race who has defeated Trump in any state so far -- as the Texas senator will gladly remind anyone within earshot.
But Cruz's central problem is a nominating calendar that once appeared like it could be his best friend, but now increasingly looks tailor-made for a bombastic New Yorker to sweep to a string of victories among a deeply angry Dixie electorate.
Though polling in many of the Super Tuesday states has been sporadic, of the dozen March 1 contests, Texas in the only one where Cruz has held a consistent advantage over Trump, according to an average of recent polls.
And even that lead now appears tenuous, as a SurveyUSA poll conducted this week showed Trump and Cruz tied for first place in the Lone Star State.
Cruz does, however, have reason for some hope that he can survive with a home state boost.
Texas will award more delegates than any other GOP contest, though the allocation is proportional. And if Cruz holds on to the state even as Trump wins everywhere else, Cruz will be able to make a case for continuing his candidacy -- on a prayer that something will trip up the frontrunner somewhere down the line.
At the Harris County GOP dinner, a lengthy prayer of a different kind opened up the festivities, immediately before the crowd took two separate pledges of allegiances -- one to the Stars and Stripes and one to the flag of Texas ("the greatest state in the greatest country in the world"). Next came a group singalong of the national anthem before the main event finally got underway.
The lengthy invocation of state and national pride served as a reminder of the particular brand of deep-seated, old-fashioned conservatism for which Texas has long been a breeding ground. It's a collective value system that would appear on its face to have far more in keeping with a candidate like Cruz than one like Trump.
But then again, the same might have been said for every other state where the populist-propelled frontrunner has triumphed thus far.
Texas Gov. Greg Abbott (R), who endorsed Cruz officially earlier in the day, began his remarks at the dinner with a healthy dose of Texas-style bravado. Abbott checked off his list of accomplishments in office, and then delivered the "bad news" to every other governor in the nation: "We will continue to kick your tail."
Next, Abbott spoke about the "crossroads" that the country was in, adding his view that the right to bear arms was being threatened by "East Coast elites"--probably just the kinds of folks, it need not have been said, who were being taken in by a certain reality TV star-turned-White House hopeful with New York values.
"I know when I vote for Ted Cruz that he is going to live up to the promise of true conservative Texas values," Abbott added.
Applause followed, but it was of the polite, dinner crowd variety.
Texas-style whoops were similarly absent when Cruz took the stage a few moments later.
As he paced the stage in his typical manner, Cruz pointed to the in-state endorsements he'd received from Abbott, Lt. Gov. Dan Patrick, former Gov. Rick Perry "and more than half of the Texas republican state delegation in Austin."
He then played political analyst, noting that the role of the first four states on the presidential calendar has traditionally been merely to "narrow the field," while Texas now has an opportunity "to make a choice."
"It has been an interesting race, to put it mildly," Cruz said. "This has not been boring."
He predicted that Super Tuesday would be "the most important day of the entire presidential cycle," adding that nearly half of the delegates required to win the nomination would be awarded by that day, including the 155 that will be doled out by "the crown jewel" of Texas.
Finally, after running through his typical stump speech and taking his usual array of shots at Trump, Cruz -- the consummate political performer -- did something that he rarely does in public: He took out a piece of paper and read from it.
It was a copy of the famous letter penned by William Barret Travis -- a lieutenant colonel in the Texas Army -- on Feb. 24, 1836, as he and his troops were hunkered down at the Alamo.
"'I am besieged, by a thousand or more,'" Cruz began reading, pausing briefly as he skipped over the next part of Travis' letter, which had identified the enemy as "the Mexicans under Santa Anna."
Cruz repeated Travis' vow to "never surrender or retreat" and raised his own voice to relay the Texas soldier's final rallying cry: "Victory or death."
For Travis, and all of the other Texan defenders under siege at the Alamo on that day, it would prove to be the latter.
But Cruz didn't say that. Instead, he turned the obvious metaphor that he was drawing into an even more direct allusion to the current political battle lines.
"Today, America, just like the brave heroes of the Alamo, America is besieged--we are besieged by an assault from Washington that's taking away jobs and that is piling debt on our children and grandchildren," Cruz said. "And I believe now, just as in 1836, that it will be the people of Texas who will stand together and say, 'Enough is enough. No more Washington deals. No more giving into the debt. No more surrendering our values. Let us stand for who we are as Americans.""
This time, the crowd responded with the enthusiastic applause for which Cruz had been reaching.
As he prepares to face off against Trump and the three other remaining Republican candidates in Houston on Thursday night, the last Texan standing in the GOP field knows full well that it's his own do-or-die time.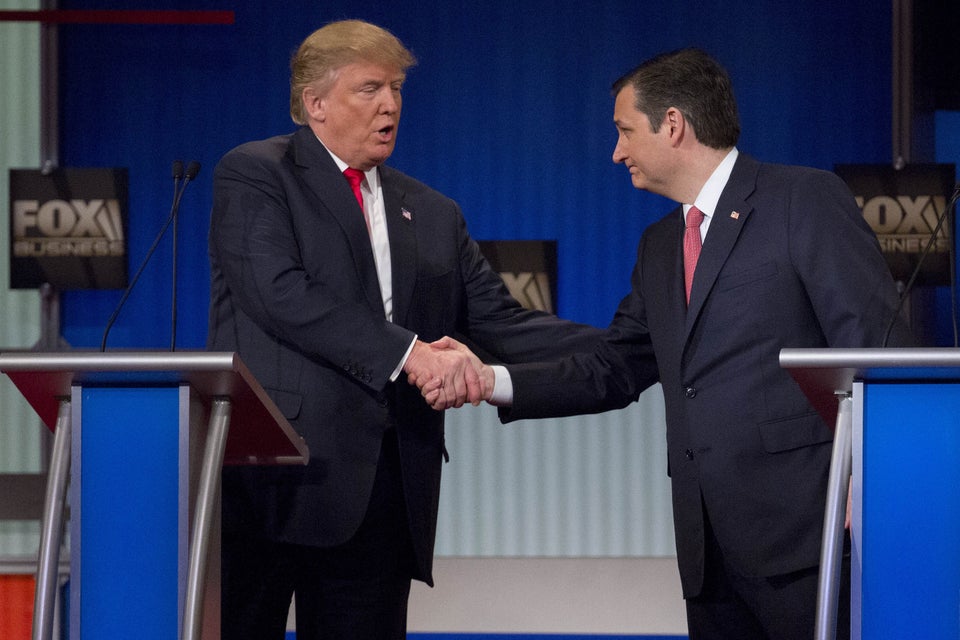 Donald Trump and Ted Cruz's Love Affair Is All The Relationships
Popular in the Community