So, that happened. Sen. Ted Cruz (R-Texas) came into the third GOP presidential debate with little to lose and everything to gain. He got more out of the night than anyone else on stage.
Listen to The Huffington Post's analysis of the debate in the latest episode of the "So, That Happened" podcast above. The fun starts right off the top.
Long, long ago, in the pre-Trump political era, Cruz built his brand as the politician most willing to say and do outlandish things to whip up support from the Republican base. He almost single-handedly shut down the federal government over Obamacare in 2013, securing zero conservative policy goals while getting a lot of press clips about reading Green Eggs and Ham. But everybody who dug this stuff went to Donald Trump when the real estate billionaire started ripping on immigrants as rapists and calling his fellow Republicans soft.
While Cruz waited for Trump to flame out, conspiracy theorist and dietary supplement pitchman Ben Carson surged in the polls as an alternative for Republicans fed up with politicians in Washington. On debate night, Cruz outshone them both without targeting either. He dodged a question about the debt limit to rail against the media, generating the biggest applause of the night. As Trump and Carson delivered snoozy performances, Cruz looked fired up.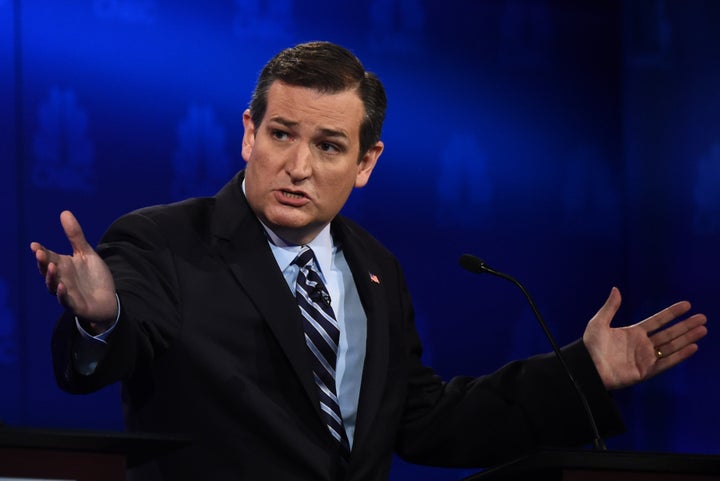 Sure, Marco Rubio delivered what was likely a knockout blow to Jeb Bush, but let's face it: Jeb had been polling in the single digits for months, and didn't exactly look presidential in the prior debates. As Norman Ornstein, resident scholar at the conservative American Enterprise Institute, noted for The Atlantic, Rubio's task isn't simply to beat Bush. Rubio needs to shore up all of the conservative and establishment Republican votes, along with a big chunk of the outsider bloc. Cruz denied him the latter contingent during the debate.
Also on this week's podcast, we discuss Paul Ryan's new gig as House Speaker, Elizabeth Warren's fresh fight for a retirement security rule, a major student loan debacle and the final big budget deal standoff of the Obama era. 
This podcast was produced and edited by Adriana Usero and Peter James Callahan, and engineered by Brad Shannon, with assistance from Christine Conetta.
To listen to this podcast later, download our show on iTunes. While you're there, please subscribe, rate and review our show. You can check out other HuffPost podcasts here.
Calling all HuffPost superfans!
Sign up for membership to become a founding member and help shape HuffPost's next chapter