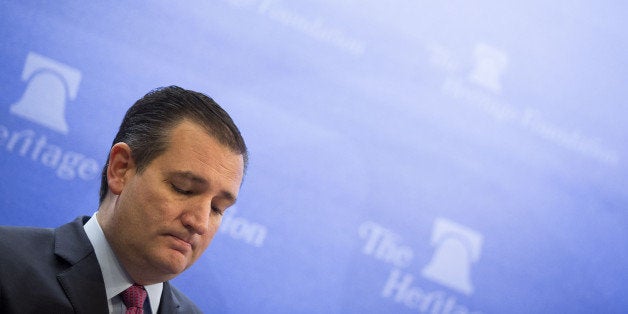 With the start of primary season right around the corner, Trump's still going strong. Cruz and Sen. Marco Rubio appear to be surging. Ben Carson seems to be floundering. An increasingly common narrative has emerged which says that, while the race remains very fluid and unpredictable, Trump, Cruz or Rubio are the most likely candidates to take the GOP nomination.
New York Times columnist Frank Bruni has recently written a terrific piece explaining why a Cruz presidency would be such a disaster. The article is aptly titled "Anyone but Ted Cruz".
Here's the end of the piece:
Many politicians rankle peers. Many have detractors. Cruz generates antipathy of an entirely different magnitude. It's so pronounced and so pervasive that he's been forced to acknowledge it, and he spins it as the price invariably paid by an outsider who challenges the status quo, clings to principle and never backs down.

No, it's the fruit of a combative style and consuming solipsism that would make him an insufferable, unendurable president. And if there's any sense left in this election and mercy in this world, it will undo him soon enough.
Cruz is very smart -- no question about it. And he's extremely ambitious. That said, brains, boldness and eloquence don't necessarily translate into a great presidency or even a decent one.
Cruz claims he's the quintessential political outsider, although the reality is that Cruz exemplifies a lot of what's wrong with American politics today. Cruz's is widely unpopular in the U.S. Senate; there's no getting around that. Forget about working across the aisle; Cruz isn't even interested in working with people in his own party. He's a political hooligan masquerading as statesman. Put bluntly, Cruz doesn't appear to be a very good person.
If Trump falters, Trumpians will be looking for someone else to back. And, as many have already suggested, it makes sense that Trump supporters might gravitate towards Cruz if Trump is no longer in the picture. The possibility of this happening should terrify reasonable Republicans. Trump and Cruz are both parochial narcissists who shouldn't be let anywhere near the Oval Office.
Clinton remains the favorite, though she isn't without flaws. However, if the GOP wants to try to make this a close race, the party should at least nominate someone who's a decent human being. On that score, Trump and Cruz both come up way short.
REAL LIFE. REAL NEWS. REAL VOICES.
Help us tell more of the stories that matter from voices that too often remain unheard.