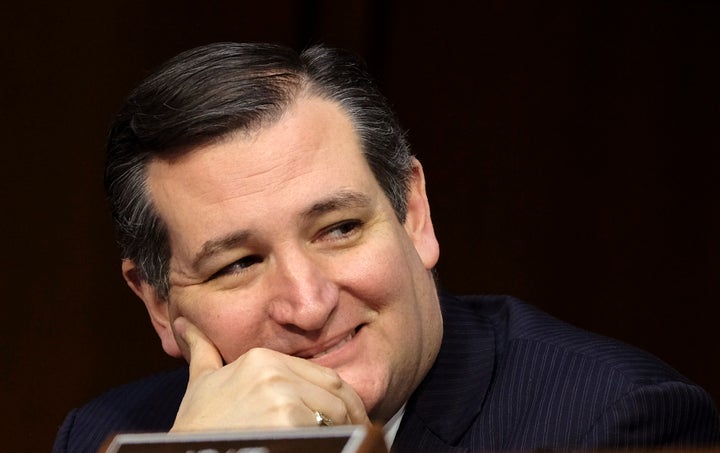 Sen. Ted Cruz winked back on Wednesday, which made a bunch of people on Twitter unhappy.
The Texas Republican tweeted a nod to the popular meme that he's actually the unidentified serial murderer known only as the "Zodiac Killer."
Cruz was responding to a string of tweets set off by Sen. Ben Sasse's admission during Wednesday's Senate Judiciary Committee hearing that he had just spilled Dr. Pepper on Cruz.
One Twitter user told the Nebraska Republican that if he were "sitting with the son of the guy who killed Kennedy I might do worse than spill some Dr. Pepper." That tweet was in reference to a paper-thin conspiracy theory suggesting that Cruz's father helped Lee Harvey Oswald pass out flyers supporting Fidel Castro about three months prior to Oswald's assassinating President John F. Kennedy.
Sasse came back with his own snark, claiming he was wearing a "Lee Harvey Oswald Was Framed" T-shirt when the soda spilled.
In a clear attempt to be playful, Cruz answered Sasse's remark with an image of a Zodiac Killer letter.
Which may have drained all the fun out of the meme. Twitter users had a lot to say about it:
The real Zodiac Killer wrote a series of anonymous letters to Bay Area press in the late 1960s and 1970s claiming that he or she had killed 37 people. The Zodiac Killer meme is a joke that started in 2013 when @RedPillAmerica tweeted that Cruz would give a speech entitled "This is the Zodiac Speaking." The internet picked up the idea and ran with it.
Calling all HuffPost superfans!
Sign up for membership to become a founding member and help shape HuffPost's next chapter
BEFORE YOU GO
PHOTO GALLERY
Things That Ted Cruz Looks Like