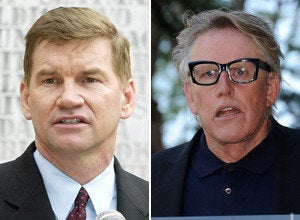 Welcome to reality TV at its finest.
According to ColoradoSprings.com, Ted Haggard, the pastor and former president of the National Association of Evangelicals who was ousted after admitting to doing drugs and having a relationship with a male prostitute, will be trading spouses with actor Gary Busey on an upcoming episode of "Celebrity Wife Swap."
Haggard and Busey, who is a born again Christian, will trade wives and have cameras follow them around as the women try to reshape the other man's home and family life.
The episode will film Thursday at the GLBT Pride Center in Colorado Springs.
The former pastor of the New Life megachurch, Haggard saw his life crumble after he was caught in the affair. Now willing to admit he may be a bisexual, he runs the non-denominational St. James church and makes assorted media appearances trading on his scandal.
Haggard and his wife Gayle appeared on a 2009 episode of "Divorce Court," and featured in a TLC documentary about his fall and rise, called "Ted Haggard: Scandalous." He also had a documentary on HBO, and has appeared on countless talk shows, including "Oprah."
He also recently made a cameo in a Christian sex comedy movie.
Busey is no stranger to the reality TV game; he is an alum of both "Celebrity Rehab" and, most recently, "Celebrity Apprentice."
Calling all HuffPost superfans!
Sign up for membership to become a founding member and help shape HuffPost's next chapter