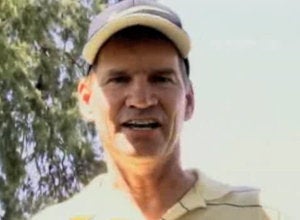 Fallen evangelical leader Ted Haggard, who was disgraced by a gay sex/meth scandal in 2006, is back — and he's taking his story to HBO in a documentary called, "The Trials of Ted Haggard."
The New York Post's Don Kaplan reports that Haggard will promote the documentary next month, his first public appearance since the scandal broke:
The coming out is set for next month at a convention of TV critics in LA.

"We look forward to presenting the film, Ted Haggard and his family at a press tour in LA next month," said a spokeswoman for HBO.

When the scandal broke, Haggard was paid a year's salary, about $130,000, and agreed not to talk about it publicly.

But now the former leader of one of the largest churches in the US is free to talk about his downfall and has chosen the semi-annual Television Critics Association press tour in January as his first forum.

"We have released Ted and [his wife] Gayle from their separation agreement with New Life Church," senior pastor Brady Boyd said yesterday in a statement. "They are free to move forward with their lives in any way they choose without any legal constraint from the church."

In the film, by Nancy Pelosi's documentarian daughter Alexandra, Haggard says that he never claimed to be heterosexual and that he still struggles with homosexual impulses. From the AP:
COLORADO SPRINGS, Colo. -- Disgraced evangelical leader Ted Haggard says in a new documentary that he still struggles with his sexuality yet is committed to his marriage for the sake of his children.

Haggard, 52, resigned as president of the National Association of Evangelicals and was fired as senior pastor of New Life Church in Colorado Springs in November 2006 after a former male prostitute went public with allegations that Haggard paid him for sex and used methamphetamine.

A father of five, Haggard had said he bought the drugs but never used them. He confessed to undisclosed "sexual immorality" and has said, "I really did sin."

The Gazette of Colorado Springs reported Thursday that in the documentary, Haggard talks about a lifelong battle with his sexuality _ and that he never claimed to be heterosexual.

"The reason I kept my personal struggle a secret is because I feared that my friends would reject me, abandon me and kick me out, and the church would exile and excommunicate me. And that happened and more," he says.

Haggard's wife, Gayle, says she is committed to Haggard.

"I know to restore the honor to our children is to help restore honor to their father," she says.
Story continues below

"The Trials of Ted Haggard," directed by Alexandra Pelosi, daughter of U.S. House Speaker Nancy Pelosi, is set to air Jan. 29 on HBO. The Associated Press reported Wednesday that Haggard has agreed to promote the documentary.

Haggard moved his family to Arizona after the scandal and also lived in Texas. He re-emerged last month at a rural Illinois church, where he delivered guest sermons and said he was sexually abused as a second-grader.

He now sells insurance and, in the documentary, says he isn't successful.

"At this stage in my life, I am a loser," he says.
Watch a preview of the documentary here.
Related
Popular in the Community