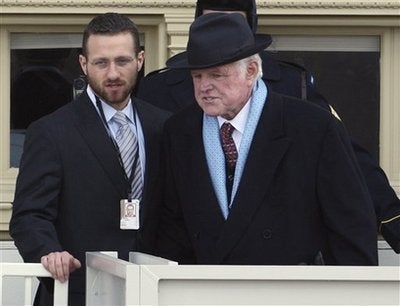 Kennedy's office confirmed that on Wednesday morning he left Washington Hospital Center, where he had been resting overnight for observation. A spokeswoman says he was in good spirits and doctors wanted him to get some rest.

Doctors blamed fatigue for the seizure. Kennedy has been under treatment for a brain tumor, suffered during an inaugural luncheon after hours at events celebrating the swearing-in of President Barack Obama.
UPDATE 5:36 PM: AP reports that fatigue caused Sen. Kennedy's seizure at a congressional lunch with President Obama Tuesday. He is in good shape and is expected to return home Wednesday morning.
Doctors are blaming fatigue for the seizure that Sen. Edward M. Kennedy, ill with a brain tumor, suffered during a post-inauguration luncheon for President Barack Obama. Dr. Edward Aulisi, Washington Hospital Center's neurosurgery chairman, says Kennedy is awake, talking with family and friends and feeling well.

In a statement released by Kennedy's office, Aulisi said: "After testing, we believe the incident was brought on by simple fatigue."

Kennedy will remain at the hospital overnight for observation and go home in the morning.
UPDATE: Sen. Robert Byrd's office says that, contrary to media reports, he did not have a medical emergency. He left the congressional luncheon because he was disturbed by what happened to Ted Kennedy. Early accounts suggested that Byrd had trouble eating.
Byrd "is currently in his own office... and is doing fine, though he remains very concerned about his close friend, Ted Kennedy," said a spokesman.
Sen. Ted Kennedy (D-MA) has collapsed after suffering a seizure at a luncheon held for President Barack Obama at the Capitol, CNN and ABC News report. Paramedics arrived on the scene, and Kennedy was taken from the luncheon on a stretcher. ABC reports that the seizures lasted several minutes and continued as Kennedy taken from the banquet hall.
A statement from the hospital where Kennedy was taken says that the senator is awake and answering questions. His son Patrick and wife Vicki are with him. President Obama has already phoned to check on his condition. Patrick Kennedy told George Stephanopoulos that his father is feeling fine.
Kennedy was at a table with fellow Massachusetts Sen. John Kerry and others, Stephanopoulos reports. President Barack Obama went out of the room with him, but he returned and spoke a few words about Kennedy.
"First of all, I know that while I was out of the room, concern was expressed about Teddy," Obama said. "He was there when the Voting Rights Act passed. And, along with John Lewis, was a warrior for justice. And so I would be lying to you if I did not say that right now a part of me is with him. And I think that's true for all of us. This is a joyous time, but it's also a sobering time. And my prayers are with him and his family and Vicki."
Sen. Orrin Hatch (R-UT), a longtime friend of Kennedy, spoke to ABC News about the incident. "He did have what appeared to be a seizure and I went down along with Senators Dodd and Kerry and walked right along side until he got to the ambulance," Hatch said. "He was starting to do okay by the time he got wheeled into the ambulance. ... He was [conscious], he was speaking."
Sen. Chris Dodd, (D-CT) said Kennedy said "I'll be ok, I'll see you later" as he was put into the ambulance.
"The good news is he's gonna be fine," Dodd added.

Popular in the Community