Like many Americans, I have spent the last few nights mesmerized by the news retrospectives about Senator Ted Kennedy. I have long admired Ted Kennedy and his family. This week, I felt we all experienced a loss. He touched so many of our lives with ground breaking legislation to help the disabled and those paid low wages. His righteous indignation at the Bush administration and the Republican Senate for refusing to pass the law to increase the minimum wage while millions of dollars were being proposed for other issues, was a thing of beauty. You had to watch C-SPAN to see it then, but it's a YouTube classic this week, with Teddy emoting, "How many billions more do you want? When does the greed stop we ask the other side?... Do you have such disdain for hard working Americans that you want to pile all your amendments on us? What is it about it that drives you Republicans crazy?.... What is the price that the workers have to pay to get an increase?"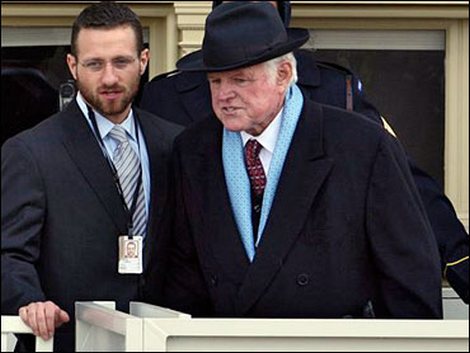 Pictured: The Lion of the Senate, Ted Kennedy
I knew he was a fierce liberal warrior, but I didn't realize until tonight just how compassionate the Senator really was until an old friend from Cincinnati, Matt Rosen, called to remind me of his personal experience with Ted Kennedy.
In 1977 my friend Matt was a lowly Capitol Hill
Congressional Aide, answering mail for his local Congressman, Thomas Luken of Cincinnati. One Friday afternoon the telephone rang and
it was a local constituent (from Cincinnati),
who worked at Cincinnati Childrens' Hospital and was involved in the Jewish
Russian Refusnik movement. This caring constituent told Matt the story of the infant Jessica Katz. The caller asked for Congressman Luken's help in
obtaining exit visas for Jessica and her parents to come to Cincinnati
Childrens' Hospital for treatment. Matt was very moved by her call. He was especially touched that the person who needed help was a small child, a little girl. He knew that if the child could get to the United States she would have a life. In Russia, her fate would be death, simply because the medical care she needed was not available. From the caller, Matt understood that little Jessica Katz had a disease called malabsorption syndrome, which is a fatal disease involving the inability to digest and absorb food. He had never heard of such a thing before. The only two hospitals that could treat the disease were Childrens' Hospital in Cincinnati, Ohio and Childrens' Hospital in Boston, Massachusetts. The problem was that Jessica Katz lived in Russia and in 1977, few if any Jewish people were allowed out of the former Soviet Union for any reason.
Matt was galvanized by the story. With determination, he went to work on it, writing Ambassador Dobrynin and the Kremlin, twice calling Jessica's parents in Russia (with newspaper reporters on hand), and enlisting the support of the American Medical Association and the Ohio State Medical Association. He told me he worried that he would not be able to reach the right person in time to save Jessica and get her the treatment she needed. Fortunately, the calls he made and letters he wrote from Congressman Tom Luken's office reached someone who could make a difference. This person was Senator Kennedy. In 1978, Ted Kennedy was in Russia meeting with the premier, Leonid Brezhnev. Later, Matt learned that Senator Kennedy asked for the release of Jessica Katz during these meetings. Remarkably, the Senator's persistent requests for help for Jessica were granted. She was allowed to leave the Soviet Union.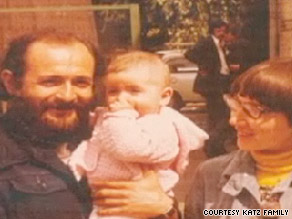 Pictured: Jessica Katz with her parents.
Matt was amazed when he heard what had happened. Who would've thought that his pleas would make their way to Senator Kennedy and that he would act on them? The Katz family eventually arrived in the US in Boston, at Logan Airport and Senator Kennedy was there to greet them. Clearly, this was a man who truly cared for others. He did not need to take the time to help the Katz family or welcome them to the US.
When my friend Matt told me this story tonight, I was amazed. I Googled it, and I found that the story has been covered recently by CNN and called the "the littlest refusenik." Today CNN reports that Jessica Katz is healthy and working in New York helping homeless people to find housing. She is continuing something she learned early in life, the importance of helping others who are less fortunate.
I asked Matt tonight if he thought Kennedy should've been President. He thought for a minute and replied, "No, I think he did more good as a Senator."
Jessica Katz is living proof of that. Where would she be if Ted Kennedy had not fought for her?
Popular in the Community