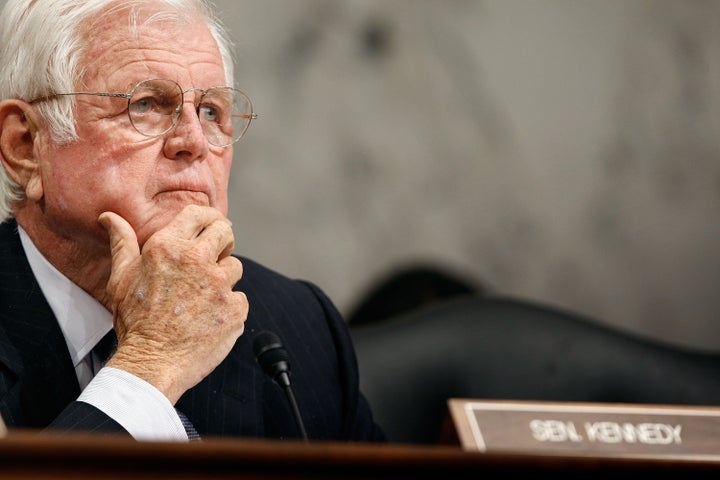 Michelle and I were heartbroken to learn this morning of the death of our dear friend, Senator Ted Kennedy.

For five decades, virtually every major piece of legislation to advance the civil rights, health and economic well being of the American people bore his name and resulted from his efforts.

I valued his wise counsel in the Senate, where, regardless of the swirl of events, he always had time for a new colleague. I cherished his confidence and momentous support in my race for the Presidency. And even as he waged a valiant struggle with a mortal illness, I've profited as President from his encouragement and wisdom.

An important chapter in our history has come to an end. Our country has lost a great leader, who picked up the torch of his fallen brothers and became the greatest United States Senator of our time.

And the Kennedy family has lost their patriarch, a tower of strength and support through good times and bad.

Our hearts and prayers go out to them today--to his wonderful wife, Vicki, his children Ted Jr., Patrick and Kara, his grandchildren and his extended family.
Kennedy Family statement:
We've lost the irreplaceable center of our family and joyous light in our lives, but the inspiration of his faith, optimism, and perseverance will live on in our hearts forever. He loved this country and devoted his life to serving it. He always believed that our best days were still ahead, but it's hard to imagine any of them without him.
No words can ever do justice to this irrepressible, larger than life presence who was simply the best -- the best senator, the best advocate you could ever hope for, the best colleague and the best person to stand by your side in the toughest of times.
"I'm not sure America has ever had a greater Senator, but I know for certain that no one has had a greater friend than I and so many others did in Ted Kennedy.

"I will always remember Teddy as the ultimate example for all of us who seek to serve, a hero for those Americans in the shadow of life who so desperately needed one.

"He worked tirelessly to lift Americans out of poverty, advance the cause of civil rights, and provide opportunity to all. He fought to the very end for the cause of his life - ensuring that all Americans have the health care they need.

"The commitment to build a stronger and fairer America, a more perfect union, was deeply ingrained in the fiber of who he was, and what he believed in, and why he served.

"That's why he stands among the most respected Senators in history. But it was his sympathetic ear, his razor wit, and his booming, raucous laugh that made him among the most beloved.

"Whatever tragedy befell Teddy's family, he would always be there for them. Whatever tragedy befell the family of one of his friends, he would always be there for us. And in this moment of profound grief, our hearts are with his wonderful wife Vicki, his fantastic kids Ted Jr., Patrick, Kara, Curran, and Caroline, his grandchildren, and the wide and wonderful extended family for whom he was always a safe harbor.

"I will miss him every day I serve, and every day I live."
Former President Jimmy Carter
Sen. Kennedy was a passionate voice for the citizens of Massachusetts and an unwavering advocate for the millions of less fortunate in our country. The courage and dignity he exhibited in his fight with cancer was surpassed only by his lifelong commitment and service to his country.
Former British Prime Minister Tony Blair:
Senator Kennedy was a figure who inspired admiration, respect and devotion not just in America but around the world. He was a true public servant committed to the values of fairness, justice and opportunity.
Former President George H.W. Bush:
While we didn't see eye-to-eye on many political issues through the years, I always respected his steadfast public service - so much so, in fact, that I invited him to my library in 2003 to receive the Bush Award for Excellence in Public Service. Ted Kennedy was a seminal figure in the United States Senate - a leader who answered the call to duty for some 47 years, and whose death closes a remarkable chapter in that body's history.
British Prime Minister Gordon Brown:
Senator Edward Kennedy will be mourned not just in America but in every continent. He is admired around the world as the Senator of Senators. He led the world in championing children's education and health care, and believed that every single child should have the chance to realise their potential to the full.
Israeli Prime Minister Benjamin Netanyahu:
Kennedy has been a friend for 30 years, a great American patriot, a great champion of a better world, a great friend of Israel. He will be sorely missed.
Irish Prime Minister Brian Cowen:
In good days and bad, Ted Kennedy worked valiantly for the cause of peace on this island.... Today, America has lost a great and respected statesman and Ireland has lost a long-standing and true friend.
California Governor Arnold Schwarzenegger:
Maria and I are immensely saddened by the passing of Uncle Teddy. He was known to the world as the Lion of the Senate, a champion of social justice, and a political icon.

Most importantly, he was the rock of our family: a loving husband, father, brother and uncle. He was a man of great faith and character.
Speaker of the House Nancy Pelosi:
Today, with the passing of Senator Edward M. Kennedy, the American people have lost a great patriot, and the Kennedy family has lost a beloved patriarch. Over a lifetime of leadership, Senator Kennedy's statesmanship and political prowess produced a wealth of accomplishment that has improved opportunity for every American.

Senator Kennedy had a grand vision for America, and an unparalleled ability to effect change. Rooted in his deep patriotism, his abiding faith, and his deep concern for the least among us, no one has done more than Senator Kennedy to educate our children, care for our seniors, and ensure equality for all Americans.
Senate Majority Leader Harry Reid:
Because of Ted Kennedy, more young children could afford to become healthy. More young adults could afford to become students. More of our oldest citizens and our poorest citizens could get the care they need to live longer, fuller lives. More minorities, women and immigrants could realize the rights our founding documents promised them. And more Americans could be proud of their country.
Former First Lady Nancy Reagan:
I was terribly saddened to hear of the death of Ted Kennedy tonight.

Given our political differences, people are sometimes surprised by how close Ronnie and I have been to the Kennedy family. But Ronnie and Ted could always find common ground, and they had great respect for one another. In recent years, Ted and I found our common ground in stem cell research, and I considered him an ally and a dear friend. I will miss him.

My heart goes out to Vicki and the entire Kennedy family.
Many have come before, and many will come after, but Ted Kennedy's name will always be remembered as someone who lived and breathed the United States Senate and the work completed within its chamber. When I first came to the United States Senate I was filled with conservative fire in my belly and an itch to take on any and everyone who stood in my way, including Ted Kennedy. As I began working within the confines of my office I soon found out that while we almost always disagreed on most issues, once in a while we could actually get together and find the common ground, which is essential in passing legislation.
Former Alaska Governor Sarah Palin:
I would like to extend our sympathies to the Kennedy family as we hear word about the passing of Senator Ted Kennedy. He believed in our country and fought passionately for his convictions.
Calling all HuffPost superfans!
Sign up for membership to become a founding member and help shape HuffPost's next chapter