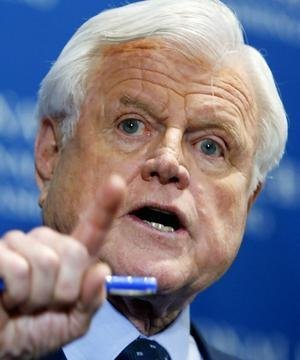 The liberal lion, Sen. Ted Kennedy (D-MA), returned to the Senate Wednesday to break a stalemate on critical stalled Medicare legislation, making his first appearance on the Hill since he was diagnosed with brain cancer two months ago
CNN reported earlier that the return was in doubt because his family was concerned the travel would be too strenuous.
In addition to Kennedy's vote, several Republican Senators switched their votes and the legislation moved past a procedural hurdle, 69-23. Sen. John McCain skipped the vote.
"Senator Kennedy showed again today why he is so beloved in our Senate family, why he is the model of public service and an American icon," Senate Majority Leader Harry Reid said in a statement. "We knew that Senator Kennedy - one of the greatest fighters this body has ever seen - would rise to the challenge and return to work, and what more appropriate time for him to do so than in an effort to protect seniors' and veterans' health care."
Here's video of Kennedy's return:
The 76-year-old senator entered the Senate through the first-floor entrance. The longtime chairman of the Health, Education, Labor and Pensions Committee underwent successful brain surgery at Duke University Medical Center on June 2 and has been undergoing cancer treatments in Massachusetts for the tumor.

Kennedy was greeted on the Senate floor by a long, sustained burst of applause from other senators and public visitors watching from the gallery.

His vote on the measure is critical; the Senate fell one vote short of the needed 60 on June 26 when considering the bill that would have prevented a scheduled 10.6 percent cut to physicians who treat Medicare patients.

Wearing a dark suit and a wide grin, Kennedy gave a grand gesture during the Medicare roll-call vote.

"Aye," he said, to laughter.

Kennedy looked fine and fit, shaking hands with a crowd of senators. His white hair was largely intact and perhaps even longer than before his absence.
UPDATE: Rep. Pete Stark (D-CA) puts out a statement ripping McCain: "Senator Kennedy managed to make it back from treatment for cancer, but Senator McCain couldn't be bothered. Senator McCain, who wants to be our next President, has skipped this vote three times now. Clearly, he'd rather hide than face up to the insurance industry. You can do that when you're in the U.S. Senate, maybe voters should leave him there."
Popular in the Community