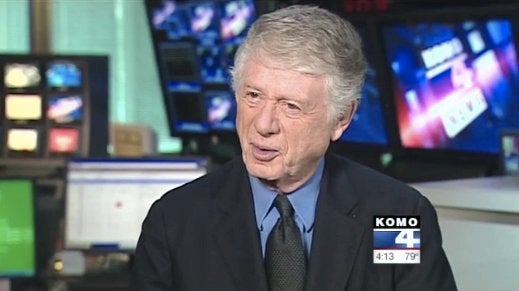 Ted Koppel took a harsh swipe at "Nightline," the show that brought him worldwide fame, during an interview with a Seattle television station over the weekend.
Koppel lamented that "Nightline" has taken a notable turn towards softer news since he left the ABC News show in 2005. During Koppel's tenure, the show became as famous for its off-screen turmoil as for its journalism. Koppel even publicly chastised ABC in 2002, when the network made no secret of its attempt to recruit David Letterman to replace him in its late night schedule.
The new, fluffier "Nightline" has now made any need for Letterman obsolete, because the show now beats its CBS rival -- along with every other late night show -- in the ratings.
Asked about the show by his interviewer, Koppel was dismissive.
"It's no secret they have become hugely successful, because they are doing precisely what I didn't want 'Nightline' to do," he said. "It's become a show that's heavily oriented into entertainment, more than it is in the direction of information and news."
Koppel also notably did not pour any cold water on the recent rumor that he is in talks with NBC News to be one of the reporters on its new "Rock Center" magazine show. Rather, he acknowledged that negotiations were underway.
REAL LIFE. REAL NEWS. REAL VOICES.
Help us tell more of the stories that matter from voices that too often remain unheard.