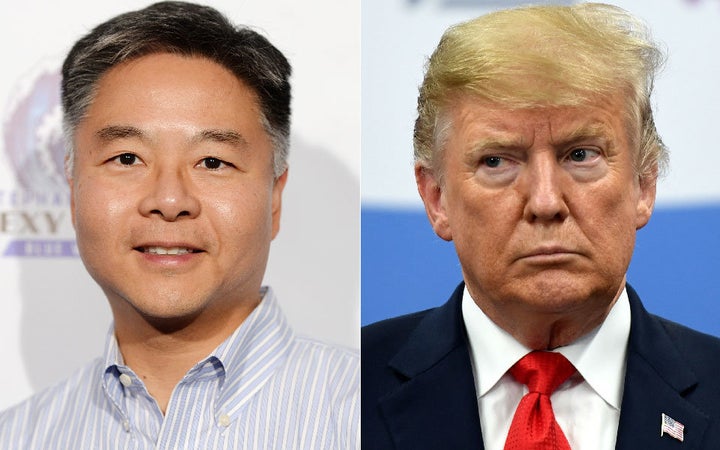 A prominent Democrat on the House Judiciary Committee says it's "too late" for President Donald Trump to stop investigations into his 2016 campaign's possible collusion with the Russian government.
In an interview on SiriusXM Progress that aired Tuesday, Rep. Ted Lieu (D-Calif.) told me that Democrats' new majority in the House of Representatives means they now have the power to keep an investigation going, no matter what happens to special counsel Robert Mueller.
"In terms of the Judiciary Committee, one of our main missions will be to continue to protect the independence of special counsel Mueller and his investigation," Lieu said. "Now that Democrats control subpoena power starting next year, it is too late for Donald Trump to shut down these investigations. Even if he were to somehow shut down the Robert Mueller investigation, Democrats could continue going forward with it because we can subpoena witnesses, we can subpoena documents. We can conduct our own investigation."
"The train has left the station," Lieu continued. "I think it's just too late now for Trump to do very much, which is why you see a series of angry, desperate tweets from Donald Trump."
A former prosecutor in the U.S. Air Force, Lieu said some of those Twitter outbursts may have even broken the law. In a Monday tweet, Trump quoted his longtime aide Roger Stone as saying he would "never testify" in the investigation, commending Stone for having "guts." This followed tweets in which Trump lambasted his former lawyer Michael Cohen for cooperating with law enforcement in the Russia probe.
Lieu joined the analysis of other legal experts this week in calling the tweet a possible attempt to influence Stone not to cooperate with Mueller ― a possible violation of the federal law against witness tampering.
The tweets were also viewed as Trump sending a message that he would pardon those who don't cooperate, though Stone gave an interview in which he said he hadn't spoken with Trump about a pardon.
"Just because Donald Trump does this brazenly in public, doesn't mean he didn't violate the law," Lieu said.
The congressman cited the witness tampering law ― Title 18, Section 1512, of the U.S. Code ― to explain that "you can violate that statute merely by attempting to corruptly persuade a witness to not testify, and it's pretty clear to me that Donald Trump is trying to persuade Roger Stone to not testify. And my view is, he violated the witness tampering statute."
As for the public nature of Trump's alleged law-breaking, Lieu added that "you don't necessarily expect the American public to know what the witness tampering statute is, but you expect special counsel Robert Mueller to know what that is."
"My view is that [Mueller is] going to have a whole section of exhibits where he just he just cuts and pastes Donald Trump's tweets right onto the page, because several of the tweets by Donald Trump look to me like violations of the law," Lieu said. "And in terms of dangling pardons, Richard Nixon tried that. That was also one of the reasons for his impeachment in the House of Representatives. Because dangling pardons constitutes obstruction of justice."