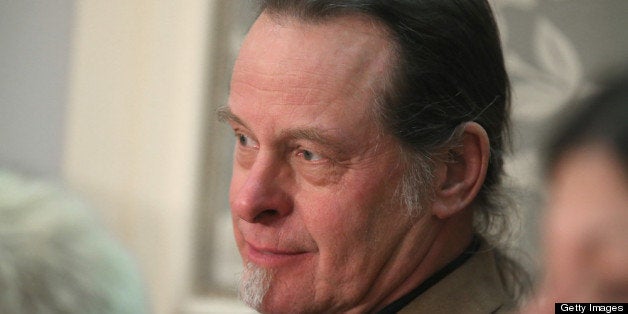 In the piece, which was published Sunday, Nugent rules Tsarnaev "obviously guilty of committing murder, terrorist acts and a whole book of other crimes" but complains that the American justice process may take "years" to convict him.
Imagine if this jihadist punk had basically committed the same crimes 150 years ago. He would have been swinging from an oak tree in Boston Common no longer than 60 days from the date of his arrest. That would be justice.

But that won't happen to this guilty voodoo vermin. If he's ever executed, it will be many years from now after our so-called justice system goes through its strange eternal, time-wasting, court-and-lawyer maneuvers from hell.
Nugent goes on to call the justice system "a joke" compared to the swift justice instituted by the "Founding Fathers."
"My dream of real justice would be a July 4 celebration of stringing this son-of-a-b-tch up in the Boston Common and letting the crows pick on his rotting flesh," Nugent concludes.
Nugent's comments may not be surprising, given his past propensity for over-the-top commentary, but he is only the latest politician to advocate for unconventional strategies for dealing with Tsarnaev.
On Friday night, after the teenager was arrested in Watertown, Mass., New York state Sen. Greg Ball (R) took to Twitter to suggest law enforcement use torture to extract a confession from the suspect.
Ball later doubled down on his Tweet in an interview with "Fox and Friends" Monday.
"If getting that information, including torture, would save one innocent life, including what we've seen children, would you use torture?" Ball said. "I would be first in line."
In fact, Tsarnaev was not read his Miranda Rights, the Associated Press notes. A Justice Department official told the outlet they would be invoking a public safety exception meant to protect the police or the public from immediate danger.
REAL LIFE. REAL NEWS. REAL VOICES.
Help us tell more of the stories that matter from voices that too often remain unheard.
BEFORE YOU GO
PHOTO GALLERY
Ted Nugent's Most Outlandish Statements