In 2012, Nugent said, "We need to ride into that battlefield and chop their [the Obama administration's] heads off in November." He also said, "If Barack Obama becomes the next president in November, again, I will either be dead or in jail by this time next year."
The musician called "The Fox News Specialists" on Friday to address Griffin's comparison and defend his past statements.
On the idea that Griffin's actions toward Trump and his concerning Obama were similar, he said, "It's absolutely false."
Nugent said the Secret Service had looked into the matter. "They concluded, absolutely conclusively, I did not threaten anybody's life," he said. According to the musician, "Kathy Griffin and the whole left" just repeat "the lie" that he threatened the president's life.
"Never happened," Nugent said.
Co-host Eboni Williams pressed Nugent on what he meant by comments made during a 2007 onstage rant, where he reportedly said, "Obama, he's a piece of shit. I told him to suck on my machine gun. Hey Hillary, you might want to ride one of these into the sunset, you worthless bitch."
Nugent said in the Griffin situation, Trump and his family are just reacting to her "vile actions," while his statement was just an "outrageous metaphor."
"It's good to see that everyone is condemning Kathy Griffin's action, because it is nasty," he said. "This is a world of terrorism where beheading is a reality."
"We're talking apples and grenades here. I did nothing to harm anyone," he added. "She came out with this symbolism that was truly vile."
So just to be clear, Nugent concludes that Griffin's "unacceptable" actions do not "fall under the control of free speech." But he's totally cool with telling someone to suck on a machine gun. That's just "metaphor."
Before You Go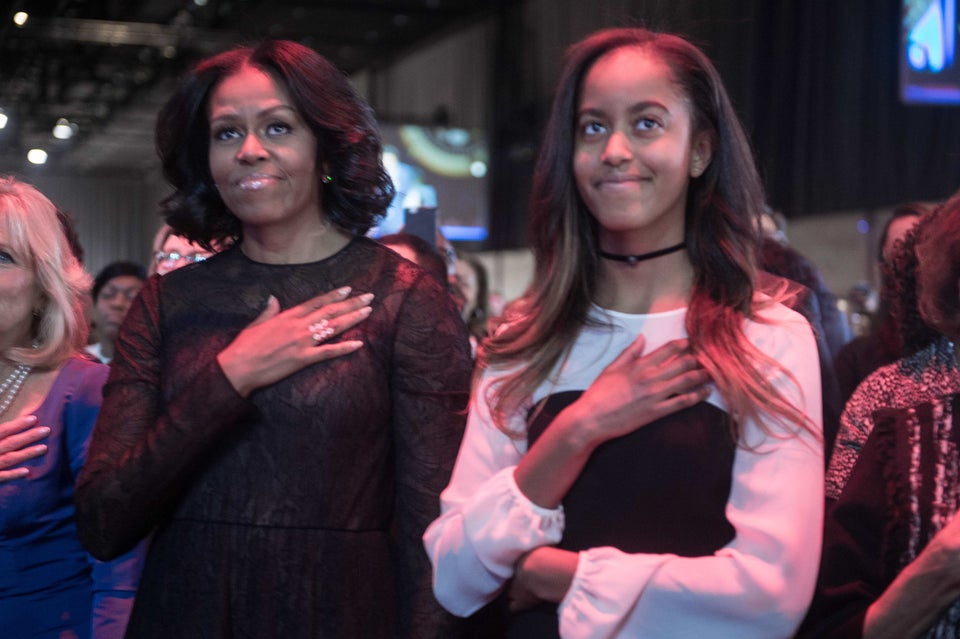 President Barack Obama's Final Farewell
Popular in the Community