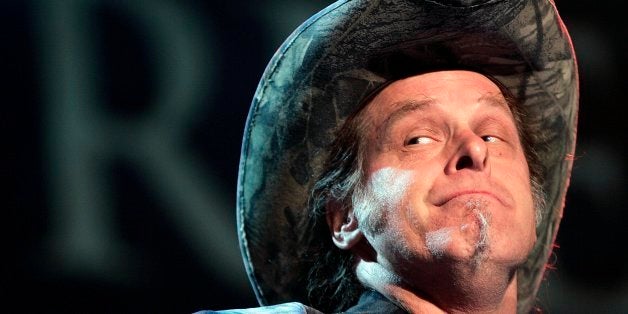 "My openletter to all the braindead hippie logic-challenged dipshits in the media who dedicate their lives to hiding from truth facts history & evidence," Nugent wrote. "Read em & weep numbnuts. We pray for you."
The "openletter" is actually a meme that has been making the rounds for years.
"Not every flower can say love, but a rose can," it reads in part. "Not every plant survives thirst, but a cactus can. Not every retard can read, but look at you go, little buddy!"
The post led to an active discussion on Nugent's Facebook page. While many of his fans said they enjoyed the post, others had a problem with the choice of words.
"I understand the sentiment, but have an issue with the verbiage. I think you're above the 'retard' comment," one poster wrote.
But Nugent was unapologetic.
"havnt got the 'sacred' list," he answered. "is there 1? toss it, liv it up"
"Ted, I have been a fan for a long time and for the most part I agree with what you are saying," another person wrote on the Facebook post. "However I get really pissed off the way people throw around the word 'retard.'"
"not thrown around," Nugent replied. "try again. eat crayons, google Lenny Bruce Richard Pryor Sam Kinison. enjoy or be pissed. your call"
"That's not the way a God fearing man is to talk or to treat one another! Come on Uncle Ted, clean it up," another user responded.
"I use the language of USMC heroes," Nugent wrote back. "you clean it up & call me. till then, STFU & eat your crayons, plz"
"And if this offends you, then you're exactly who he's talking about," someone else wrote.
Nugent is scheduled to appear on Sarah Palin's Sportsman Channel show, "Amazing America," on Jan. 29. Palin, who has a son with Down syndrome, has in the past attacked people for using the slur.
"Just as we'd be appalled if any public figure of Rahm's stature ever used the 'N-word' or other such inappropriate language, Rahm's slur on all God's children with cognitive and developmental disabilities –- and the people who love them -– is unacceptable, and it's heartbreaking," Palin wrote on Facebook at the time.
"As my friend in North Andover says, 'This isn't about politics; it's about decency. I am not speaking as a political figure but as a parent and as an everyday American wanting my child to grow up in a country free from mindless prejudice and discrimination, free from gratuitous insults of people who are ostensibly smart enough to know better... Have you no sense of decency, sir?'"

Palin has yet to respond to Nugent's use of the word. However, in 2012, she defended Rush Limbaugh when he used the word to describe liberal groups.
"Rush Limbaugh was using satire," Palin said. "I didn't hear Rush Limbaugh calling a group of people whom he did not agree with 'f-ing retards,' and we did know that Rahm Emanuel, as has been reported, did say that. There is a big difference there."

Calling all HuffPost superfans!
Sign up for membership to become a founding member and help shape HuffPost's next chapter
BEFORE YOU GO
PHOTO GALLERY
Ted Nugent's Most Outlandish Statements