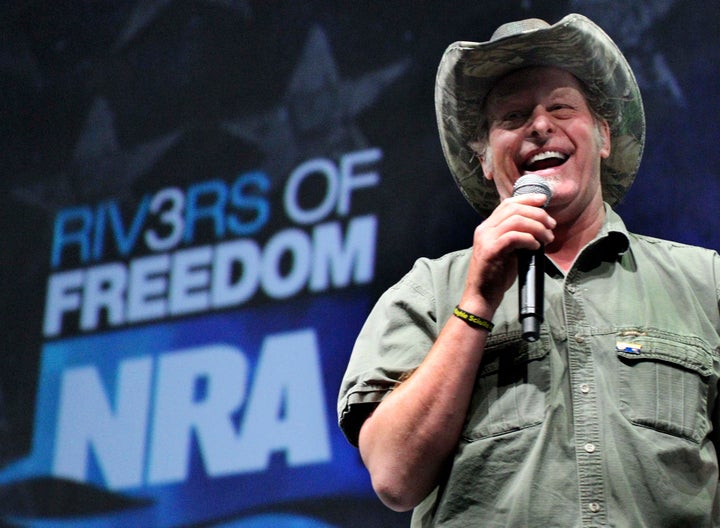 OKLAHOMA CITY, April 19 (Reuters) - Musician and gun-rights advocate Ted Nugent said on Thursday he had a positive meeting with U.S. Secret Service agents investigating his recent criticism of President Barack Obama, and the agency confirmed the issue had been resolved.
Nugent, who told NRA supporters in St. Louis last week that he would be "dead or in jail" next year if Obama was reelected, said in a statement that he had "met with two fine, professional Secret Service agents" in Oklahoma.
"Good, solid, professional meeting concluding that I have never made any threats of violence towards anyone. The meeting could not have gone better," the 63-year-old singer and guitarist said. He was due to perform a concert in Ardmore, Oklahoma on Thursday.
The Secret Service, which is tasked with protecting the U.S. president, senior officials and other figures, confirmed the meeting with Nugent.
"The Secret Service interview of Ted Nugent has been completed," agency spokesman Brian Leary said. "The issue has been resolved. The Secret Service does not anticipate any further action."
Earlier Leary said the agency respected freedom of speech, but also had a responsibility to "investigate intent."
Nugent, a Michigan-born conservative who has endorsed Obama's presumed Republican challenger in the November elections, Mitt Romney, drew Secret Service attention with his blunt remarks about Obama and administration officials at the NRA event.
"We need to ride into that battlefield and chop their heads off in November," Nugent said at the convention.
U.S. Representative Debbie Wasserman Schultz, chairwoman of the Democratic National Convention, responded earlier this week, saying "threatening violence - or whatever it is that Nugent's threatening - is clearly beyond the pale."
A Romney spokeswoman said the Republican candidate believed "everyone needs to be civil," but stopped short of condemning Nugent's original remarks.
Nugent is best known for hit 1970s songs such as "Cat Scratch Fever" and "Motor City Madhouse." (Writing by Alex Dobuzinskis; Editing by Paul Simao)

Popular in the Community