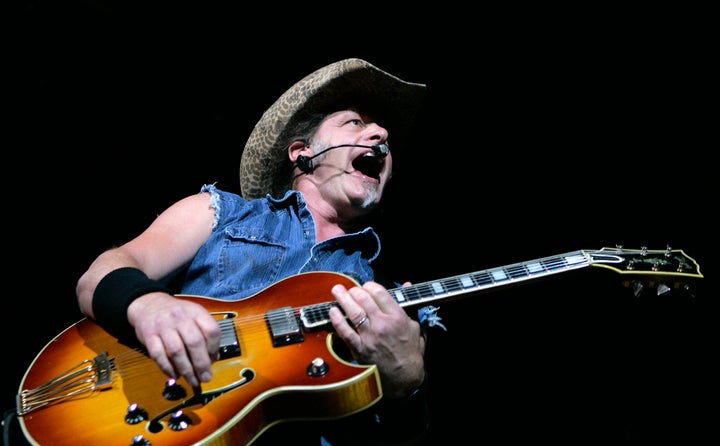 Conservative rocker Ted Nugent, who has a history of inflammatory remarks, vowed Thursday to tone down his act and called for civility on both sides of the political aisle.
"I have re-evaluated my approach," he told Curtis Sliwa and Eboni Williams on 77 WABC radio in New York. He said he was a "street fighter" who used "certain harsh terms."
But he said he plans to watch himself now.
"At the tender age of 69, my wife has convinced me that I just can't use those harsh terms. I cannot, and I will not," he said, adding:
"And I encourage even my friends/enemies on the left in the Democrat and liberal world that we have got to be civil to each other, that the whole world is watching America, where you have the God-given right to life, liberty and the pursuit of happiness, and we have got to be more respectful to the other side."
Nugent said that people really are angry and that it's "crazy" that "people on the left don't want secure borders."
But he said he wanted civil discourse over this and other issues.
"I'm going to take a deep breath, and I'm going to back it down, and if it gets fiery, if it gets hateful, I'm going away," he said. "I'm not going to engage in that kind of hateful rhetoric anymore."
Nugent said he wouldn't make excuses for his "wild-ass comments" made while on stage but blamed it on the "adrenaline and intensity" when performing.
He said he would be "feisty" and "passionate," but added, "I will avoid anything that can be interpreted as condoning or referencing violence."
Nugent also claimed he's never referenced violence, but Williams wouldn't let that one slide.
"Well, come on, Ted," she chided. "I think some people might have taken it that way for sure. Yeah."
During a 2007 performance, Nugent held up what appeared to be two machine guns and said that Obama could "suck on my machine gun" and that Clinton could "ride one of these into the sunset."
However, Nugent is now promising to turn down the volume on his rhetoric and called on others to do the same.
"Here's the battle cry for America: zero violence."
Listen to the full interview here:
Earlier this year, Nugent joined former vice presidential candidate Sarah Palin and Kid Rock on a visit to the White House, where they posed for a photo under Hillary Clinton's portrait.
Many found the image disrespectful, but it could have been worse: Nugent told The New York Times someone in the group suggested they pose with the middle finger extended.
CORRECTION: A previous version of this story stated that Nugent made his comments to ABC radio. In fact, he made his comments to 77 WABC radio, which is not owned by ABC.
Popular in the Community