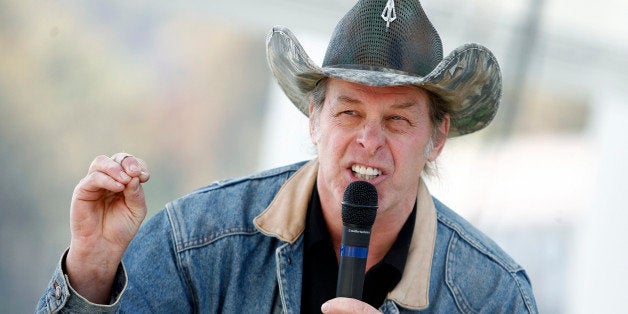 Another campaign appearance, another Ted Nugent controversy. Mainstream Republicans and everyone to their left are appalled. But no one is surprised. Nugent's incendiary rhetoric (read: infamous idiocy) is, at this point, expected and tiresome. It has become difficult to muster the outrage.
More unfortunate is that these incidents have had the unintended side effect of protecting Nugent from a far bigger character issue. In fact, in the case of Nugent, we have even come to see alleged child sexual abuse as some sort of eccentricity or harmless vice. Can you imagine anyone else who had been accused of having sex with a 12-year-old, written a song about raping a 13-year-old and adopted a 17-year-old so that he could have sex with her going on to campaign alongside all the most conservative "family values" candidates?
When Ted Nugent was 32 years old, he released the song "Jailbait." Here's a taste of the lyrics (written by him):
Well, I don't care if you're just 13

You look too good to be true

I just know that you're probably clean...

Jailbait you look fine, fine, fine...

It's quite alright, I asked your mama

Wait a minute, officer

Don't put those handcuffs on me

Put them on her, and I'll share her with you
The albums' next track is titled "I Am a Predator." I'm not kidding.
Don't get me wrong. I'm not above a really sick joke. In fact, I love them. I even think that pedophile joke in Eternal Sunshine is kinda funny and it's supposed to be bad.
But this one isn't funny -- especially coming from Nugent.
Two years before recording "Jailbait," Ted Nugent had the novel idea of becoming legal guardian to a 17-year-old girl, so that they could have sex without, you know, her parents having legal recourse. They acquiesced. "I guess they figured better Ted Nugent than some drug-infested punk in high school," he told VH1, years later. In the same documentary, he claimed to have had several relationships with young girls, and seems to brag about gaining their parents' approval, too. (Though he didn't go so far as to adopt any of them.)
That sounds... an awful lot like that line in "Jailbait." You know, the one just before he urges the cop to handcuff the girl so they can both rape her. Wrap your mind around that for a moment: the man wrote, recorded and released a semi-autobiographical pedophile joke. And then campaigned with Rick Perry.
Okay, okay. Seventeen is not 13. I'm not going to pretend that it is, or that an adult relationship with a 17-year-old is proof that someone is a hebephile who will have sex with a 13-year-old. It isn't a good sign, but interest in post-pubescent girls is hardly an indicator that someone likes to have sex with pre-pubescent girls. Let's face it: all of your favorite rock stars from days gone by were having sex with underage groupies. And almost every man who isn't a rock star has at least unwittingly fantasized about doing it. (The most common word in porn titles is "teen," and if you think that all of those teens are really of legal age, you are incredibly naïve.)
Nugent, for his part, described himself to VH1 as "girl addicted." "Recently," his wife writes on her website, "we have discovered four more adult children Ted had from previous relationships."
"Previous relationships." Not, "his long-time hobby of siring groupie bastards." That wouldn't be very "family values."
But we have pretty good reason, even beyond the autobiographical details, to believe that the choice of 13 in "Jailbait" is not entirely comedic exaggeration. For example, Courtney Love claims to have performed oral sex on Nugent when she was 12 and a half. When pressed, an uncharacteristically somber Love elaborated, "I didn't have breasts yet... it's sick." This would have been around the time of Nugent's 29th birthday.
I encourage anyone to listen to that (NSFW) interview. It isn't leveled as some sort of angry allegation. Love comes across as fairly reluctant to reveal her age at the time of the incident. In fact, she seems to feel shame about it. (Which, of course, she should not.)
To be clear: Nugent says that he does not remember the incident with Love. He is not guilty just because he is accused. That is an incredibly serious allegation and, given that recollections are clouded by a haze of three decades and god knows how many drugs, it is to be taken with a grain of salt.
Still, he doesn't say, "Because I wouldn't have had sex with a 12-year-old." He just denies recalling it. That's very disturbing. I've met 30-year-olds who could pass for 15 and 15-year-olds who could pass for 30, but I have never met a 12-year-old girl who could pass for 18. Puberty is pretty key in that regard. Rather than deny that he would have done it, Ted Nugent wrote a semi-autobiographical novelty song about how he'd have liked to. He doesn't seem to see it as a very serious allegation.
Imagine for a moment that Ted Nugent is not widely known as king of the inbred. Imagine, instead, that he is an attorney in Manhattan. Or Bono. Or that, instead of Courtney Love, he was accused of receiving oral sex from a 12-year-old boy. And then recording a song about how he's really into that. After adopting a 17-year-old so he could have sex with her.
Would governors and congressmen hit the campaign trail with that guy? Would they send their children to his "Kamp for Kids" -- and professional snipers? What would they say about almost any other man? They wouldn't call him a creep or a redneck. They'd call him a pedophile.
Instead, Nugent is embraced as some sort of down-home firebrand. He's a redneck rock star; sex with kids is just part of the package! Sarah Palin says that if a candidate "is good enough for Ted Nugent, he is good enough for me!" Congressmen invite him to the State of the Union. Meanwhile, Hillary Clinton is attacked (in a fairly convoluted way) for associating with Ronan Farrow.
How can anyone be seen on a campaign stage with a man with this sort of personal history? What is wrong with these people?
So the next time Ted Nugent says something horrible (and there will be a next time,) I encourage you to stay focused on the big picture. You know, the one of that little girl in handcuffs.
Cross-posted at The Good Men Project.
Related
Popular in the Community