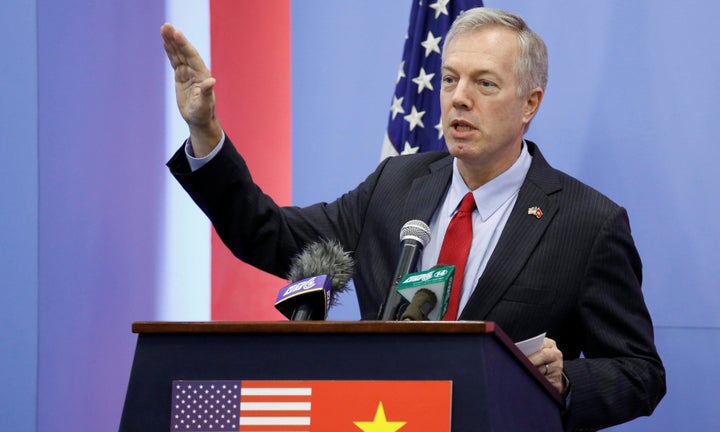 The State Department is urging its staff to dispute an outspoken former ambassador's claim that he was abruptly ordered to vacate his post in the midst of a disagreement over President Donald Trump's effort to deport thousands of Vietnam War refugees who had lived in the U.S. for decades.
A press guidance, which was distributed by the Department of State's Bureau of East Asian and Pacific Affairs and obtained by HuffPost, tells diplomats to portray Ted Osius' departure from his post as U.S. ambassador to Vietnam as in line with departmental protocol ― and not as sudden and potentially politically motivated.
Osius' exit from Vietnam last year was hasty, and he called it "unnecessarily humiliating."
The guidance, issued Nov. 28, criticizes a New York Times article in which I reported Osius had been "removed" from his position and later resigned from the State Department. State insists in the memo that Osius "neither resigned from, nor was removed from, the position of U.S. Ambassador to Vietnam prematurely" and instead simply "concluded his three year tour as Ambassador."
Osius, a career diplomat, disagreed with Trump administration policy. While in office, he opposed deporting Vietnamese people who arrived in the United States before July 12, 1995 — the date the two former foes re-established diplomatic relations — and were protected from deportation by an agreement both countries signed in 2008. The Trump administration reinterpreted the agreement in the spring of 2017 so that Vietnamese people convicted of crimes were exempt from its protections; the administration now says the agreement fails to prohibit the deportation of all noncitizen Vietnamese who arrived in the U.S. before 1995.
The former ambassador expressed his dissent in letters and diplomatic cables to officials, including Secretary of Defense Jim Mattis, then-Secretary of State Rex Tillerson and then-national security adviser H.R. McMaster.
Osius slow-rolled the deportations, as he feared that placing political primacy on this issue would thwart the potential success of Trump's planned visit to Vietnam. In late October 2017, about two weeks before Trump was to arrive in Vietnam, the State Department ordered Osius to not only vacate his post as ambassador but to leave the country entirely. The State Department gave Osius, his husband and their two young children six days to decamp from the country.
Osius was nearing the end of his three-year term as ambassador, but he says his exit from Vietnam diverged from State Department protocol.
"The Bureau of East Asian and Pacific Affairs instructed me ― on very short notice ― to depart from Hanoi six days prior to President Trump's arrival, an instruction that shocked the government of Vietnam and my own staff," Osius told HuffPost. "But State can with some justification make the case that I was not 'removed.' Instead, without consulting me, the Bureau of East Asian and Pacific Affairs sent a one-way ticket for my family and me and instructed us to depart no later than Saturday, November 4, 2017."
Osius maintains that his hasty forced departure was likely a consequence of his opposition to the Trump administration.
"I think it was [related]," he said. "State didn't give me a reason, except that I had to depart Hanoi quickly and that the new ambassador was on his way."
The new ambassador, Daniel Kritenbrink, also a career diplomat, arrived in Vietnam on Nov. 4, 2017 – the same day Osius departed. Trump touched down in Da Nang six days later.
"The administration wanted an ambassador appointed by Trump in place, rather than one who had opposed him on this issue of deportations," Osius said.
Raj Shah, White House deputy press secretary, did not respond to numerous requests for comment regarding Osius' departure.
"As a private citizen, former Ambassador Osius is entitled to his views," a spokesman for the U.S. embassy in Hanoi wrote HuffPost in an email.
Popular in the Community