So - two months in. Feels like it's been either two days or two years - or both. The TED residency is about immersion. Immersion in ideas. Immersion in community. Immersion in TED. Now it feels like home - so it's strangely hard to imagine that the end is in site. There's some discussion among the TED Res3 class that we'll just stay - after the program ends. We'll stage a sit in - claiming our desks. Of course we won't folks are trading notes for options for desks, co-working spaces, other places to move to… but not yet.
The Wednesday lunch is a full house - Linda Liukas is back from China. Her project "Hello Ruby" a children's book that teaches programming skills without a computer - won the grand prize at a competition hosted by The China Academy of Art - there were 2,700 entries to the competition and Linda won.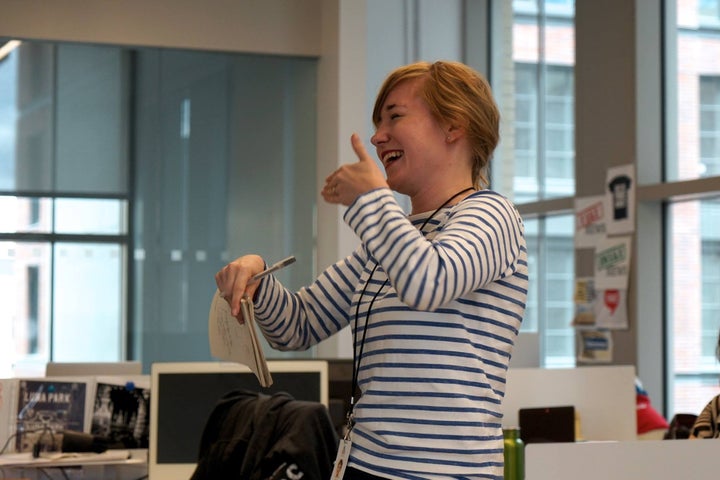 The award is worth 130,000 euros, a spectacular win. And worth remembering that all of the TED Residents are Rock Stars in their fields. We're all hugely proud. Linda is a native of Finland, and a computer programmer. Her TED Talk is about how she wants to make computers big again—so big that a child can crawl inside and learn how it works from the inside out.
Another podmate of mine is Alison Cornyn. She's been studying the way young women are incarcerated in the US. The system calls these women - "Incorrigibles" - a label that she clearly rejects.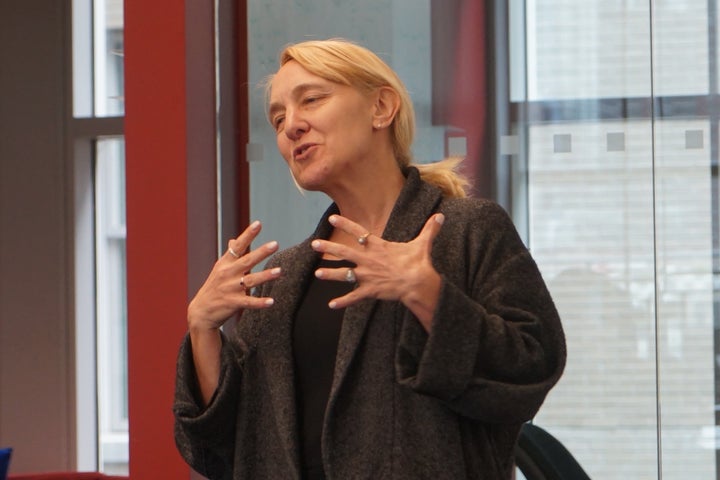 As she explains it - 'Incorrigible' is a term I encountered again and again while studying various source documents, including records from the New York State Archives and from The New York Training School for Girls based in Hudson, New York. The term was used to describe and categorize the young girls (ages 12 -16) who were incarcerated there from 1904-1975. The line between art and activism has never been more clear to me than in these months with my fellow TED Residents. Civic dialogue isn't a concept, it's real when you see Alison's images and hear the stories she's collected.
While the TED space is chill, you don't expect to find people sleeping. So, when I came in the office and found Dan Gartenberg happily asleep on the couch - I snapped a picture. Of course, Dan wasn't sleeping - he was working.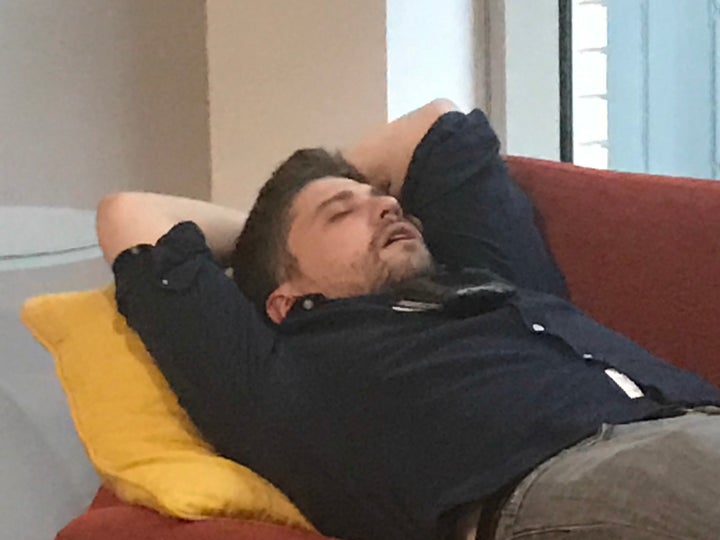 Dan is a sleep scientist who is testing a new way to detect and improve sleep quality using wearable devices. And, Dan's work and his talk about Sleep Science is being tested and validated by Penn State, the National Science Foundation and the National Institute of Aging. For some TED Residents, their topics are heavy and hard to chat about at a cocktail party. But sleep? Everyone does it. And everyone wants to have 'better' sleep - Dan's topic is endlessly engaging.
And my TED talk? Well - I've got lots of positive support for the first test run we did on the TED stage last week. For reasons I can't explain, that made me more nervous. The TED community that gathered in Vancouver is now dispersed, but the TED talks that are recorded this summer and published thereafter will have a profound effect, at least that's what we're all shooting for. So, back to thinking, remembering, rehearsing.
The TED Residency program is an incubator for breakthrough ideas. It is free and open to all via a semiannual competitive application. Those chosen as TED Residents will spend fourteen weeks at TED headquarters in New York City, working on their ideas. Learn more HERE.
Support HuffPost
The Stakes Have Never Been Higher
Related
Popular in the Community