Since I shared a few weeks back that I would be joining the TED Residency, I've gotten a ton of questions. What is the TED Residency? What's it like? Is it the same, or different than the TED Fellows? And, more than any other, "How can I apply?" So, I thought I'd share some excerpts from three months of my TED Res diary.
It's hard to explain the butterflies in my stomach, but it's kind of like the first day in high school. I've been accepted into the TED Residency, a highly competitive program that brings together a diverse group of artists, thinkers, activists, and entrepreneurs to work side by side for four months at the TED offices in lower manhattan. Walking in the door, it's clear you're entering someplace special. TED is about 'ideas worth spreading' and as walked off the elevator, and up the theatre stairs to the 12th floor Resident's space - you can smell the ideas in the air. From TED ED, to TED x, through the TedEd Clubs space, and though TED animation. It's a buzz of activity, and the honor of being invited in kind hits like a brick. Damn, I sure hope I've got some good ideas to share with this whip-smart crowd of information evangelists. Gulp.
The TED Residency is curated by Cyndi Stivers and self-described co-parent Katrina Conanan. Cyndi has an encyclopedic knowledge of the worlds of journalism, media, and tech in New York. It's one degree of separation between Cyndi and almost anyone you can name.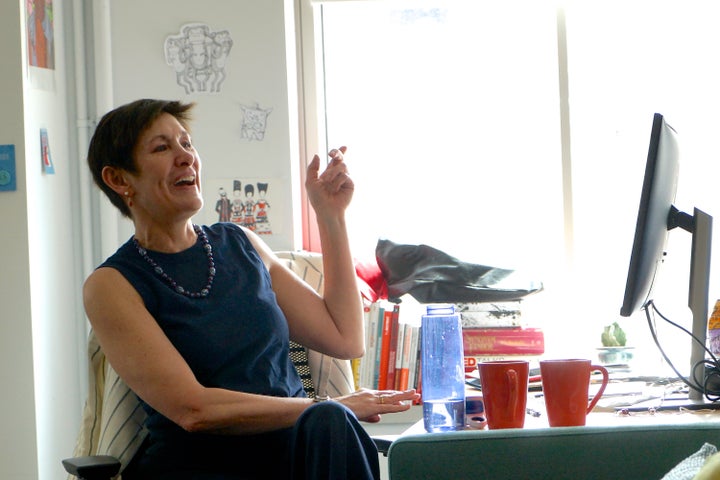 And Katrina comes from the TED Fellows program, where she worked side by side with the amazing Tom Rielly. What's the difference between being a 'Resident' and a 'Fellow'? As best as I can describe it, it seems it's proximity. Residents all work in the same space, where collisions and frequent interruptions are expected, even encouraged.
The program has some expectations, and some deadlines. Everyone is expected to work in the space at least four days a week. At the end of the Residency, we're all going to give a TED Talk. At this moment, the spectre of the famous 'red dot' seems far away. But we've all chosen topics - it was part of the application process - so fine tuning our talks will be job one. We can work in the office anytime, 7 days, 24/7. Guests only during working hours.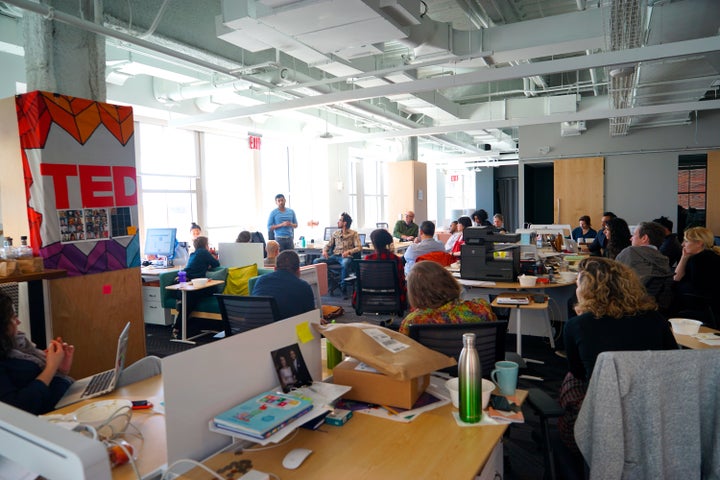 This is the third class of TED Res, so we quickly adopt the moniker TEDres3 and it sticks. The floor plan is open, and we all chose desks. Think of it like who gets to top bunk in camp. I find a window - and it has a piece of wall. Hmm… can I hang some posters? We'll soon find out. Desks are organized in pods, and pods turn out to be naturally occurring communities. Almost magically, I find that everyone i'm sitting with is fabulous. Alison, Fred, Wendy and Beth. More on my pod friends as I get to know them and their talks in the weeks ahead.
As everyone gets settled in, the camp analogy holds. We're going on a journey together. We'll all have our own projects to work out, and our own ideas to clarify. Some of us are comfortable with public speaker, for others the TED talk is daunting - but the talk prep will be rigorous for all. By the way, I never went to camp, so I'm basing my analogy more on the movie Meatballs than real life. Then there's the little matter of sustenance. The TED Residency is unpaid, and almost two thirds of TED Res3 are from out of town. So there's a lot of couch surfing going on.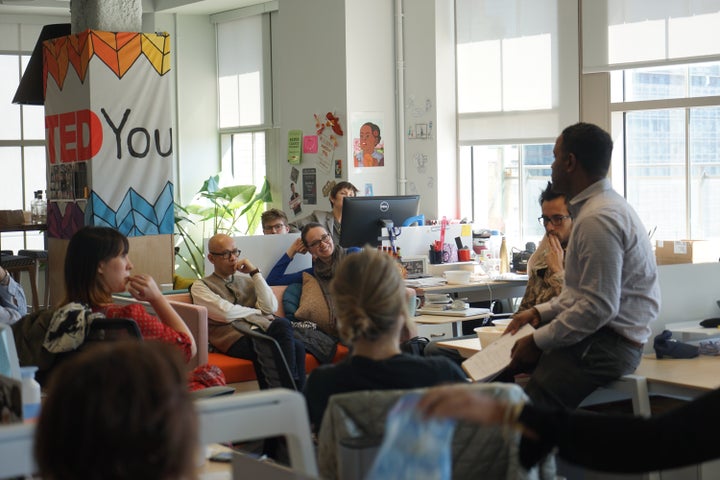 Ok, expected to survive day one - but it was far more fantastic than that. Immediately like these people, vibe, space, energy, drive - and strangely supportive pressure to be awesome. Both individually and as a group.
Stay tuned, i'll keep you posted.
The TED Residency program is an incubator for breakthrough ideas. It is free and open to all via a semiannual competitive application. Those chosen as TED Residents will spend fourteen weeks at TED headquarters in New York City, working on their ideas. Learn more HERE.
Popular in the Community