Ted Turner, billionare and founder of CNN, stated on Sunday, December 5th that President Obama made a "big mistake" in not pursuing an energy climate bill before a health-care bill.
As reported by the Bloomberg News, "We would have an energy climate change bill in the United States if President Obama had made that his top priority and brought that to the American people and Congress first rather than the health-care bill," Turner stated at the World Climate Summit in Cancun, Mexico. "But he didn't, and I think it was a big mistake."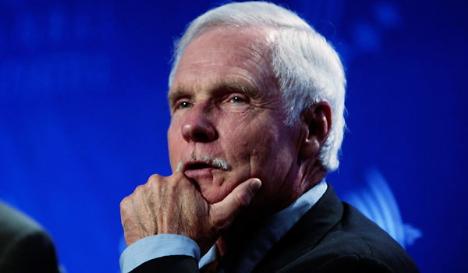 As reported by Newsmax, "The climate bill is much more important than health care because the climate situation is about life and death whereas the health-care bill was much more limited," Turner stated.
Turner spoke this weekend at the World Climate Summit, a conference focused on how businesses can help combat climate change. "The World Climate Summit is a new, open and collaborative platform that cuts across sectors and industries, accelerating these solutions and encouraging partnerships between businesses, investors, and governments. It is a conference that will run every year for at least the next 10 years, in parallel to the UNFCCC COP annual meeting, with the inaugural one in December 4-5th, 2010 during COP 16 in Cancun, Mexico. This global platform will help governments, companies, and investors build bottom-up solutions to meet 2020 targets."

Ted Turner is an American media mogul and philanthropist. As a businessman, he is known as founder of the cable news network CNN, the first dedicated 24-hour cable news channel. Turner has devoted his assets to environmental causes. He is the largest private landowner in the United States and uses much of it for ranches to re-popularize bison meat, amassing the largest herd in the world.
Support HuffPost
The Stakes Have Never Been Higher
Related
Popular in the Community