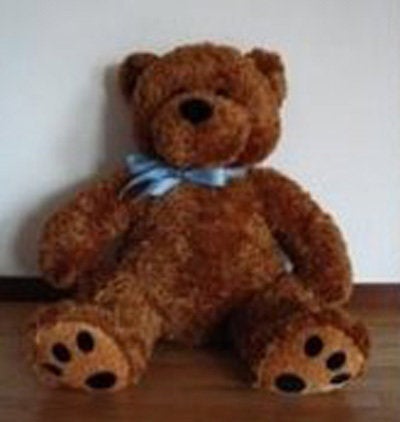 Two years ago, I got an invitation to a holiday charity event called Teddy Bears for Kids to be hosted at the birthplace of Theodore Roosevelt, the 26th president of the United States of America. I was intrigued, and quickly turned to Google to find out more about this organization and it's connection to Roosevelt. I quickly learned that 'teddy' bears were named after the one and only Theodore (a.k.a. 'Teddy') Roosevelt.
The story goes that in 1902 President Roosevelt was bear hunting in Mississippi. During the hunt, the men he was hunting with had clubbed and tied a bear cub to a tree and suggested that the president shoot it. The president refused, claiming that it was unsportsmanlike to shoot a defenseless bear tied to a tree. He instead ordered that the poor beaten bear be put out of it's misery. The Washington Post caught wind of this incident and included a political cartoon of the President refusing to shoot the bear in the next days paper. A toy maker then saw the cartoon and was inspired to make a new toy -- a 'teddy' bear.
I had always thought of President Roosevelt as rugged and gruff man, known for his love of adventure and the great outdoors and his famous slogan -- "Speak softly and carry a big stick," So the thought of the first cuddly teddy bear, being modeled after him made me chuckle. Months later, my mom and I visited President Roosevelt's birthplace, which is a townhouse on East 20th Street in Manhattan. There you see the rooms in which he spent most of his childhood, along with a small museum of artifacts throughout his life, including the bloodied shirt (which he was wearing when he was shot mid-speech and continued on to finish his address before being looked at by a doctor) and one of the original hand-sewn, teddy bears. We also learned that President Roosevelt was a sickly child. He spent much of his youth in bed suffering from asthma. President Roosevelt's sickly beginnings are ironic given he spent so much of his adult life as an accomplished outdoors-man, eventually dying of malaria after a river expedition to South America. In order to pay homage to President Roosevelt's sickly beginnings, the Theodore Roosevelt Association (TRA) started a Teddy Bear Gift Program, which gives children in hospitals teddy bears.
My mom, Sharon Bush, and I started a company called Teddy Share in 2008. Its mission is to educate and empower children to share with the world and support children's causes. After learning about the TRA's Teddy Bear Gift Program, we felt compelled to help and went to the Ronald McDonald House in New York City to see the program in action. There we met children who were suffering from a variety of ailments and illnesses, all playing bingo with their families by their sides. My mom and I, along with the other volunteers, were able to play bingo with the kids and help pass out teddy bears. The kids lit up when they received their cuddly new friends!
Through these experiences we were inspired to do more and worked with our other Teddy Share teammate Alexandra Weininger to create the 'Teddy for 2' Bear. For every teddy bear sold, another identical teddy bear is given to a child in a hospital. So this President's Day weekend, I would like to remember President 'Teddy' Roosevelt, and pay homage to his many legacies -- the teddy bear being one of them. To learn more about Teddy Share or to buy a 'Teddy for 2' bear please visit www.teddysharebears.com.
Calling all HuffPost superfans!
Sign up for membership to become a founding member and help shape HuffPost's next chapter