The Louisiana black bear -- the species that inspired the creation of the "Teddy bear," and which parents around the world can thank for well-rested children -- has been officially removed from the federal list of threatened species.
The delisting, which took effect Friday, comes 24 years after the subspecies of American black bear was put on the endangered species list due to habitat loss and human-related mortality.
U.S. Secretary of the Interior Sally Jewell on Thursday called the recovery a conservation success story, one that most certainly would have made President Theodore "Teddy" Roosevelt proud.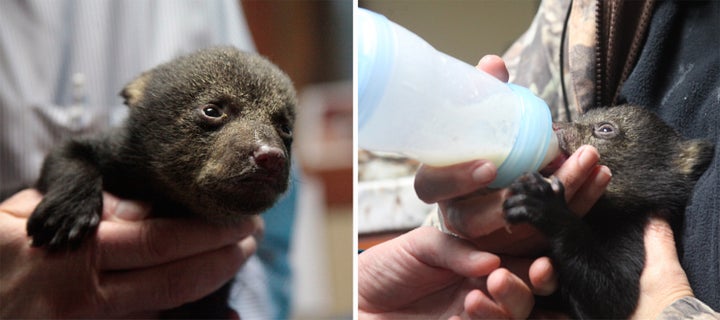 As the story goes, Roosevelt was on a bear hunting trip in Mississippi in 1902. After several days with no luck, it seemed as though the president would go home empty-handed. In an attempt to ensure that did not happen, Roosevelt's hunting guides tracked down a bear, tied it to a tree and summoned Roosevelt. 
But as the Theodore Roosevelt Association writes on its website, the president "took one look at the old bear and refused to shoot it. He felt doing so would be unsportsmanlike. However, since it was injured and suffering, Roosevelt ordered that the bear be put down to end its pain."
The rest, as they say, is history. And today, more than a century later, the stuffed animals remain one of the most popular children's toys.
"President Theodore Roosevelt would have really enjoyed why we are gathered here today," Jewell said during a ceremony at Louisiana's Tensas River National Wildlife Refuge. "Working together across private and public lands with so many partners embodies the conservation ethic he stood for when he established the National Wildlife Refuge System as part of the solution to address troubling trends for the nation's wildlife."
Louisiana black bears once roamed Louisiana, East Texas and western Mississippi, but their population was reduced to around 150 by the time they were listed in 1992. Today, the U.S. Fish and Wildlife Service estimates that 500 to 750 bears live across the species' range with breeding populations that are expanding. 
"This is a terrific comeback story that reflects the dedicated work of so many people from throughout Louisiana," Rep. Ralph Abraham (R-La.) said in a statement, "and I'm excited that our beloved Teddy Bear will be here for the next generation of Louisianans to enjoy."
So go ahead, give your Teddy a bear hug. 
Calling all HuffPost superfans!
Sign up for membership to become a founding member and help shape HuffPost's next chapter
BEFORE YOU GO
PHOTO GALLERY
Beautiful Bears