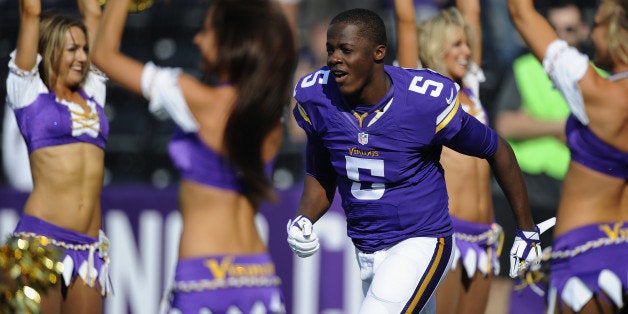 Making your first-ever NFL start at quarterback is a tall task, but making it without the best running back in the league or your star tight end is an entirely different challenge. Yet Teddy Bridgewater of the Minnesota Vikings, who'd been the final pick in the first round of the 2014 draft, rose to meet those challenges on Sunday, beating Matt Ryan and the red-hot Atlanta Falcons offense 41-28. It was a clear message to the rest of the league that maybe passing on Bridgewater hadn't been the best idea.
Bridgewater -- who reportedly tested negative after an X-ray of his ankle following the win -- will continue to have his critics. But one of the key advantages he has over other rookie quarterbacks is the system he ran in college. Though Louisville rarely played the elite schools, it ran a pro-style offense focusing on quick throws. As we expected, Minnesota offensive coordinator Norv Turner used a litany of slants, hitches and medium throws to maximize Bridgewater's skill set on Sunday. The result was a 19-30 performance for 317 yards and a running score as well. Most importantly, Bridgewater orchestrated the 87-yard touchdown drive that ultimately decided the game. "I think it sets the bar pretty high," he said afterward. All of this happened without the services of the deactivated Adrian Peterson or the injured Kyle Rudolph.
To be fair, the Falcons are a porous defense with more holes than our ozone layer. Nevertheless, Bridgewater was very impressive. So the question naturally becomes: Was game one a fluke, or the start of a trend?
Bridgewater doesn't have the strongest arm in terms of sheer downfield yardage, but he is deftly accurate with zip on the short and medium balls. When The Huffington Post spoke with former NFL head coach Steve Mariucci before the draft, he, like others, raved about Bridgewater's accuracy, saying it was hard not to notice during his quarterback camp. One assumes that Turner will keep finding ways to move the pocket to accommodate Bridgewater's strengths and increase the involvement of wide receiver Cordarrelle Patterson, a rising star in his own right. The challenge for the 21-year-old Bridgewater will be adapting to the vastly different style of defenses that now have tape on him -- not to mention just better defenses than Atlanta's in general.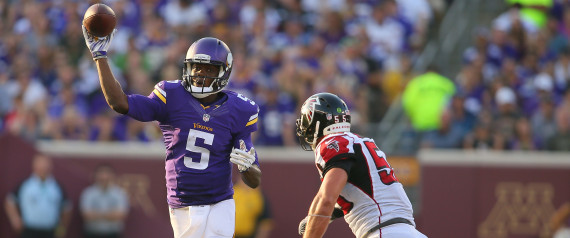 Sans Peterson, it was easy to assume that a running game for the Vikings would not exist. However, we cannot discount the role that Matt Asiata and Jerick McKinnon are playing in Bridgewater's development. Asiata and McKinnon are very different, but as the Atlanta game proved, each can be equally accommodating to the offense. One of the central keys to any young quarterback's arsenal is the play-action game (see Andrew Luck, Russell Wilson and Colin Kaepernick). Turner employed a ton of it with Phillip Rivers in San Diego and is clearly looking to do the same thing in Minnesota. Bridgewater is not as impressive a runner as anyone from that trio, but he's a plus athlete with decent scrambling ability who is accustomed to throwing on the run. Whether or not he is as tough -- both mentally and physically -- as a Wilson or a Luck is an entirely separate question, and one game is hardly the yardstick we would use to measure that.
With two playoff wins over the past decade, the Vikings have hardly been an exemplar of success, particularly at the quarterback position. Failed experiments such as Matt Cassel, Christian Ponder and Tarvaris Jackson are hard to forget about. But Bridgewater -- amid chants of "TED-DY" from an approving home crowd -- provides a ray of hope to a franchise and a fan base that needs one. He most definitely passed his first test.
Email me at jordan.schultz@huffingtonpost.com or ask me questions about anything sports-related at @Schultz_Report, and follow me on Instagram @Schultz_Report. Also, be sure to catch my NBC Sports Radio show "Kup and Schultz," which airs Sunday mornings from 9 to 12 EST and 12-1 for fantasy football, right here.
Calling all HuffPost superfans!
Sign up for membership to become a founding member and help shape HuffPost's next chapter