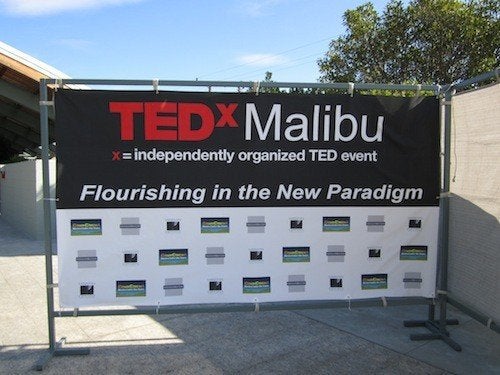 TED is a nonprofit organization devoted to "Ideas Worth Spreading," hosting global events where inspirational speakers give the talk of a lifetime to a live audience. With the development of TEDx (with the x standing for locally organized), TED is taking its initiative to the next level by opening up the TED experience to the world. Through TEDx, TED grants licenses for individuals to independently organize local events that meld videos from the TEDTalks archive and live speakers from the community. As I experienced this weekend at TEDx Malibu, the result is nothing short of the original TED experience.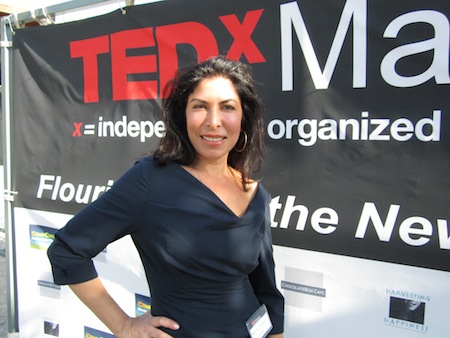 Lisa Cypers Kamen

Lisa Cypers Kamen, the organizer of TEDx Malibu, is a positive psychologist who is making great strides working with war veterans through her project, Harvesting Happiness For Heroes. For the 200-person event, which took place at the Malibu Jewish Center & Synagogue (an architectural gem befitting such a progressive event), Lisa combed through hundreds of videos from the TedTalks archive and invited speakers to share their views on the event's topic, "Flourishing In The New Paradigm." A surprise twist was the added element of musical guests, most notable Abe McDonald, a frequent presence on The Oprah Winfrey Show who gave an earth-shaking vocal performance.

The speakers hailed from all walks of life, including Dr. Narayan Srinivasa of the Hughes Research Laboratories (speaking about artificial intelligence), Michael Koss (suggesting ways to flourish in the new economy), and Dr. Jessica Wu, a dermatologist discussing how food, rather than merely prescriptions, is essential to better health. When I asked Dr. Wu why she wanted to participate in TEDx Malibu, she explained, "In medicine and science, the focus of your expertise typically becomes narrower as your career progresses and you become more prominent in your field. When I watch a TED talk, it reminds me to look up every once in awhile -- because inspiration can come from somewhere unexpected. That's why I wanted to participate in TEDx Malibu: for the privilege of learning about big ideas from people across a wide variety of disciplines."

The carefully curated TEDTalks videos were just as compelling, despite being streamed. Joachim DePosada shared the importance of self-discipline to success in, "Don't Eat the Marshmellow, Yet" and actress Thandie Newton drew rousing applause in the local audience for her poignant talk, "Embracing Otherness, Embracing Myself," which urged replacing our quest for "self" with a quest for "oneness" with each other and the earth. Researcher/Storyteller Brene Brown's "The Power of Vulnerability" also made a tremendous impact as she discussed the connection between vulnerability, joy, self-worth, and the "whole-hearted." Each TEDTalk perfectly complimented the speakers and musical performances in the room, showcasing organizer Lisa Kamen's vision for the event.

Lisa gave one of the last talks of the day, sharing The Inversion Theory of Joy (which states that joy should come from within rather than from fleeting external cues) as well as her Happiness First Aid Kit™, a literal kit given to each member of the audience consisting of tools for happier living such as rose-colored glasses and bubbles (which she asked people to use in the room, transforming it into a bubble-filled dreamscape). Lisa explained that the goal of her presentation was to teach the audience that, "Flourishing in the New Paradigm requires a new way of thinking about happiness and well being that involves a conscious choice to show up for life passionately, fully, lovingly and joyfully." The event closed out with Drumtime founder, John Lacques, leading an electric, group music-making experience for his talk, "The Noise of Joy." As everyone banged on drums and danced, it became incredibly clear why full engagement in the present moment is so powerful in stimulating joy and community.

If you're interested in organizing a local, TEDx event, visit TED.

Photos by Melody Godfred.
Related
Popular in the Community