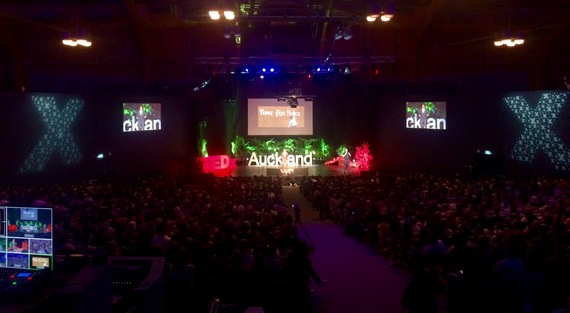 Photo credit: Jamie Joseph
At the end of this month I am returning to Africa, my motherland, to write stories from the frontline of the poaching crisis. Throughout the 14 week mission I will be producing a rolling narrative 'Solving poverty saves wildlife'. Saving Africa's last wild places is as much about humans as it is about animals. Poverty is the root of countless conflict, and this human affliction will continue to be an exploitable phenomenon until the world wakes up and starts investing in both people and planet.
It's a long road ahead, but I am continually rejuvenated when I see entrepreneurs outsmarting poverty. A little while ago I was lucky enough to spend time with a few TEDxAuckland speakers tackling inequality in pioneering ways, and the TEDx videos have now been released, seeds of inspiration to turn ideas into action.
Like Hong Sheng Chiong concluded his talk, "Ending preventable blindness is my fight. What is yours?"

"The young doctor's exposure to third world medicine in Kenya, Nepal, and Malaysia has given him insight into the injustice of poverty, and he has developed an open source, affordable device that uses a smartphone to view the back and front of an eye. After nine months of R&D, the OphthalmicDocs Fundus was born, a fully functional universal smartphone retinal camera. For US$33 his small team of volunteers had created an alternative to a device that costs upwards of US$10,000. His talk was met with a standing ovation."

Another speaker that is overcoming poverty is Janette Searle, founder of Take my Hands. She worked out that between the 21 district health boards in New Zealand, 180 medical equipment manufacturers, and more than 3500 specialist health providers, collectively the equivalent of around 60 000 boxes of used medical equipment was ending up in landfills.
"We sent 1500 kilos of useable equipment from 30 different equipment providers, helping 150 people in three different countries - and it cost us just $200," said Janette, describing their 'spare capacity' pilot project.
Children that had lost legs were given prosthetics and went back to school, adults were able to work again, and the value of the impact on those people was close to a million dollars. But the real magic in the spare capacity platform that Janette and her team has developed is that the model can be, and is being replicated by other organizations, such as food distribution to low decile schools, and equipment collection for emergency natural disasters.
"Giving is contagious," said speaker Dale Nirvani Pfeifer, founder of Good World. "If we tallied up all the people on Facebook it would be the third largest nation in the world, and 27% of all time is spent on social media. We see not only people who we know, but we see people from all over the world, and we see how they live. We see the haves, and the have nots in a way that we have never seen them before, and we see the disparity in our global community. So we are connected, but are we in balance?"

Dale cited the ice bucket challenge, last year's viral sensation that became the single biggest thing to ever happen to Facebook, with over 10 billion video views, and over $170m raised for ALS in just over six months - of which 83% of those donations came via Facebook.
People are now giving to causes they had never before heard of, and we are starting to see a culture of generosity developing on social media. Dale's company Good World makes donating as simple as writing #donate in a Facebook comment or in a Twitter tweet, and so now social media pages are becoming a viral network of social giving.
In Gavin Healy's powerful talk he called for fearless journalism and illustrated the potential for media to achieve social change transformation. Like the late, great Nelson Mandela said a decade ago, when he issued a rallying cry to more than 20 000 people in London's Trafalgar Square:
"Overcoming poverty is not a gesture of charity. It is an act of justice. Like slavery and Apartheid, poverty is not natural. It is man-made, and it can be overcome and eradicated by the actions of human beings. Sometimes it falls on a generation to be great. YOU can be that great generation. Let your greatness blossom."
Jamie Joseph writes stories from the frontline of Africa's poaching crisis and is the founder of savingthewild.com - a platform to connect with global thought leaders engaged in the war on poaching. Join the conversation on Facebook and Twitter.