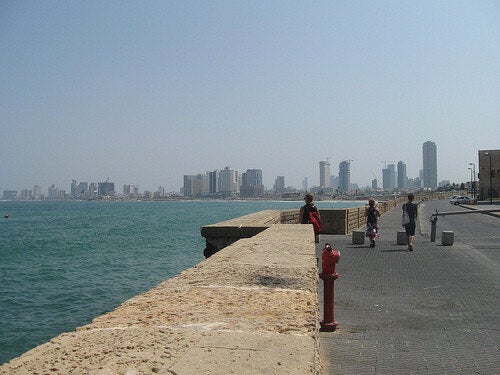 It's really easy to sit at your kitchen table in Brooklyn, Toronto, Vancouver or Berkeley and shoot off comments about the Middle East conflict. It's harder when you live in it. It's hard when you have to think twice about taking the bus, plane or train because it might blow up, and it's hard knowing that every person who shares your society with you is paying the majority of their taxes to a staggering defense budget.
I live in Israel. I live in Jaffa, Israel -- a city next to Tel Aviv populated by Muslims, Christians and Jews. Some of us are atheists, some traditional and others defiantly religious. I chose to live here and it's a crazy place. It's not crazy because people here care about their religion, enough to fight over it or talk about it incessantly. It's crazy because of its improbability.
In Jaffa, some Muslims call themselves Palestinians. Some Christians call themselves Israeli Palestinian Christian Arabs. The Jews are just Israelis of course, unless they come from Arab countries and they are Sephardic or those from Europe say they are Ashkenazi. You can find escaped donkeys galloping down the streets at midnight. You can find the best European chocolate cake beside a working man's morning hummous joint. My husband says he wouldn't be surprised to wake up one morning and find a dead body on our front porch: there is also a lot of crime in Jaffa.
But Jaffa has its charm. Its own rhythm is marked by the five calls to prayer, with the one at sunset telling my baby daughter (who is Jewish) it's time to go to sleep. It's got a roughness, and sharp corners, and just when you think it's too hard to handle, you'll catch a new smell reminding you of some other time from our collective memory when civilization began, somewhere around here.
But more than people know, Jaffa -- the city of the Bible where Jonah disembarks from before getting swallowed by the whale and spat out on shore near Nineveh -- is a lens through which the world can understand cultural diversity, and cultural freedom in Israel.
Today at my home, the East West House, we will help host TEDxJaffa under the theme the Desire to Know the Other. There is a strong lineup of people from Jaffa, like my musician husband Yisrael Borochov, but also people from Israel and the Palestinian Authority who will tell their personal and professional stories on working to know the other. One speaker survived a terror attack and was afraid to look in the mirror to see how much of her face was left; one speaker will be a successful Palestinian policeman turned businessman; and if you log on to our simulcast today (or see the videos later) you'll meet Haya Samir, an Israeli Muslim whose family came to Israel as political refugees from Egypt. Raised as a Jew, she found out as a young woman that she was, in fact, a Muslim.
Haya is an Israeli diva. And we are so glad to know her. Today she will sing songs of the pioneering days in Israel -- Debka Fantasia --  before 1948 when young Jews met Bedouin and Arab shepherds. These pioneers longed for a culture that combined, not defined, the Middle East with European values. I think this is what the people in the Arab uprisings are coming to terms with.
Would you like to get off your chair and dance to a little music with us LIVE? Maybe meet someone whose views might change your worldview about the Middle East conflict?
The simulcast starts at at 9 AM EST time today, Wednesday, if you are in New York City. Log on at the TEDxJaffa site to see it. Officially in Israel the event starts at 3.
The idea for TEDx in Jaffa started with my friend Alli Magidsohn, who is producing and curating the event. The fellow Jaffinian, who is from LA, was inspired to fulfill this dream after an encounter with a man (a genie?) in Sinai named Aladdin.
Her words: "We felt lucky to have the opportunity to meet and form a new friendship in an overall context that might have otherwise limited us as enemies and spoke about the area's conflicts, spirituality, love, and many other things together. His perspectives broadened my mind and this encounter made me realize that as an American Jew living in Israel, even opposite an Muslim Egyptian man, there is still so much more that we have in common than there is that separates us.
Other encounters in Sinai, Israel and Palestine led to further 'broadening', deeper respect and more curiosity, and TEDxJaffa is the manifestation of this process of personal expansion. 'The Desire to know The Other', for me - not necessarily for the event's speakers - isn't about explicit things like politics or peace or coexistence, it's really about that desire to look from the inside, outwards, and to try to take in, understand or somehow be enriched by exposing oneself to another person's experience."
Log in, folks, at 9 AM if you are New York or Toronto. All other cities: the event's at 3 PM + 7 hours EST. Link from here.
Karin Kloosterman is the founder of Green Prophet, the leading environment news site covering the Middle East.
Calling all HuffPost superfans!
Sign up for membership to become a founding member and help shape HuffPost's next chapter