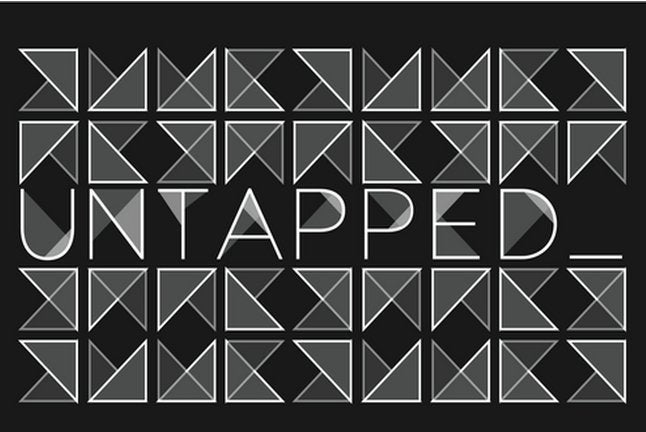 I wanted to tell my story. I was feeling timid about possibilities of connecting with the audience given how I needed to tell it. I had been invited to share a story from my life in -- 13 minutes-- with over 1,300 people in University of Michigan's Power Center for the 4th TEDxUofM conference. In the end, the student-organizers' dedication and infectious spirit of openness to ideas and difference totally inspired me.
TEDx events are local, self-organized gatherings that recreate TED's credo of sharing ideas. TEDxUofM was started in 2009 by filmmaker, Alexander O'Dell, then a junior. The first conference's theme was "Do You Realize?" It was held at the Biomedical Science Research Building and drew 350 attendees. This year, the team decided on "Untapped_" to "demonstrate the unknown capacity of our vast and diverse campus, while highlighting the importance of every individual and their unique, important ideas." As in the past, speakers are usually UMich people and die-hard Ann Arborites. As stated on their website, they sought "individuals to share untold stories of undiscovered potential."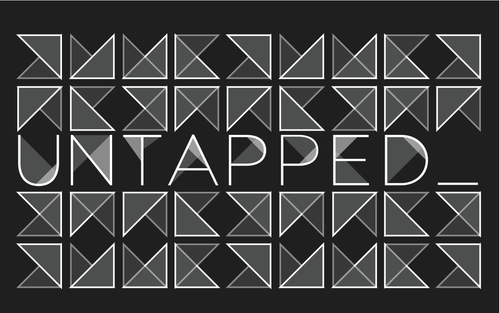 A UMich alum, I received an email from Clayton McCoy, a first year undergraduate student, on behalf of the TEDxUofM team initiating a discussion about my participation in the day's events. Their goal, Clay informed me, was "to bring together a collection of the University of Michigan's most innovative and inspirational alumni, professors, and students to share TED's mission of 'ideas worth spreading.'" As our conversation unfolded, Clay persistently encouraged me toward my spoken word. Forget the fact that I actually wrote a book and more than a few articles; he told me he saw me on YouTube. In any case, I saw this moment as an opportunity to share my work on new narratives of Haiti, my birth country.
Then I came down with shingles just a few weeks before the event. This prompted me to change the topic of my talk. I decided to revisit how my spoken word performance was actually born during graduate school. There, I struggled with my decision to seek a doctorate to become a change agent for Haiti while putting aside a childhood desire to sing. (Full disclosure, I wanted to become a rock star). As the only black woman in the lineup of 20 speakers, I wondered whether my story, of taking what I call Giant Leaps,-- complete with Vodou chants, an emphasis on coming of age colonized, and race and class struggle as a first generation student,-- which broke from the non-polemic characteristics of the TED formula , according to New Yorker's Nate Keller, would resonate with the predominantly white student audience.
Knowing a thing or two about organizing large conferences, I could not wait to meet the students who were obviously so deeply committed to this event. I was genuinely curious about their motivation. Maria Rose Young, co-director of this year's conference, picked me up at the airport. Currently a junior, she said attending TEDx her first year changed her view of her college experience. "TEDxUofM was a way of valuing excitement and adventure in learning." She arrived in Ann Arbor with an interest in theatre but decided to major in biomedical engineering. Co-director, Surya Nagaraja said he was drawn by the "opportunity to speak with people who are doing innovative or inspiring things and are simply passionate about what they do." His involvement in the conference the previous year influenced his chosen career path to pursue a MD/PhD because as he says "the extra step could put me in a better position in the future to do ground-breaking medicine." The amazing Holly Prouty, my go-to person aka "speaker shadow" for the day joined the team as she sought extracurricular activities in her first year. She says what keeps her involved is "the people. I can't help but love life when I am in the presence of other TEDx team members."
This lovefest was quite apparent even in their organizational structure. Maria Rose explained:
TEDxUofM team is built around allowing individuals to grab hold of their own projects and responsibilities. It can be frustrating to wait for those moments to happen when a timid individual takes ownership of some project, but it is all that much satisfying to know that they had the courage to step up and own it themselves. We don't appoint any type of committee heads or tell people tasks they must accomplished -- instead it is completely organic and you take on what and achieve what you truly wish to do. We have English majors working on art projects and engineers choosing speakers -- it's all over the place, wild, crazy and incredibly fun.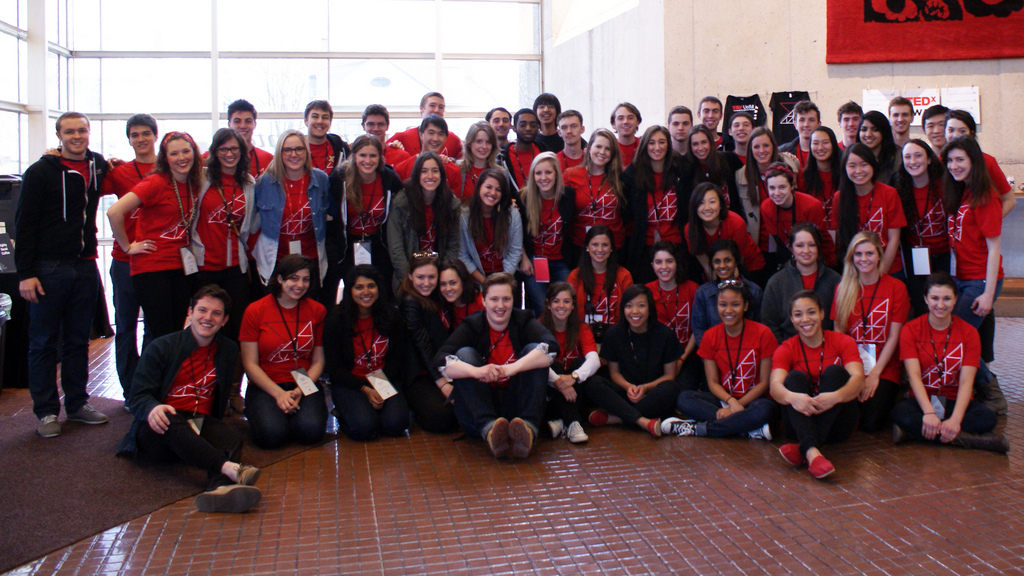 TEDXUofM 2013 Conference Team Members. Photo Credit: Aimee Xia
This was the energetic Kelsey Rhodes' third conference as a team member. She told me, "I put in all of the time, effort, imagination and pieces of self for something so much greater than just me. I am doing this for the 'us.'" She added, "TEDxUofM 2013 was monumental because in 2009 the conference was a baby that has now grown into a graceful, sparkling, purpose-filled adult." O'Dell, who attended this year's conference, concurs. He said, "this is an organization that owes its model to TED, yet flourishes independently from them... in the coming years, I believe the core model of what is being done here will continue to grow and evolve." Without their collective efforts, the day simply could not have been the success that it was. Team members know full well this is an extracurricular activity that requires vigilant time management. For Holly, "the most difficult and frustrating aspect of being involved in TEDx is finding a balance between my TEDx commitments, and my academic and personal responsibilities as a student, teammate, employee, friend, daughter, sister, etc." She figures out a way to make it work because she wants to contribute to something that will have an impact on a personal as well as a communal level.
With a broad range of topics ranging from NASA funding, creativity, brain cancer research, philanthropy, a food cart hero, ground-breaking physical therapy, Detroit, teaching philosophy, life outside of prison, Arab stereotypes, gay bashing and bullying, among other things, I certainly can attest to the fact that the event was engaging, and thought-provoking. Also, it filled my day with conversations and non-ending streams of laughter and tears as we bonded over moments in presentations and talks that showed us where we connected and where we did not. It's clear to me the crew I encountered are simply predisposed to a more interdisciplinary approach to learning and living. They are very much aware of the fact that life is not lived along disciplinary lines and are driven by a pursuit of wholeness that was nothing short of intoxicating. This was punctuated with an unmatched appreciation and respect for specificity. I relish these encounters. I actually had a terrible rehearsal the day before and even ditched the slides I had prepared. "You will be great tomorrow," they all said. So when my moment came to get on stage, the team members backstage -- including Clay (in his role as manager) -- were there, irresistibly encouraging and supportive as they had been since they first made contact. They not only believed in me and expected me to "bring it," they were eager to receive what I had to say. All they asked was that I show up and be myself.
This is why I was so thoroughly moved by them. In their own ways, they expressed an openness and embrace of difference that older generations are practically unable to manage, let alone acknowledge. They believe connections can happen without compromising our positions by downplaying our politics or identities to have greater appeal. This was unexpected. You see, the section in my dissertation-cum-book where I wrote about the dangers of self-erasure best describes my memories of UMich decades ago. So in a sense, this was a corrective experience. Indeed, in their choice of speakers and topics, the TEDxUofM team showed a sensibility and maturity that I believe big TED could learn from. During my research process in preparation for my close-up, I watched quite a few TEDTalks and found the site to recreate archaic racial tropes that desperately needs to be refreshed (to paraphrase Beet Box's Dan Morse). I certainly would not be me if I did not call out the dude (yes, I know he doesn't exist) for rather socially limited representations of Haiti and Haitians. Apparently, in my presentation, I even asked him to do lunch to discuss it. I don't remember details. I was so hyped in the moment.
As I searched for a title for this piece, I asked several team members to complete the following line TEDxUofM: Untapped_. Their varied responses revealed an unbeatable spirit of solidarity in action concerning the future that is at the heart of their commitment. This is why I believe the students who organized this conference are and will be game changers regardless of where they end up or what they choose to do with their lives.
According to Surya Nagaraja, TEDxUofM: Untapped_ will be surpassed by TEDxUofM 2014.
Without doubt, they will do just that. Go Blue!
Calling all HuffPost superfans!
Sign up for membership to become a founding member and help shape HuffPost's next chapter