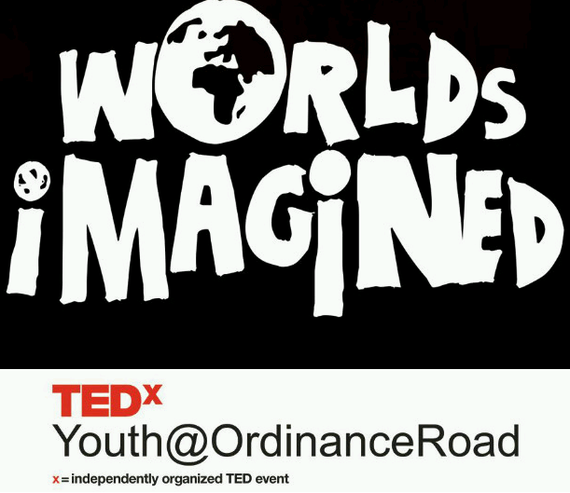 I still remember how it all started. Few days after Donald returned from TED Active 2014 in Whistler, Canada, I sat with him at the MESH AD Studio as he recalled his mind blowing experience from the event. "I didn't want it to end..." he said, as he handed me the copy of "I Am Malala" he bought for me at Whistler. After our little chitchat, he says with a smirk on his face, "I think you should apply for a TEDxYouth license". I laughed at the idea. "No, I'm serious... It'll help us build a larger community", he continued. "Well, I'll think about it", I responded. The truth is I actually considered getting a TEDx license in 2013 and as naïve as I was back then, if not for the advice I got from Saze Ibraheem and Ike Anya, the license would have expired in my mailbox--that's if at all I'd have gotten it. I didn't have the capacity to organize a TEDx event back in 2013 and fast forward to 2014, I wasn't sure I had it now. I returned to Donald's Office few days later, and Chinwe was around. Donald put on his mac book, typed TED.com in the URL box, and handed over the laptop to me. I filled the boxes. Application sent.
After a few clarification mails from Amanda at TED, we finalized on the name; TEDxYouth@OrdinanceRoad. Ordinance Road is the "TEDx capital" of the Niger Delta. This is where Donald's office is located and this is where the inspiration for hosting the first TEDx event in the Niger Delta--TEDxStadiumRoad--came.
First it was excitement. "Yay!!! I've gotten a TEDx License!" I screamed all over social media. But after a few weeks the weight of responsibility crashes on your shoulders like a weight-lifter who just lost balance. How do I raise the money? How do we form the team? Sponsors? Knowing what Donald passed through during TEDxStadiumRoad and TEDxPortHarcourt, how do I pull off such an uphill task? In the confusion and worry, I prayed to God--and kept praying till November 15 became a reality
"Can Anything Good Come out of Nazareth?"
Words will not be able to clearly describe what we went through--as a team--in organizing this event. In our individual bank accounts we didn't have enough to meet even our personal pressures and needs, talk less of having enough for an event of up to one hundred attendees. However, we had what I think mattered most; drive, self motivation, a dream to promote our region, and a hope to inspire change. And like we later discovered, this is what made all the difference.
15th November 2014: TEDxYouth Day
So, the D-day, or should I say X-day, came. The stage was set and the chairs were arranged, and as early as 9:30am attendees were already flocking the registration stand with their tickets. Team members were running up and down to dot the final Is and cross the finals Xs. While this was going on, Kofi Bartels, OAP on Nigeria's first Talk Radio Station (Nigeria Info FM), engaged the audience in a little discussion about Nigeria; her beauty, her problems, and the possible solutions to the problems.
Moving from row to row with the microphone just like he moves from caller to caller during HARD FACTS, the show he hosts every weekday on Nigeria Info FM, he gave the audience an appetizer as we awaited the real food for thought.
Nine Ideas, 100 Worlds Imagined
TEDxYouth@OrdinanceRoad didn't lack ideas worth spreading. Many thanks to Mrs Bitebo Gogo and the KIR foundation who provided sign- language translation for all talks during the event, to make sure no one was left behind in this food-for-thought feast.
The first speaker, Joyce Daniels, CEO of Talklogenic Ltd, spoke on The 21st Century Knowledge Apprentice. She challenged attendees to pursue knowledge patiently with a grateful heart. Sharing the story of her rise from being an Anatomy graduate with a wish, to a professional Master of Ceremonies Joyce encouraged youths to pursue the path of mentoring to make their Worlds Imagined a reality. Kukogho Iruesiri Samson's talk entitled, Dare to dream. Dare to Mold put a fire of determination in the bones of all attendees at TEDxYouth@OrdinanceRoad. An author, Poet, and multimedia journalist; Kukogho explained how the Worlds we imagine are like mashed clay before us. "We have to mold the worlds we imagine... We are porters of our destiny", he said. He ended the talk by saying, "over to you porter..." dropping the ball in the court of everyone listening.
Cool FM star presenter Sandra Ezekwesili spoke on, It Starts with you. She shared how she qualified for her Cool FM audition by starting with what she had; her dream and her smartphone's audio recorder. Quoting many famous people in course of her talk, she made everyone understand that, the world we imagine is out there, and many factors will come to play in the formation of that world, but "it starts with you". Stanley Azuokola, Editor of ScoopNg spoke on; We are Just Ordinary People. Sharing stories of successful people whom he had chronicled in course of his career, he explained how they are just ordinary people like me and you; with fears, worries, confusion, etc. But he said what made them extraordinary is their consistency. He encouraged everyone to always do that extra thing needed because, like he said, "the world you imagine is not very far from you..."
8-year old Dabota Sylvia Simon-Hart was the event's sweet heart as she teased, dazed, and inspired everyone at TEDxYouth@OrdinanceRoad with her confidence, composure, and content. A Basic 4 pupil of Lucille Education Center, Bonny, Dabota spoke on Preserving Our Natural Ecology making reference to gas flaring and other environmentally destructive activities which are common in the Niger Delta. She ended her beautiful presentation by saying "To get a better world, we must treat plants and animals same way we want to be treated." The thunderous round of applause that followed her thank-you-bow took us to lunch break, as attendees kept the conversation going in between bites and sips.
After lunch break, Perez Tigidam, CEO of Arden & Newton, popularly called the brand legend twisted everyone's head with his talk entitled, The Cycle of Chaos. We couldn't ask for a more chaotic opening too; "I listened to all the speakers before me, and they spoke beautifully about how the world will get better, and how the world we imagine will be filled with order and peace. I'm afraid I don't agree..." he said, and this got everybody on the edge of their seats trying to decipher what this apostle of chaos was about to say. In course of his talk, he totally explained how chaos should be embraced in our lives and that the disruption cycle will go on forever because "Nature doesn't only abhor a vacuum, it also abhors balance". He also said "Whenever there is Chaos, there's always an opportunity for creativity", and that we should all embrace chaos in our lives. The next speaker did a great job in bringing us back to ourselves after such a beautifully chaotic presentation. Joshua Ihejiamaizu, who was part of an Aljazeera sponsored panel during Social Media Week Lagos, brought a lot of inspiration to youths at the event because they could see someone who was also young like them, and has done incredible stuff in exactly the same environment they live in. Joshua spoke on Disrupting Industries with Technology, and he challenged youths to dream really big because, "The Internet age doesn't favour people with small dreams..." He also narrated how he led the winning team at the 2014 NASA Space Apps Challenge alongside his partner, Johnson Okorie.
With the event slowly coming to a climax, Donald Okudu, Creative Director MESH Advertising and Design Studios and Primary Licensee of TEDxStadiumRoad, shared how design saved his life. Donald encouraged youths to design the world they imagine by taking proactive steps to see their dream materialize. He explained how he disrupted the advertising market in his community to create a business niche for himself. He also reiterated the power of mentoring and how it helped him hone his skills. Daniel Nnwoka, social activist and comedian, brought TEDxYouth@OrdinanceRoad to a climax by giving his 2nd TED talk in 2 months--His first being at TEDxPortHarcourt. Unlike his first talk, this time Daniel spoke on the entertainment industry and how he imagined a world for himself in comedy even before entertainment became glamorous in Nigeria. He also explained how he payed his dues to get that desired world. Daniel said "The market is looking for fresh ideas, and youths should not expect to get new results with old methods". He ended by asking all attendees, "Do you want to be an option or the option..."
The TEDxYouth@OrdinanceRoad Team: Young. Bold. Inspired.
For us at the team, we had only one option. It was either yes or yes, and indeed organizing this event truly brought out the best in all of us. I was personally inspired by the sacrifice made by every member of the tem into making TEDxYouth@OrdinanceRoad a success. Mary Ajayi (Curator & Copywriter) who is also part of the TEDxBodija team, covered a lot of Kilometres from western Nigeria to the Niger Delta for this event. She was the only female on the team and so she kept a mummy-balance on all plans and ideas raised by the boys.
Peter Godswill (PR &Media) had to forsake lectures, work, and other commitments to see that the event was held successfully. He handled media perfectly as TEDxYouth@OrdinanceRoad was publicized not just on social media but also on popular Nigerian radio stations. The biggest challenge was always going to be keeping the attendee figure at 100 following TEDx Rules and guidelines. We really don't know how ThankGod Donald Okorisha (Admin/Registration) performed this miracle, but we're glad he could manage registration so well that we didn't exceed our attendee limit. ThankGod had to also let go off engagements in the church and other leadership responsibilities elsewhere, to give his best to the team.
Nsikak John (Graphics Lead), who traveled all the way from Akwa-Ibom State, worked side by side with Achinike to make sure the design and prints were ready in time for the event. Nsikak also brought to the team experience from being an Organizing team member of TEDxStadiumRoad, and it made a lot of difference in the planning process. Tochukwu Okorie (Web Developer& Logistics), who is not captured in the above snapshot because he was running around settling a few things when the picture was taken, gave his 200% to make sure everything turned out great. Already a veteran organizing team member with TEDxStadiumRoad and TEDxPortHarcourt, Tochukwu forsook office hours and a lot of sleep to cover grounds for the team, and looking back I'm really glad everyone's sacrifice was not in vain.
The challenges were enormous, but the drive of six young people added to the help of an Almighty God through our sponsors and partners put TEDxYouth@OrdinanceRoad and West Africa on the map of global 2014 TEDxYouth Day events. We are really grateful to our sponsors and partners, who believed in us and our dreams, and supported us all through the planning process; Mr Bereni Dinma-Fiberesima we see you.
We can't wait to get our videos approved by TED, and we don't know what 2015 will look like. But one thing is certain; when it comes it will meet us ready and excited to take that rough-but-exciting journey in our quest to build a vibrant community of youths with ideas worth spreading.
Related
Popular in the Community