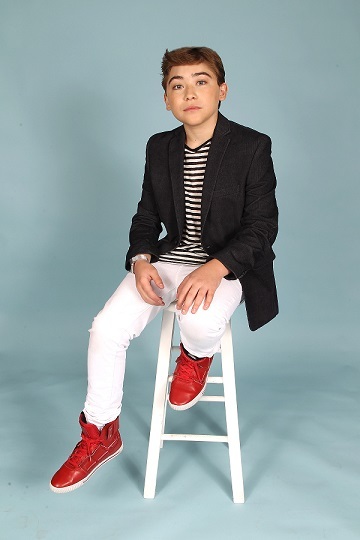 Raymond Ochoa plays the lead character / voice 'Arlo' in Disney-Pixar's The Good Dinosaur which stomps into theaters over Thanksgiving.
Raymond Ochoa. Photo by Jen Lowery Photography
Twitter: @raymondochoa12 , Instagram:@raymondochoa12
WEBSITE: www.ochoaboyz.com
14-year0=-old Raymond Ochoa has a career in film, television and music longer than a Brachiosaurus' neck. (Look it up, people.) Yet somehow, this guy seems to get everything done, including his schoolwork -- and this interview -- so ... yay! .
My audition was done in my home studio with sides [piece of script] that were not from the movie, because the project was top secret. A few months later Pixar called my agent and they flew me to their main facility in Emeryville, CA for multiple callbacks before they chose me for the role of Arlo.
You've done motion capture. Tell us about this experience.
Two movies I did mo-cap were Disney's A Christmas Carol and Mars Needs Moms. It was such a different experience than any other project I have worked on because you are never really seen on camera, it is only your movements, and I was able to play multiple roles. I wore a special motion capture suit with round little balls attached to it, and when you go in a special room with multiple cameras they can pick up the motion from the balls. For my face, they had to do a mold of it and make a mask where they drilled holes for placement. Every morning they would use a special marker to make dots on my face.
What's your favorite part of show business?
My favorite part is that I am able to entertain people.
How does your schooling work?
I do my schooling through an independent study program where I am able to do all my work at home and then every two weeks, I meet with my teacher and turn in my work. When I am on set, I work with a studio teacher and we do a mandatory three hours of school a day.
You and your brothers make music? Tell us about this.
We have a group called The Ochoa Boyz that we started over two years ago. Our genre is a mix of LMFAO and rap music, with a dance flavor. We have performed around the U.S. and do private performance parties. We even have been able to incorporate some of our music in a few of our movies.
Do you have any hobbies unrelated to show business?
I enjoy playing football with my three older brothers Rick, Ryan and Bobby.
Anything else you'd like to say Do you have any upcoming projects?
I hope everyone enjoys watching The Good Dinosaur as much as I did making it. My upcoming projects include a guest star role on Instant Mom (airing November 14th) and getting ready to start production on a movie with all my brothers called Triumph, which I'm really excited about!
REAL LIFE. REAL NEWS. REAL VOICES.
Help us tell more of the stories that matter from voices that too often remain unheard.