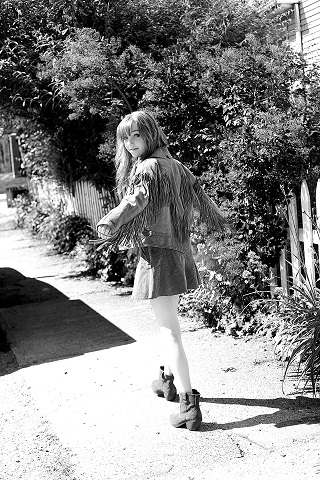 Julia Sarah Stone plays Lyric in AMC's "The Killing."
Twitter: @JuliaSarahStone
Photographer: Kyla Hemmelgarn
Psychology and acting go perfect together for actress Julia Sarah Stone. What better way to totally understand a character? In real life, Julia and her dad always battle it out as to who gets to read the subscription Psychology Today. Julia always wins.
Julia also has an interest in film school, so even though she's "just" a teenager, she already has life goals established.
Julia is so bubbly and adorable! Totally opposite her dark character on The Killing.
You play a teenaged prostitute in The Killing which has a lot of adult themes. How many auditions/callbacks did you have?
I had one audition and one callback with an additional scene. I found out about a week later that I got the role. My agent called my mom and me and told us together. It was one of the happiest moments of my life!
Now that your character Lyric has kissed a girl, Bullet, played by Bex Taylor-Klaus, have you noticed more fan support?
After Episode 6 (the kiss!), I received a few more Twitter and Facebook followers and more general interest in my character. I'm really thrilled that the fans care so much about the characters that they take the time to express themselves online and send really nice messages. It's so touching to me that the story unfolded in a way that was truthful for them. It resonated in some way and had an emotional impact. It means a lot to me that my character affects people this way. The writers also did a brilliant job of portraying the very real, very raw relationship between the two street kids. Support has continued to grow after Episode 7.
Why do you use your middle name in your stage name?
The first reason is superstition. When my mom was three months pregnant with me she went shopping in a used furniture/antique store for a rocking chair with serious personality and an obvious history. It wasn't really noticeable that she was pregnant. A very old, eastern European man suddenly rushed out from the back of the store. He put his hands on her belly. In broken English he told her that she was going to have a girl, and that it was extremely important to name her Sarah -- with an "h". My parents knew they would name a girl Julia. They were also against any middle names. The old man wouldn't let her leave and insisted that if they used the name Sarah, the baby would have enormous protection and luck in her life. My mom agreed to the middle name Sarah right there in the store. Before she left, he made her promise that the middle name would be used and spoken. My mom always keeps her promises.
The second reason is more practical. There's a terrific singer named Julia Stone. "Sarah" ensures there's no confusion in the arts world!
Did you ever have braces?
Yes! I had a mouth full of too many giant teeth that looked like they were just tossed in there randomly. Some of them had to be taken out, and the roots were so big and deep that I got a general anesthetic! I wore metal braces and retainers.
Now I have Invisalign retainers (which I probably don't wear enough!) in the final stage of my dental drama.
Do you have any siblings?
I am an only child! Being an only child is lots of fun in our family and I'm glad I don't have to share my parents! Our life is really active and busy. My parents are strict about fulfilling responsibilities, school, respect, work ethic and good personal values. We all work very hard. But we also play very hard too and have a ton of fun, especially in the outdoors. We share many common interests like live theatre, film, music, skiing, hiking and gourmet food. Since there's only the three of us, it's a lot easier to cram in the things we like without negotiating or working around a lot of complicated schedules. So being an only child is really working out for me!
How did you get nominated for the award of Best Performance in an International Feature Film -- Leading Young Performer for "The Year Dolly Parton Was My Mom?"
I was nominated by my agent, the producer (Barbara Shrier) and director (Tara Johns). My mom compiled all the critical reviews, put the whole package together and organized everything. So, it was a combined nomination effort! My agent, Murray Gibson, came with us to Los Angeles to attend the awards and spend the weekend with us showing us around the town. We had an amazing time.
I was shocked with my name was announced together with my fellow Canadian actor, Antoine Pilon. It was such an honor for me to be recognized. To be honored for my work outside of Canada just made the whole thing even more unbelievable. It still doesn't feel like it happened! Yes -- I got a statue. We celebrated that night with pancakes for dinner and played improv games with other Canadian actors at the Sportsmen's Lodge!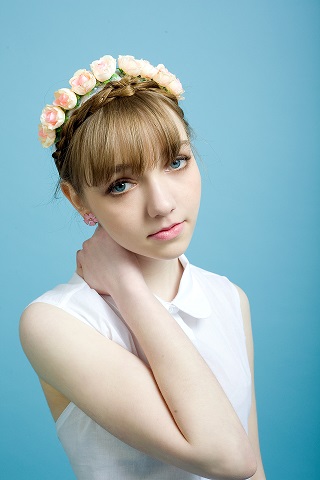 Julia Sarah Stone has strong family values.
What kind of cell phone do you have?
I have an iPhone 4, but I don't use it a lot; technology can be useful, but it's an easy way to waste time without even realizing it. I'd rather curl up on the couch with a good book! As for scripts, I always print them out on paper, as it gives me something physical to hold in my hand as I read (I never read books electronically, either). This helps me to concentrate -- I have a very short concentration span, but I could spend the whole day reading scripts!
I'm not afraid of spiders or moths, but I'm afraid of killing them! Every time there's a spider in the house, my mom takes it back outside. I'm so lucky to have her!
What is most special to you in life?
Family always comes first for me, no matter what. I love my parents and I'm so lucky to have their full support. They take care of me, and they help me to keep my feet on the ground. I know that no matter what, they won't let me lose myself.
Anything else you'd like to add?
[A film I worked on,] Heart of Dance, is organizing their funding so that they can complete the project. I'm a terrible dancer, but I didn't have to do any dance training for the film (thankfully)!
Thanks so much for the interview, and thank you to all the fans for their support of the show and for the really nice messages they've sent me!
Calling all HuffPost superfans!
Sign up for membership to become a founding member and help shape HuffPost's next chapter