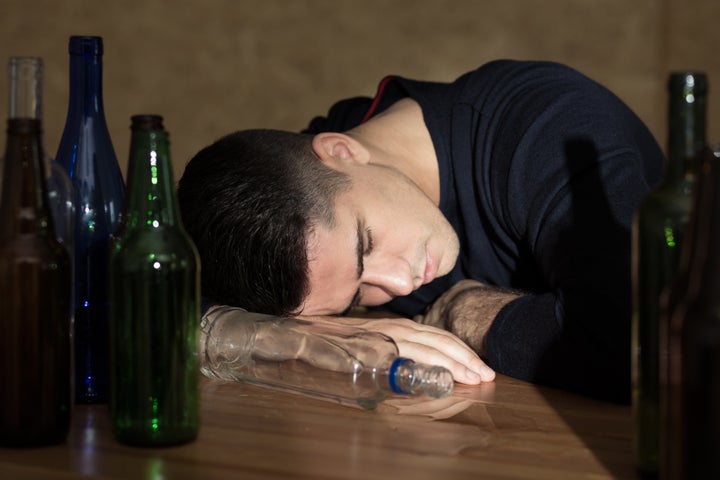 Although drug and alcohol abuse is on the decline among American teenagers, addiction issues are still common -- and those issues often go hand in hand with dangerous behaviors, according to recent research. 
Developmental psychologists from Case Western Reserve University who conducted the research found that these behaviors seem to be driven by a lack of awareness and concern for others.
"Alcoholics have been described as a 'tornado running through the lives of others,'" Dr. Maria Pagano, a professor of child psychiatry at the university and the study's lead author, told The Huffington Post on Friday. "Results from this study suggest that alcoholics lack awareness of others and how their actions impact others, rather than being sociopaths or intending to harm others." 
Of course, egocentrism and self-absorption is natural in adolescence. But Pagano pointed out that adolescents with addiction might be particularly deficient in their awareness of others. 
For the study, the researchers recruited 585 Ohio high school students, some of whom were being treated for addiction at a large residential facility in the northeastern part of the state. The sample included 390 students who reported little or no drug or alcohol use and 195 students with addictions.
Each student with addiction was matched based on age, gender, race and home zip code with another student who had no history of drug and alcohol use, and one student with some past experience of drugs and alcohol. The researchers compared the trios of students based on behaviors, including driving under the influence, sexual behavior and volunteering.  
The analysis revealed that 55 percent of all of the teens said their last sexual encounter was unprotected, and one in five had a history of driving under the influence. The teens' risk of driving under the influence and having unprotected sex was strongly correlated with severity of alcohol or drug abuse.
To increase muscle in becoming more aware of others, teens struggling with or at risk for addiction should get active in helping others as a method to get out of self."

Child psychiatrist Dr. Maria Pagano
While the researchers concluded that alcohol and drug use severity is associated with having poor awareness of how your behaviors impact others, they also noted that recognizing and addressing this component of adolescent addiction is a first step toward recovery. 
Pagano explained that even when addicts are in recovery, there's often a lack of awareness of how their actions affect those around them.
Helping young people to transcend their egocentricity may actually aid them in their recovery. Pagano's previous work has shown that volunteering cuts in half both a teen's risk of relapse and risk of arrest for adult addicts. 
For teens, it's possible that volunteering or finding other ways to help others could act as a way to improve their regard for and sensitivity toward others. Pagano is exploring this question in another ongoing study that follows a group of teen addicts for a year to explore whether volunteering results in a reduction in risky behaviors. 
"To increase muscle in becoming more aware of others, teens struggling with or at risk for addiction should get active in helping others as a method to get out of self," Pagano said. 
Calling all HuffPost superfans!
Sign up for membership to become a founding member and help shape HuffPost's next chapter
BEFORE YOU GO
PHOTO GALLERY
7 Things To Know About Women And Alcohol