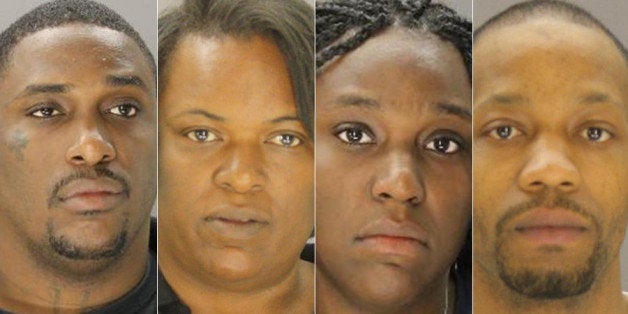 (Adds details from Dallas police news conference)
DALLAS, June 3 (Reuters) - Four members of a Texas family have been arrested on suspicion of beating a 14-year-old relative to induce an abortion two years ago after she had been raped by a member of the family, Dallas police said on Wednesday.
Cedric Jones, 27; Sharon Jones, 45; Cecila McDonald, 25; and Lonnell McDonald, 27, were arrested on Tuesday and charged with engaging in organized criminal activity, according to online jail records.
The girl was about eight months pregnant when the four beat her for six hours, repeatedly kicking her in the abdomen, police said. The Dallas Morning News said the teenager gave birth to a stillborn baby hours later. The body was thought to have been burned in a charcoal grill and buried at an unknown location, police said.
"Several family members took matters into their own hands," Deputy Chief Gil Garza told reporters.
Before the beating, police said the family had tried birth control pills and cinnamon tablets to abort the pregnancy, police said.
The relationship between the victim, now 16 years old, and her relatives was unknown but police described them as "immediate family." The suspects are being held at Dallas County jail with bail set at $150,000 each.
Robert Cayald, 22, the victim's cousin, was also arrested Tuesday and charged with aggravated sexual assault of a child, police said at a news conference. His bond was set at $25,000.
The young girl told police she became pregnant after a sexual assault by a family member but was too embarrassed to report it to authorities.
Police said the four relatives discovered the teenager was pregnant and used various methods to terminate the pregnancy out of fear that Child Protective Services would remove the other children living at the home.
Police said a woman who witnessed part of the incident took the girl to a station last month to report the assault. The woman was not identified but could be charged later for not initially reporting the crime, Garza said.
The teenage victim is now under the care of Child Protective Services. Police are still searching for the remains of her child. (Writing by Jon Herskovitz; Editing by Bill Trott)
Calling all HuffPost superfans!
Sign up for membership to become a founding member and help shape HuffPost's next chapter