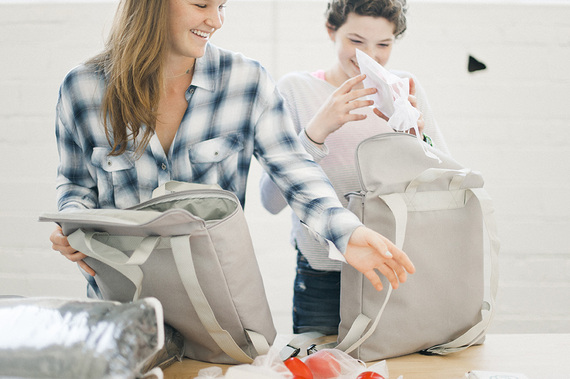 Teens Pia Phillips and Abbie Nelson have been best friends since they were four years old. When the girls, now in high school, became ill (Pia with Hodgkin's lymphoma, and Abbie with Type 1 diabetes) they sought treatment at Minnesota's children's hospitals (Abbie in Saint Paul, Pia in Minneapolis). It was then they noticed something wasn't quite right:
How was the idea for 'PABS PACKS' born?
We were diagnosed with chronic illnesses a year apart; best friends devastated by diabetes and cancer at a very young age. Our respective time in the hospital had a lasting impact on both of us.
While we had around-the-clock support and comfort from friends and family, we noticed a lot of kids that were not as lucky. Many of them were left alone in the hospital for long periods of time.
While hospitals are great at catering to younger children in this situation, they are not always good at helping teenagers. During our hospital stays, we talked for hours about how we wanted to make an impact on the older kids without support.

We learned about a San Diego non-profit that gave people who were homeless a backpack with a month's worth of living supplies. Abbie's mom had seen a news story about it and shared it with us during one of our conversation(s). We instantly knew what we wanted to do.
And that's how it started?
So what are PAB'S PACKS exactly?
PAB'S PACKS (P for Pia and AB for Abbie) provides chronically ill teens with backpacks filled with comfort items. Each backpack contains a soft fleece blanket, a notebook and pen, a stress ball, lip balm and lotion, a bracelet and a stuffed Pabby the penguin.
How long have you been doing this?
We created PAB'S PACKS during the summer of 2014, but the organization has really taken off over the last year. We have developed new strategic partnerships and increased our fundraising efforts. Our first year, we gave out about 500 backpacks.
This year, we expect to distribute 1600! We are starting to sell PAB'S PACKS to the public as well. We will launch the sale of our backpacks at our first annual fundraising event on April 8th.
What's your hope for the future?
We want to improve the hospital stays of chronically ill teenagers by providing them with comfort items that can make a difference. We pack each backpack hoping to give teens peace of mind that their bag is ready for the next hospital stay, when they need it.
We want to make sure that sick teens know that they are not alone - that others have shared the experience of extended hospital stays. That's why we try to hand-deliver our backpacks.
By sharing our story, we hope to inspire other teenagers to connect to a cause they believe in and give back. And, we hope to distribute PAB'S PACKS to more teenagers with chronic illnesses across the country!
What do you know for sure?
We know firsthand that it is difficult to be a sick teenager. We know that we are lucky to have great family and friends. But most importantly, we know the incredibly rewarding feeling of handing a backpack to a new friend that we meet in the hospital.
And, we know for sure that we will continue to work incredibly hard to help PAB'S reach every chronically ill teenager we can.
Visit PABS'S online for more. And tomorrow night, join Abbie and Pia as PAB'S celebrates their first year with a party and concert (featuring DJ LORD of Public Enemy) at the Icehouse in Minneapolis. Details here.
Calling all HuffPost superfans!
Sign up for membership to become a founding member and help shape HuffPost's next chapter