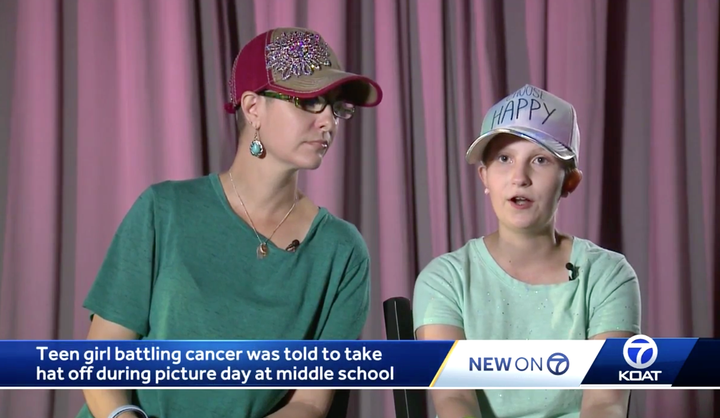 A New Mexico teenager battling cancer said she was humiliated by a photographer on school picture day who told her to remove her hat.
Bella Thurston, 13, was diagnosed with ependymoma, a brain and spine tumor, when she was 5 years old. She wears a hat because some of her hair fell out following recent chemotherapy treatments.
"It was just really humiliating and upsetting for me. I was trying hard not to cry. It was just not a good experience," she told KOAT, the local ABC affiliate in Albuquerque.
Thurston said the photographer told her it was "against policy" for her to be photographed wearing a hat.
"And I was like, 'OK, so I can't wear my hat?' and he was like, 'No, you can go fix your hair, take your hat off or I won't take your picture,' and I didn't let him take my picture because I didn't feel that I needed to take my hat off in order for him to take my picture," she said.
Thurston's mother, Kara, said she felt helpless after learning about her daughter's ordeal.
"When something happens to your kid that you can't fix, it's heartbreaking," she said.
Bella said cancer shouldn't single her out. She just wants to be treated the same as her peers.
"I would like my picture to be taken the normal way and to be in the same spot that it always is in the yearbook," she said.
A representative from Albuquerque Public Schools said the district met with the photography company, Lifetouch, about the concerns, KOAT reported.
In a statement, the company said that it will be revisiting its training protocol with photographers and has offered Thurston a complimentary photography session.
REAL LIFE. REAL NEWS. REAL VOICES.
Help us tell more of the stories that matter from voices that too often remain unheard.