Paging Jay Z: There's a teen at a hospital in Philadelphia with whom you may want to collaborate.
Since April, Tom G., 19, has been battling acute myeloid leukemia which often leaves him exhausted and confined to the Children's Hospital of Philadelphia (CHOP) where he's being treated, CBS Philly reported. But the disease hasn't zapped his spirits, and he's parodied Hova to show that cancer isn't all bad news and bleak hospital stays.
Together with his doctors and nurses, Tom, who asked ABC News not to use his last name, riffs "Ball So Hard" and "Empire State of Mind" with lyrics that show the "everyday life of a cancer patient in a more unique way," he says at the end of the video.
"Bald so hard, my head got shiny -- bright glare behind me. What's a brush what's a comb, can you please remind me?" Tom sings with one of his doctors (who also happens to be bald).
The teen does bemoan some of the challenges he faces -- namely, his romantic prospects.
"They tell me I'm gonna get married to my pole. She's always here with me, like everywhere I go," Tom raps while traipsing down the hallway. "She always hits me with that good chemo."
While Tom –- who's slated to be discharged in a few weeks –- would like to meet Jay Z, that's not his main priority. Right now, he's supporting September's Childhood Cancer Awareness Month, raising funds for CHOP and showing the world that even while battling a serious disease, there's still room to laugh.
Find out how you can help support The Children's Hospital of Philadelphia here.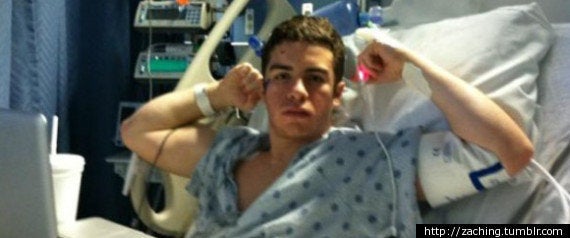 5 Inspiring Cancer Stories
Popular in the Community