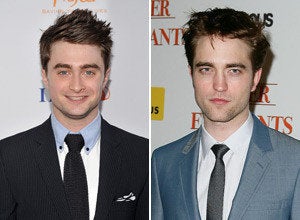 In the only award show that could pit Oscar winner "Black Swan" against "The Roommate," this year's Teen Choice Awards are both out there and predictable. While the categories run the gamut form across 66 categories, from movies to television to sports and fashion, the big faceoffs will be between teen heavyweights Harry Potter and Twilight. Both film series are coming to their conclusion this year, leaving only one more year for them to compete.
"Twilight Saga: Eclipse" received 12 nods, including actor and actress nominations for Robert Pattinson, Taylor Lautner and Kristen Stewart, as well as LipLock nominations for Stewart's kisses with both male leads. They'll be up against a smooch between "Harry Potter and the Deathly Hallows: Part 1" stars Daniel Radcliffe and Emma Watson, who are both up for lead actor awards as well. The awards are decided by online voting, so the most powerful fan-base will prevail.
On the TV front, "Vampire Diaries" and "Gossip Girl" are each up for multiple awards, with "Glee" leading the pack with 9 nominations, including actor Chris Colfer picking up both a Scene Stealer and Fashion Icon nod.
The music category features the usual suspects -- Lady Gaga, Justin Bieber, Taylor Swift, and Miley Cyrus included. In the less traditional categories, Justin Bieber and Ashton Kutcher are up for "Best Twit" against a fictional character -- Springfield's Homer Simpson could take home the crown.
The awards will air live Sunday, Aug. 7, on Fox.
FULL LIST OF NOMINEES

MOVIES

Choice Movie: Action
Fast Five
Faster
Scott Pilgrim vs. the World
The Tourist
Unstoppable

Choice Movie Actor: Action
Michael Cera, Scott Pilgrim vs. the World
Johnny Depp, The Tourist
Vin Diesel, Fast Five
Dwayne Johnson, Fast Five
Paul Walker, Fast Five

Choice Movie Actress: Action
Jordana Brewster, Fast Five
Rosario Dawson, Unstoppable
Carla Gugino, Faster
Angelina Jolie, The Tourist
Mary Elizabeth Winstead, Scott Pilgrim vs. the World

Choice Movie: Sci-Fi/Fantasy
Harry Potter and the Deathly Hallows: Part 1
Pirates of the Caribbean: On Stranger Tides
Super 8
The Twilight Saga: Eclipse
X-Men: First Class

Choice Movie Actor: Sci-Fi/Fantasy
Johnny Depp, Pirates of the Caribbean: On Stranger Tides
Taylor Lautner, The Twilight Saga: Eclipse
Robert Pattinson, The Twilight Saga: Eclipse
Daniel Radcliffe, Harry Potter and the Deathly Hallows: Part 1
Ryan Reynolds, Green Lantern

Choice Movie Actress: Sci-Fi/Fantasy
Penélope Cruz, Pirates of the Caribbean: On Stranger Tides
Elle Fanning, Super 8
Blake Lively, Green Lantern
Kristen Stewart, The Twilight Saga: Eclipse
Emma Watson, Harry Potter and the Deathly Hallows: Part 1

Choice Movie: Drama
Black Swan
Limitless
The Roommate
Soul Surfer
Water for Elephants

Choice Movie Actor: Drama
Bradley Cooper, Limitless
Jesse Eisenberg, The Social Network
Cam Gigandet, The Roommate
Shia LaBeouf, Wall Street: Money Never Sleeps
Robert Pattinson, Water for Elephants

Choice Movie Actress: Drama
Minka Kelly, The Roommate
Leighton Meester, Country Strong
Natalie Portman, Black Swan
AnnaSophia Robb, Soul Surfer
Reese Witherspoon, Water for Elephants

Choice Movie: Romantic Comedy
Easy A
Just Go With It
Life As We Know It
No Strings Attached
Something Borrowed

Choice Movie Actor: Romantic Comedy
Penn Badgley, Easy A
Josh Duhamel, Life as We Know It
John Krasinski, Something Borrowed
Ashton Kutcher, No Strings Attached
Adam Sandler, Just Go With It

Choice Movie Actress: Romantic Comedy
Jennifer Aniston, Just Go With It
Ginnifer Goodwin, Something Borrowed
Natalie Portman, No Strings Attached
Emma Roberts, The Art of Getting By
Emma Stone, Easy A

Choice Movie: Comedy
Bad Teacher
Bridesmaids
Due Date
Little Fockers
The Other Guys

Choice Movie Actor: Comedy
Russell Brand, Arthur
Will Ferrell, The Other Guys
Zach Galifianakis, Due Date /The Hangover Part II
Ed Helms, The Hangover Part II
Justin Timberlake, Bad Teacher

Choice Movie Actress: Comedy
Cameron Diaz, Bad Teacher
Anna Faris, Take Me Home Tonight
Eva Mendes, The Other Guys
Maya Rudolph, Bridesmaids
Kristen Wiig, Bridesmaids

Choice Movie: Horror
Let Me In
Paranormal Activity 2
Piranha 3D: The Sequel
Saw 3D: The Final Chapter
Scream 4

Choice Animated Movie: Voice
Jack Black, Kung Fu Panda 2
Johnny Depp, Rango
Anne Hathaway, Rio
Zachary Levi, Tangled
Justin Timberlake, Yogi Bear

Choice Movie: Chemistry
Will Ferrell and Mark Wahlberg, The Other Guys
Ed Helms, Zach Galifianakis and Bradley Cooper, The Hangover Part II
Adam Sandler and Jennifer Aniston, Just Go With It
The Super 8 Crew, Super 8
The First Class, X-Men: First Class

Choice Movie: Liplock
Vanessa Hudgens and Alex Pettyfer, Beastly
Mila Kunis and Natalie Portman, Black Swan
Kristen Stewart and Taylor Lautner, The Twilight Saga: Eclipse
Kristen Stewart and Robert Pattinson, The Twilight Saga: Eclipse
Emma Watson and Daniel Radcliffe, Harry Potter and the Deathly Hallows: Part 1

Choice Movie: Hissy Fit
The Alien, Super 8
Ed Helms, The Hangover Part II
Robert Downey Jr., Due Date
Mark Wahlberg, The Other Guys
Kristin Wiig, Bridesmaids

Choice Movie: Villain
Kevin Bacon, X-Men: First Class
Tom Felton, Harry Potter and the Deathly Hallows: Part 1
Bryce Dallas Howard, The Twilight Saga: Eclipse
Ian McShane, Pirates of the Caribbean: On Stranger Tides
Leighton Meester, The Roommate

Choice Movie: Male Scene Stealer
Riley Griffiths, Super 8
Andrew Garfield, The Social Network
Ken Jeong, The Hangover Part II
Kellan Lutz, The Twilight Saga: Eclipse
Justin Timberlake, The Social Network

Choice Movie: Female Scene Stealer
Ashley Greene, The Twilight Saga: Eclipse
Mila Kunis, Black Swan
Melissa McCarthy, Bridesmaids
Alyson Michalka, The Roommate/ Easy A
Crystal the Monkey, The Hangover Part II

TELEVISION

Choice TV Show: Drama
Bones
Gossip Girl
House
Make It or Break It
The Secret Life of the American Teenager

Choice TV Actor: Drama
Penn Badgley, Gossip Girl
David Boreanaz, Bones
Chace Crawford, Gossip Girl
Daren Kagasoff, The Secret Life of the American Teenager
Hugh Laurie, House

Choice TV Actress: Drama
Emily Deschanel, Bones
Blake Lively, Gossip Girl
Josie Loren, Make It or Break It
Olivia Wilde, House
Shailene Woodley, The Secret Life of the American Teenager

Choice TV Show: Fantasy/Sci-Fi
Fringe
Smallville
Supernatural
Teen Wolf
The Vampire Diaries

Choice TV Actor: Fantasy/Sci-Fi
Joshua Jackson, Fringe
Jared Padalecki, Supernatural
Ian Somerhalder, The Vampire Diaries
Tom Welling, Smallville
Paul Wesley, The Vampire Diaries

Choice TV Actress: Fantasy/Sci-Fi
Nina Dobrev, The Vampire Diaries
Erica Durance, Smallville
Anna Paquin, True Blood
Crystal Reed, Teen Wolf
Anna Torv, Fringe

Choice TV Show: Action
Burn Notice
Chuck
Hawaii Five-O
NCIS: Los Angeles
Nikita

Choice TV Actor: Action
Jeffrey Donovan, Burn Notice
Daniel Dae Kim, Hawaii Five-O
Zachary Levi, Chuck
LL Cool J, NCIS: Los Angeles
Shane West, Nikita

Choice TV Actress: Action
Lyndsy Fonseca, Nikita
Linda Hunt, NCIS: Los Angeles
Grace Park, Hawaii Five-O
Maggie Q, Nikita
Yvonne Strahovski, Chuck

Choice TV Show: Comedy
The Big Bang Theory
Glee
iCarly
Modern Family
Wizards of Waverly Place

Choice TV Actor: Comedy
Ty Burrell, Modern Family
Steve Carell, The Office
John Krasinski, The Office
Cory Monteith, Glee
Jim Parsons, The Big Bang Theory

Choice TV Actress: Comedy
Miranda Cosgrove, iCarly
Kaley Cuoco, The Big Bang Theory
Miley Cyrus, Hannah Montana
Selena Gomez, Wizards of Waverly Place
Demi Lovato, Sonny with a Chance

Choice TV: Animated Show
American Dad
Bob's Burgers
The Cleveland Show
Family Guy
The Simpsons

Choice TV: Personality
Christina Aguilera, The Voice
Tyra Banks, America's Next Top Model
Adam Levine, The Voice
Jennifer Lopez, American Idol
Ryan Seacrest, American Idol

Choice TV: Reality Competition Show
American Idol
America's Best Dance Crew
So You Think You Can Dance
The Voice
Wipeout

Choice TV: Reality Show
Jersey Shore
Khloé & Lamar
Kourtney & Kim Take New York
The Real World: Las Vegas
Secret Millionaire

Choice TV: Male Reality/Variety Star
Paul "Pauly D" Del Vecchio, Jersey Shore
Rob Dyrdek, Fantasy Factory
Lamar Odom, Khloé & Lamar
Mike "The Situation" Sorrentino, Jersey Shore
Brad Womack, The Bachelor

Choice TV: Female Reality/Variety Star
Laurieann Gibson, The Dance Scene
Chelsea Handler, After Lately
The Kardashians, Keeping Up with the Kardashians
Audrina Patridge, Audrina
Nicole "Snooki" Polizzi, Jersey Shore

Choice TV: Villain
Justin Bieber, CSI
Jane Lynch, Glee
Seth MacFarlane (as Stewie Griffin), Family Guy
Joseph Morgan, The Vampire Diaries
Ed Westwick, Gossip Girl

Choice TV: Female Scene Stealer
Dianna Agron, Glee
Katerina Graham, The Vampire Diaries
Jennette McCurdy, iCarly
Amber Riley, Glee
Sofia Vergara, Modern Family

Choice TV: Male Scene Stealer
Chris Colfer, Glee
Rico Rodriguez, Modern Family
Mark Salling, Glee
Eric Stonestreet, Modern Family
Michael Trevino, The Vampire Diaries

MUSIC

Choice Music: Male Artist
Justin Bieber
Jason Derülo
Cee Lo Green
Enrique Iglesias
Bruno Mars

Choice Music: Female Artist
Adele
Lady Gaga
Katy Perry
Rihanna
Taylor Swift

Choice Music: Group
The Black Eyed Peas
Far East Movement
Glee cast
Selena Gomez & The Scene
The Script

Choice Music: R&B/Hip-Hop Artist
Eminem
Lupe Fiasco
Nicki Minaj
Pitbull
Kanye West

Choice Music: Rock Group
30 Seconds to Mars
Foo Fighters
Linkin Park
OneRepublic
Paramore

Choice Music: Rock Track
"Rope," Foo Fighters
"Waiting for the End," Linkin Park
"Sing," My Chemical Romance
"Good Life," OneRepublic
"Monster," Paramore

Choice Music: R&B/Hip-Hop Track
"Run the World (Girls)," Beyoncé
"Just Can't Get Enough," The Black Eyed Peas
"Don't Wanna Go Home," Jason Derülo
"I Need a Doctor," Dr. Dre featuring Eminem and Skylar Grey
"All of the Lights," Kanye West

Choice Music: Single
"The Time (Dirty Bit)," The Black Eyed Peas
"Who Says," Selena Gomez & The Scene
"Born This Way," Lady Gaga
"Firework," Katy Perry
"Give Me Everything," Pitbull featuring Ne-Yo

Choice Music: Male Country Artist
Jason Aldean
Luke Bryan
Brad Paisley
Blake Shelton
Keith Urban

Choice Music: Female Country Artist
Miranda Lambert
Jennette McCurdy
Kellie Pickler
Taylor Swift
Carrie Underwood

Choice Music: Country Single
"If I Die Young," The Band Perry
"Country Girl (Shake It for Me)," Luke Bryan
"Just a Kiss," Lady Antebellum
"Honey Bee," Blake Shelton
"Mean," Taylor Swift

Choice Music: Country Group
Lady Antebellum
The Band Perry
Rascal Flatts
Steel Magnolia
Little Big Town

Choice Music: Love Song
"Come Down with Love," Allstar Weekend
"Love You Like a Love Song," Selena Gomez
"Just the Way You Are," Bruno Mars
"Teenage Dream," Katy Perry
"Mine," Taylor Swift

Choice Break-Up Song
"Rolling in the Deep," Adele
"Forget You," Cee Lo Green
"See No More," Joe Jonas
"Grenade," Bruno Mars
"Back to December," Taylor Swift

FASHION

Choice Red Carpet Fashion Icon: Female
Miley Cyrus
Vanessa Hudgens
Lady Gaga
Jennifer Lopez
Taylor Swift

Choice Red Carpet Fashion Icon: Male
Justin Bieber
Chris Colfer
Zac Efron
Jaden Smith
Justin Timberlake

Choice Male Hottie
Justin Bieber
Joe Jonas
Taylor Lautner
Robert Pattinson
Ian Somerhalder

Choice Female Hottie
Nina Dobrev
Selena Gomez
Kim Kardashian
Minka Kelly
Mila Kunis

SPORTS

Choice Athlete: Male
Jon Jones (Mixed Martial Arts)
Dirk Nowitzki (Basketball)
Manny Pacquiao (Boxing)
Albert Pujols (Baseball)
Shaun White (Snowboarding/Skateboarding/Surfing)

Choice Athlete: Female
Shawn Johnson (Gymnastics)
Danica Patrick (Auto Racing)
Maria Sharapova (Tennis)
Lindsey Vonn (Ski Racing)
Serena Williams (Tennis)

OTHER

Choice Comedian
Ellen DeGeneres
Jimmy Fallon
George Lopez
Andy Samberg
Daniel Tosh

Choice Twit
Justin Bieber
Ellen DeGeneres
Ashton Kutcher
Demi Lovato
Homer Simpson
Popular in the Community