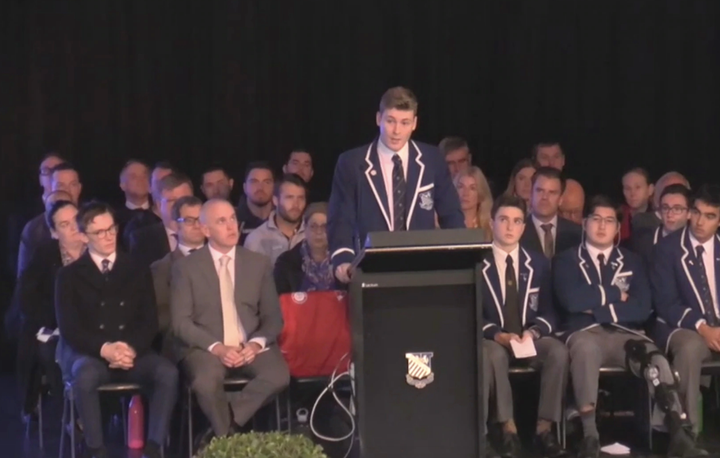 When an Australian teen used his high school keynote speech to come out as gay, the then-17-year-old received nothing but love and support. 
"Announcing yourself to the world is pretty terrifying because what if the world doesn't like you?" Finn Stannard said to his Catholic all-boys high school back in June, quoting the famous line from the coming-of-age film "Love, Simon."
"I decided that it was finally time to tell someone the truth," Stannard continued. "It wasn't easy but I told my mom that I thought I might be gay." 
The group of 1,500 peers and teachers at the Sydney high school St. Ignatius' College gave Stannard a standing ovation. Some of the high school boys gave him a pat on the back as the entire auditorium stood to applaud.  
"When I said it, I just felt this energy pass through me and I felt that was the first time I'd really been proud of who I was," he told Australia's SBS News in an interview published Monday.
Stannard gave his keynote address back in June but the video of his speech was not released until SBS News' report was published Monday. 
"It was amazing. The fact that Finn was supported, the fact that his message was heard. I was in tears," Stannard's mother told SBS News. "We were just so proud of him, so proud of the school, so proud of the boys. It was truly a special occasion." 
St. Ignatius' principal Paul Hine described Stannard's speech as a "watershed" moment.
"We never had a boy stand publicly and talk about their sexuality," he said. 
"A life living behind a mask is not one any person should have to live," Stannard concluded his speech. "So, with that in my mind, my message to you all is this: Surround yourself with the people who let you live as your true self and never be afraid of asking for help. Find your own identity and be comfortable with who you are." 
REAL LIFE. REAL NEWS. REAL VOICES.
Help us tell more of the stories that matter from voices that too often remain unheard.