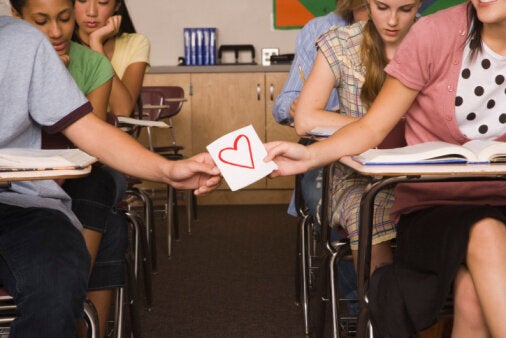 February is Teen Dating Violence Awareness and Prevention Month. During this month, and at all times, parents need to be aware of the issue of teen dating violence. For as much as domestic violence among adults is an issue that is too often not discussed -- and too often kept a secret by the victim -- teen dating violence is even less discussed, and even less reported by victims. Nevertheless, in a recent survey of over 4,000 9th through 12th graders, one in five reported being physically and/or sexually abused by a dating partner.
The sad fact is that two out of three teens in an abusive relationship don't ever tell anyone about the abuse. For girls, when they experience serious sexual abuse they only report it to an authority figure six percent of the time. This makes it very difficult to know when your teen has become a victim of dating violence.
Still, there are warning signs that every parent and teacher can and should look for. Because teenage years are difficult (and secretive) enough as it is, it's important to be aware of these warning signs, and to approach your teen in a way that will make them feel comfortable talking with you.
One obvious sign of teen dating violence is physical injury. Unexplained injuries, bruises, even illness brought on by stress, can all indicate teen dating violence. Academic performance is also a tell-tale sign. Are your teen's grades dropping, are they ditching school or not doing their homework? Teen dating violence is also linked to drug and alcohol abuse, which can be either a cause or an effect.
Another common sign of abuse is a change in your teen's mood or personality. Often times victims of abuse isolate themselves, become less social, talk less at meals and seem withdrawn. The opposite personality changes can also point to abuse. Is your teen having emotional outbursts? Do they get angry more quickly than usual? Are they acting more aggressively than they do normally? Do they want to go out more often, stay out past their curfew?
With teenagers, it's not going to be easy to read these signs. It's a volatile time in life, and many teens go through serious changes in habits, personality traits, friendships and even motivation in school. So parents really need to understand the issue before approaching their teenager. If you don't have the right approach, you can end up having the opposite result you want to have, and your teen won't come to you when they need help.
The first thing every parent must do is become educated about the issue. There are many teen dating violence prevention organizations in America, and the internet is a great place to begin educating yourself about the issue. Knowing more about teen dating violence is the best first step you can take to help your child avoid becoming a victim or perpetrator, and to know how to deal with the situation of they are in a violent relationship.
The most important thing you can do is talk with your teen. Once you've educated yourself on the issue, share what you've learned with your spouse and children. It's not going to be an easy talk, but it's a critical one. Not talking about it won't make it not happen.
Most of all, it's very important to ensure your teen knows they can talk to you about anything. Your teen needs to know that they can come to you when they need help, and that you won't judge them, rather you will be a source of support for them.

For further information contact Dr. Ludy Green at www.ludygreen.com and www.scesnet.org.

Popular in the Community