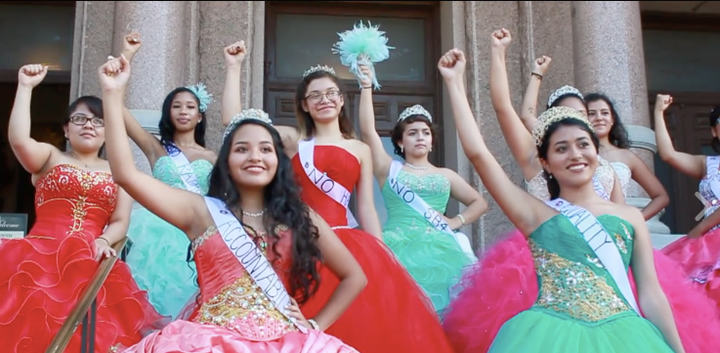 Young women really are the future.
On July 19, a group of 15 teenage girls staged a rally outside of the Texas State Capitol to protest SB4, a measure that effectively punishes "sanctuary cities" by allowing law enforcement to ask people about their immigration status if they're arrested. Minor infractions such as jaywalking or petty theft could lead to deportation. The measure, which was signed into law by Texas Governor Greg Abbott in May, has set off many protests and rallies.
The young women showed up to the Texas capitol building early Wednesday dressed in clothing usually worn at a quinceañera, a traditional Latinx coming-of-age party for a girl's 15th birthday.
Maggie Jaurez, a 17-year-old participant of the "Quinceañera at the Capitol," told NPR on Wednesday why it was so important to her to be involved in the protest.
"Using [this] quinceañera is showing that as an adult and as a Latina, we are responsible in voicing those who cannot speak for themselves in the moment," she said.
Watch a video of the rally below, posted to Facebook by Jolt.
After the rally, the girls met with the Texas lawmakers to discuss the harmful impact of SB4, Fusion reports. The teens gave flowers to the lawmakers who spoke out against the bill, and shared more information about the damaging effects of SB4 with the authors of the bill.
Tzintzun told NPR that Texas has become "ground zero" in the fight for immigrants and Latinos rights.
"This last election, we saw Mexicans and Latinos demonized and really scapegoated," she said. "And so we want legislators to know and Trump to know that we won't sit idly by while legislation of hate is passed, that our communities are going to organize and mobilize."
Scroll blow to see more photos from the day.