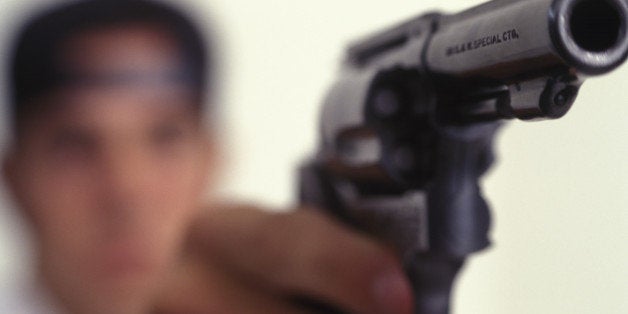 Schools need to do more than just improve their mental health services to prevent school shootings, argues a new report.
Researchers posit that recent mass shootings have prompted two general veins of discussion surrounding gun violence prevention: gun control and the need for increased access to mental health services. However, they say, these factors are only some pieces of a complex puzzle. According to researchers, a strict focus on mental health is "inadequate in providing us with a complete understanding of the factors that are associated with gun violence among youth."
To glean their findings, researchers analyzed the results of a nationally representative survey of adolescent behavior, ultimately collecting data points for 84,000 students from the years of 2001 to 2011. They specifically focused on the survey's question asking teens if they had carried a gun over the past 30 days, and then analyzed which other behaviors these teens had also engaged in.
Ultimately, researchers found that behaviors like drug use and fighting in school were more tied to one's likelihood of carrying a gun than behaviors like having suicidal thoughts or depression.
The image below, featured in the report, shows the behaviors most and least associated with gun possession.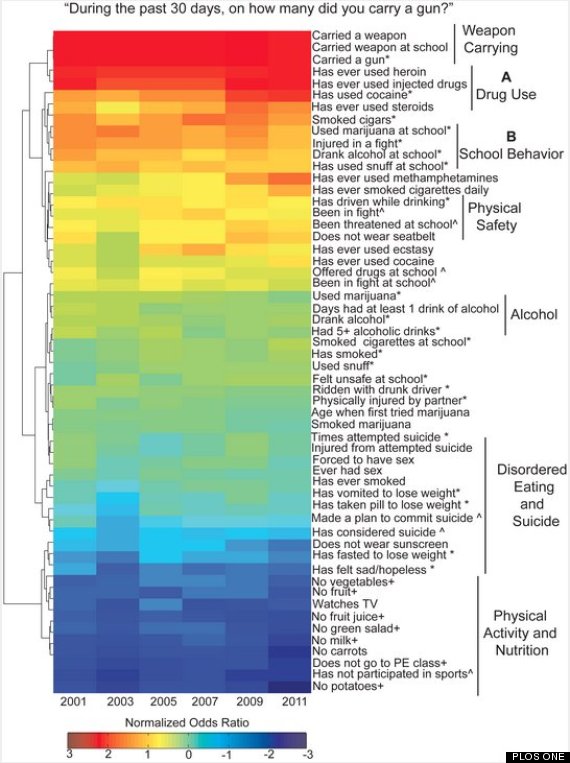 From "Gun Possession Among American Youth: A Discovery-Based Approach To Understand Gun Violence" by Ruggles and Rajan, PLOS One
"Youth that previously reported ever being sexually assaulted, having been threatened on school property, or report feeling unsafe at schools, those factors stood out as being strongly associated with gun possession," Rajan told The Huffington Post. "Mental health items did also appear in that mix, just not as strong as school safety factors."
In 2012 the Obama administration issued a list of recommendations for schools on how to create safer environments, urging schools to place trained police officers in the buildings and increase mental health services through guidance counselors or psychologists. But researchers argue that school culture plays an important role in preventing gun violence.
"The point really is that we need to look at the comprehensive whole child, all the different things making up how kids are feeling in their environment," said Ruggles.

"Our work takes [the recommendations] one step further and says we need to place an emphasis on the school environment, it's not just about addressing mental health -- but from a public health and prevention standpoint ... cultivating from a young age school environments where students feel respected by their peers and teachers and vice versa," said Rajan.
CORRECTION: A previous version of this story gave an incorrect title for Dr. Kelly Ruggles. Ruggles is from the NYU Langone Medical Center's Department of Population Health. It also gave an inaccurate description of the included chart, which actually shows the behaviors most and least associated with gun possession.
REAL LIFE. REAL NEWS. REAL VOICES.
Help us tell more of the stories that matter from voices that too often remain unheard.
BEFORE YOU GO
PHOTO GALLERY
The Most Popular Books For American Students