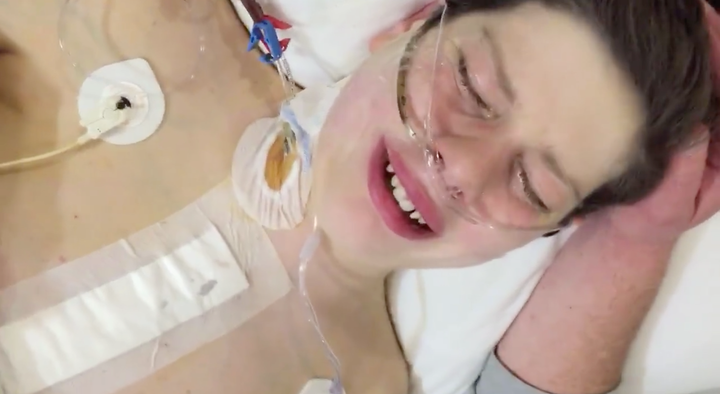 After many months of anxious, uncertain waiting, 15-year-old Trevor Sullivan was wheeled into an operating room last November to undergo heart transplant surgery. Doctors told his family that without the transplant, Trevor wouldn't have long to live. The procedure would also come with extreme risks.
Thankfully, Trevor survived the surgery, and when he emerged from the operating room, his first few words were utterances, not of pain or suffering, but of unbridled joy.
"I'm so happy. I've been waiting so long. I can breathe again," Trevor told them, through tears.
A video captured by Trevor's dad, Philip Sullivan, showed the teen in the moments immediately after his heart transplant surgery. The dad shared it last week on the Facebook page of Gift of Life Michigan, a nonprofit organ donation program.
The emotional clip has since been watched more than 1 million times.
Trevor's mom, Kimberly Sullivan, told ABC News that she was blown away by her son's post-op reaction.
Doctors discovered that Trevor's heart was failing last February. The teen went to the emergency room after suffering from what seemed like the ever-worsening symptoms of the common cold. What Trevor and his family didn't realize at the time, however, was that his body was struggling with something far more severe.
As a GoFundMe page set up to support Trevor's medical expenses explained, the trip to the ER quickly became "a living nightmare" for the teen and his family. Trevor was suffering from severe heart failure. He was immediately airlifted to C.S. Mott Children's Hospital in Ann Arbor, Michigan, where medical staff had to shock his heart twice to normalize his heartbeat.
"In laymen's terms, Trevor's heart is misfiring," the GoFundMe page said. "A normal heart rate for a 14-year-old is 85-100, his was 180-200."
Doctors told Trevor and his family that he would need a heart transplant to survive.
In April, Trevor's dad told MLive.com that his son's name was "at the top of the [transplant] list."
In the end, the family waited about nine months for the hospital's call. Trevor was finally wheeled into surgery on Nov. 13, a day after news arrived that a heart was available. 
The teen's mom said the surgery came not a moment too soon. 
"It makes us feel really good that he was able to be saved because it was getting really scary," Kimberly Sullivan told ABC News. "He was going down the wrong path until we got the call."
The teen knows nothing about his donor, but said he's incredibly thankful for the gift of life he's been given. 
"Even though we don't really know them and all, I'm just really grateful that they were able to give that to me," Trevor told WDIV.
Calling all HuffPost superfans!
Sign up for membership to become a founding member and help shape HuffPost's next chapter