Do you recognize this man?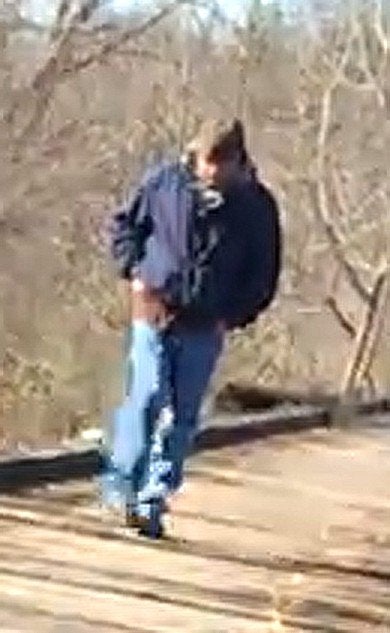 Authorities in northern Indiana want to speak to him about the deaths of 13-year-old Abigail Jay Williams and 14-year-old Liberty Rose Lynn German.
The bodies of the two teens from Delphi were found Tuesday, in a wooded area east of the city in Carroll County. Officials have declined to identify the girls' cause or manner of death, citing the ongoing investigation.
Two photos of the unidentified man were taken Monday – the same day the girls were known to be walking the Delphi Historic Trails. Authorities have not identified the source of the photos.
"We are asking help from the public to help identify him so he can be contacted regarding what he might have seen," Indiana state police said in a press release.
The girls were last seen alive at about 1 p.m. Monday, when they were dropped off near Monon High Bridge, an abandoned railroad structure. They'd planned to hike the Delphi Historic Trails before meeting up with family members that evening.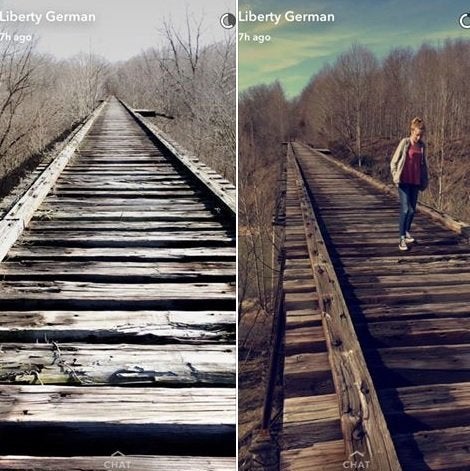 At about 2 p.m., Liberty purportedly uploaded at least two photos to Snapchat. In one of them, Abigail can be seen walking on the railroad bridge.
The teens were reported missing later that evening when they failed to show up at a designated meeting spot.
A search began late Monday, with police, firefighters and community volunteers scouring the trails. The search extended through Tuesday afternoon, when the girls' bodies were found along Deer Creek. Authorities said the crime scene is approximately three-quarters of a mile from where the teens were dropped off.
Some people on social media are speculating that one of the photos uploaded to Snapchat shows a person standing behind a tree: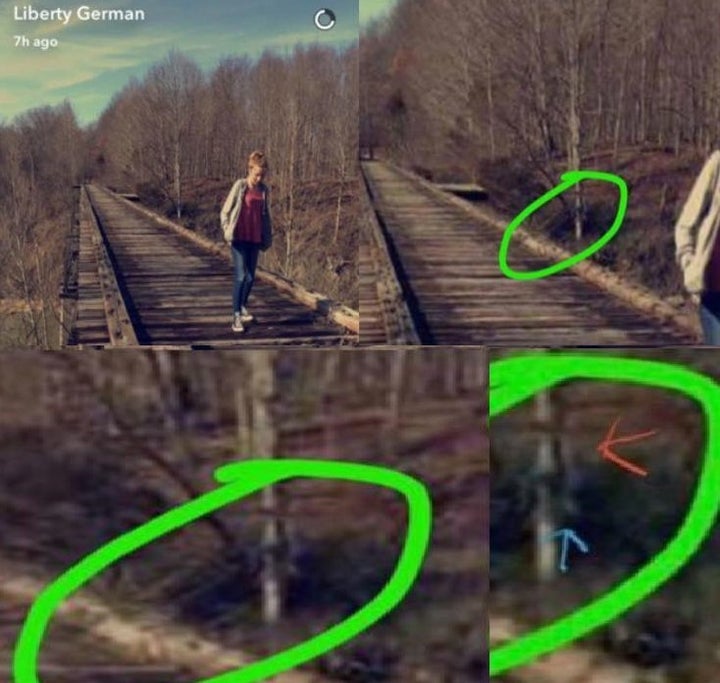 Authorities have declined to provide additional details.
"We don't really want to put out too much information at this point of time," state police Sgt. Kim Riley said at a press conference. "I know we're not giving you much, I understand that. But we're at the baby stages of this case."
The girls, both eighth-graders at Delphi Community Middle School, were reportedly longtime friends and classmates.
Greg Briles, the superintendent of Delphi Community School Corporation, called their deaths a "senseless loss" in a Wednesday afternoon tweet.
As the investigation continues, Riley asked parents in the community to be vigilant.
"There's somebody out there, somewhere," Riley said. "We don't know if it's a person who came in and left, or if it's somebody in the neighborhood."
Besides seeking information about the man in the photos, authorities are interested in speaking with anyone who was parked at High Bridge Trail Head on Monday, Feb. 13, between 1:00 p.m. and 5:00 p.m. Anyone with information is asked to contact Indiana state police at 765-567-2125.