When 18-year-old Madeleine Tarin began her senior year of high school, she knew she had to do one important thing at graduation: honor her parents by recreating a sweet family photo.
On June 1, Madeleine posted two photos side-by-side on Twitter. The first one was taken in 2000 at her mom's high school graduation. In the pic, Madeleine is sitting on the shoulders of her father, Dario Tarin, and her mother, Jacqueline Tarin, is wearing a graduation robe. The second photo shows the family in the same poses at Madeleine's high school graduation in Ontario, California, on May 31, and yes, Madeleine sat on her dad's shoulders again.
Madeleine told HuffPost she recalled having the photo around the house since she was in third grade. During her senior year (especially the moment she accepted her college admission offer), she knew she wanted to recreate the photo as a way to honor her parents and what they sacrificed for her.
Madeleine's mom became pregnant with her while she was still in high school, and, as Madeleine explained on Twitter, both her parents never let their young age keep them from giving themselves and her "a great life." She proudly used their story for her college admissions essay.
Madeleine, who will attend Rider University in New Jersey, said her parents loved recreating the photo with her and seeing the graduation pics side by side.
"I think it was an eye-opener for them to see how far they've come!" she told HuffPost.
The teen said she's happy with how she was able to celebrate a milestone in her life as well as her parents and their dedication to their family.
"I am extremely proud to be their daughter and sacrificing so much of their lives to be able to give my sisters and I such a great life," she said.
Related
Before You Go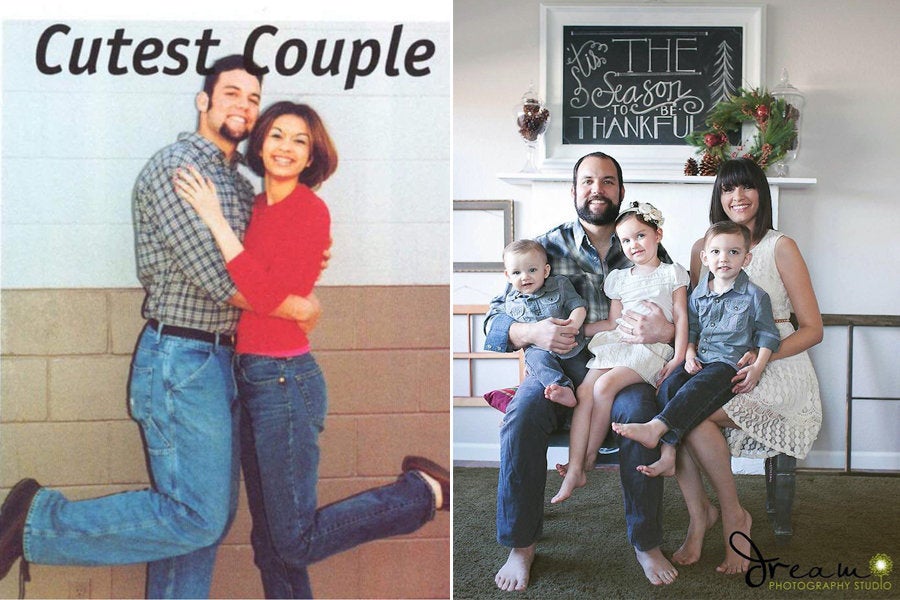 High School Sweethearts