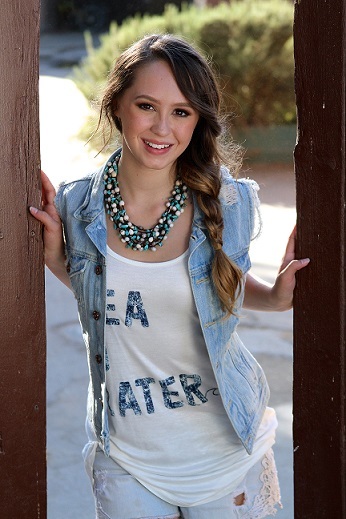 Hailey Sole can currently be seen on Netflix's Wet Hot American Summer: First Day of Camp
Instagram: Hailey_Sole , Twitter: @RealHaileySole , Facebook: Hailey Sole Photo by Kenda Benward.
Hailey Sole has a great smile. She really is the All American Girl. Which is kind of perfect considering she's in Netflix's Wet Hot American Summer: First Day of Camp.
The thing I like best about Hailey is that she's compassionate and caring. She truly does what she can to help the community.
People know you recently from CBS' Criminal Minds as Meg Callahan. Tell us about your Recurring Guest Star character, how you got the part and what it's like being directed by different people for the same role.
My character on Criminal Minds was Meg Callahan, the niece of the BAU (Behavioral Analysis Unit) agent Kate Callahan, played by Jennifer Love Hewitt. In the show, Meg was under the care of her aunt, because her parents were killed in the Pentagon attack on 9-11. Throughout the season, Meg and her best friend were talking online to someone who they thought was a boy, but that turned out to not be the case. Instead they were talking to a kidnapper who sold his victims to serial killers. In the season finale, Meg and her best friend were kidnapped, but Meg was able to create a distraction so her friend could run and get help. While she got away, Meg unfortunately was not so lucky, and ended up being sold off to a serial killer. At that point, my character went into survival mode, doing whatever it took to stay alive, which ultimately ended up saving her life.
When I arrived at the final audition, there were approximately five - six other girls going out for the same role. Each of us went in separately to audition in front of the casting directors, executive producers and the show's director. It's both exciting, and scary, because at that point, you are so close to getting the role, however, you never know what they're actually looking for. Naturally, I was so excited when I received the call the next day and found out I had been chosen to play Meg Callahan.
I was really fortunate to be a part of Criminal Minds, because the directors that I worked with were all great. They really understand the characters, even beyond what is printed in the script, and they really help their actors to achieve the best possible performance.
What was the best and worst thing about filming Wet Hot American Summer: First Day of Camp?
The best thing about filming Wet Hot American Summer: First Day of Camp was getting to work with an amazing cast and learning how to be a better improv actor. Also, there was never a dull moment, with lots, and lots of laughs.
The worst thing was that we had to wear summer clothing while filming in the winter! Some of the days, and especially the nights, were surprisingly cold. Other than that, the only other bad part about filming Wet Hot American Summer: First Day of Camp, is that it had to end. I really had so much fun working with everyone, and it was sad when it was finished.
What's your middle name, who named you and why did they pick Hailey?
My middle name is Christine, making my full name Hailey Christine Sole. Christine is also my Mom's middle name, and since I got my father's last name, he wanted me to have my mom's middle name, in order to always have a "piece of her" as well. My parents said they picked Hailey as a first name for a few reasons: 1) they wanted a name that none of my relatives had, 2) they wanted my name to be strong enough that if I was ever a business executive, my name would sound professional, and 3) my mom wanted me to be able to draw a heart over my "I" and swirl the tail of my "y".
What's the most important thing you think people need to understand in life?
I think it is most important to help others, and be happy with yourself. Not everyone is as lucky as we are, for example, not everyone has a steady job, money, cellular phone, computer, food, a roof over their head. So for those reasons, I think it is important to give back to the community. Take time out of your day to volunteer for different organizations. I realize how lucky I am, because one organization I volunteer for is Helping All Transients. By going down to skid row in Los Angeles, with sleeping bags, blankets, hygiene products, toiletries, clothing and food, you have an opportunity to help others, and at the same time, appreciate what we have ourselves.
The other important thing is being happy with yourself, and picking genuine friends who support you, and care about you.
What are your favorite old-time movies?
I love the movies Breakfast at Tiffany's, Turner and Hooch, and The Wizard of Oz! Although not exactly "old-time," another of my favorite movies is Independence Day, with Will Smith. [AUTHOR'S NOTE: Well, Hailey, if you liked Independence Day, then you'll LOVE 1983's "V" written and directed by the great Kenneth Johnson.]
How did you get started in show business?
Well I've always been more into the arts than sports, so when I was six years old my parents decided to put me into an acting workshop in Texas, where we lived at the time. There happened to be an agency at the workshop that liked me, so they asked us to come out to California to meet with me and my parents. While we were in Los Angeles, they had me go out on a few auditions. Fortunately, I wound up booking my very first Hollywood audition, and I became a recurring Guest Star on the show Private Practice, playing the role of Betsey Parker.
Do you have any siblings?
No, unfortunately I don't have any brothers or sisters. Most of the time, I love being an only child, but at times it can be kind of lonely. However, my parents say that if I wasn't an only child, we probably wouldn't have moved from Texas to Los Angeles, and that is what has allowed me the awesome opportunity to pursue acting.
What are three things about you that the world doesn't know...until now.
- I want to go sky diving once I turn 18
- If allowed, I'd love to just sit around all day binge watching Netflix
- I am terrible at thinking of interesting facts about myself
What was the last book you read and why did you choose that book?
The last book I read was called Thirteen Reasons Why. I chose it because my friend recommended it to me, and it also looked really interesting.
I love all animals, and I'm fortunate to have two cats (C.J. and Gracie), one dog (Chloe), and one bird (Sunshine). If I could have another pet it would definitely have to be a Pomsky (Pomeranian and Husky mix). They're adorable!
Do you believe that fairy tales can come true?
Wow, that's an interesting question. On one hand, I doubt I'll actually find my Prince by going around kissing frogs, but, I guess in another sense, fairy tales can come true. That's because most fairy tales are stories about overcoming obstacles and challenges, on the way to "happily ever after." In a sense, that part is just like real life - working hard and persevering, until your dreams come true.
Anything else you'd like to say?
I want to thank you for interviewing me, this was a lot of fun! I'd also like to remind everyone to watch Wet Hot American Summer: First Day of Camp on Netflix.
REAL LIFE. REAL NEWS. REAL VOICES.
Help us tell more of the stories that matter from voices that too often remain unheard.