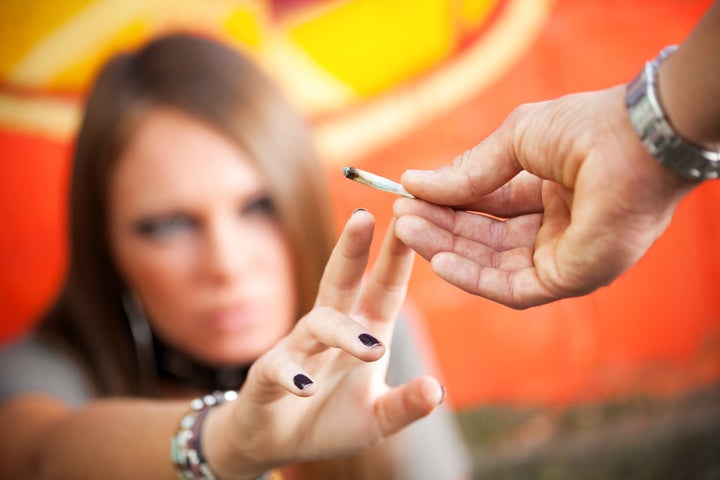 Recreational cannabis became legal in Colorado in 2012, and legal adult sales kicked off in 2014. The rate at which teenagers in the state report smoking pot has declined since these changes went into effect, according to data the Substance Abuse and Mental Health Services Administration released Monday from its National Survey on Drug Use and Health.
Roughly 11 percent of people ages 12 to 17 said in the 2014-15 survey that they'd used cannabis in the past month. That number went down to 9 percent in 2015-16. And the rate of that age group saying they'd used marijuana in the past year dropped from 18 percent in 2014-15 to just over 16 percent in 2015-16.
Past-month use among youth ages 12 to 17 is now also lower than it was before recreational pot became legal, dropping from roughly 10.5 percent in 2011-12 and about 11 percent in 2012-13.
The data showed a similar decline in marijuana usage among people of that age range in Washington state, where legal adult sales also started in 2014. The rate of past-month marijuana use among 12- to 17-year-olds in Washington dropped from roughly 9 percent in 2014-15 to just under 8 percent in 2015-16.
In Oregon and Alaska, which also have legal recreational weed, rates of use among youth aged 12 to 17 have stayed roughly the same.
"The days of arresting thousands of adults in order to prevent teens from using marijuana are over."
Brian Vicente, one of the lead drafters of Amendment 64, Colorado's recreational marijuana law, said that increased penalties for selling to minors and stricter ID checks could be partly responsible for helping curb cannabis use among minors.
"The days of arresting thousands of adults in order to prevent teens from using marijuana are over," Vicente said in a statement.
"These survey results should come as welcome news to anyone who worried teen marijuana use would increase following legalization," he said. "As a proponent of Amendment 64 and a parent of two young children, they certainly came as welcome news to me."
More than a dozen states passed legislation to legalize cannabis for medical or recreational purposes between 2002 and 2014, and other research has found results similar to those in Monday's release.
A study released last year by SAMHSA and the Centers for Disease Control and Prevention found that rates of marijuana use were up among all age groups except teens ages 12 to 17, whose usage rates hadn't significantly increased or decreased. Daily or almost daily marijuana use among teens had dropped from 2.4 percent in 2002 to 1.6 percent by 2014.
The CDC study also showed that young people increasingly perceive marijuana to be both less harmful and more difficult to obtain than they once did, which could partly account for the decrease in usage.
Popular in the Community