Melissa Harris-Perry had harsh words for New York mayor Michael Bloomberg on Saturday.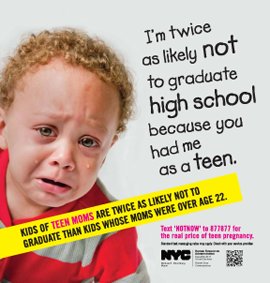 In the public health campaign, photos of young toddlers are paired with text that many have criticized as shaming young parents. In one ad, a toddler is shown with tears streaming down his face. "I'm twice as likely not to graduate high school because you had me as a teen," the ad reads.
Another one says: "If you finish high school, get a job, and get married before having children, you have a 98% chance of not being in poverty."
"That is the kind of misleading statistic that might lead some people to, you know, blame young mothers for America's deepening poverty crisis rather than putting the blame where it belongs, on a financial system that concentrates wealth at the top and public policies that entrench it there," Harris-Perry said.
Since the ads went up in New York City subways and bus shelters, many have taken issue with the messaging.
"Teen pregnancy prevention campaigns DO NOT have to be at the expense of a teen mom's dignity. It doesn't work, it isn't fair, and it's only perpetuating a stigma that further increases the isolation of young parents who need support," wrote one blogger and teen mom at The Push Back. "It's this very concept of shaming teen moms that drives us into a deeper hole of isolation."
Watch a video of Harris-Perry's remarks on the ads above.
Related
Popular in the Community