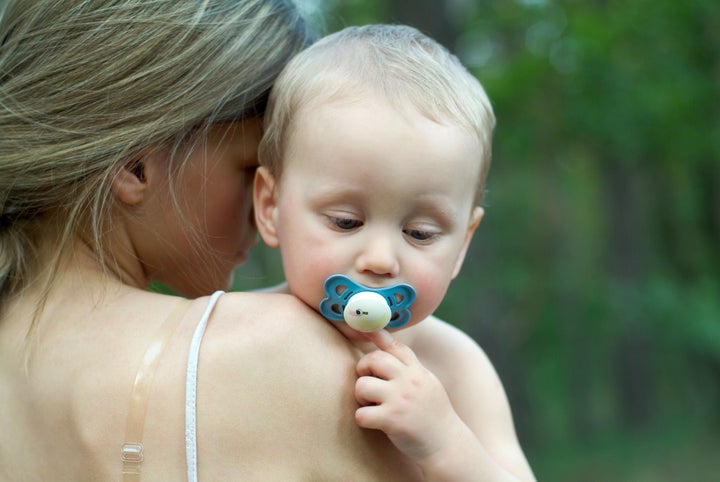 A typical day for a college girl consists of going to class, hanging out with friends, maybe catching an episode of Jersey Shore and meeting up later with your boyfriend. But for college student Jessica Rhoads, 21, every day is unpredictable, and in a much different way than debating whether to go out on a Tuesday night or what to wear on a date next week. Jessica is the mother of a two-year-old son, Aidan, and she says, "Between my son's needs and my reaction to them, it's always different." When Jessica first found out she was pregnant, she said it didn't feel real. "I imagined having a little boy, but it felt like a dream I would wake up from. I then imagined telling my parents and how hard that would be." Luckily for Jessica, her family was supportive upon hearing the news, even offering to help support Jessica and Aidan while she stayed in school. Regina Morin, 20, also received support from her family when she told them about her pregnancy, since her parents knew what it was like to raise a child at a young age. "My mom was very supportive. She was also 19 when she became pregnant with my brother. My dad wasn't thrilled, but he couldn't really scold me because he had two children by the time he was 20." Regina was a freshman at Bowling Green State University last year when she found out she was pregnant. She says she knew immediately she was going to keep her child, and was grateful for her family's support. However, not every potential grandparent was excited upon hearing the news. Her boyfriend's father seemed less willing to support the young couple than everyone else. "His father was not as supportive," said Regina. "It took him a while to come around and ask how my pregnancy was coming along, but eventually he did." After nine months of doctor visits, baby books, and multiple baby showers, Regina's son Caiden was born in April. Regina had some understandable birthing jitters. "The first thing that went through my mind when I found out I was pregnant was, 'How the hell am I going to give birth?!'" she said.
Jessica describes childbirth as surreal. "I had an epidural that worked wonderfully, so I didn't have much pain until it came to pushing." Unfortunately, Aidan's day of birth didn't go as smoothly as Jessica would have liked. "My only regrets are not having taken more pictures during and immediately after his birth, and I would have liked more support from Luis." Luis is Aidan's father, whom Jessica feels doesn't support her enough. "He's not very expressive with support or appreciation, and after a while that really wears on me," Jessica said. "We're talking and trying to work things out, but things seem to always be the same arguments." They've been to counseling together, but she is still frustrated with his lack of effort. "It helped with certain things, but you only get out of it what you're willing to put in, and it seems he doesn't know how to put much more in." Conversely, Regina has been dating her boyfriend Anthony for four years, and is happy with the role he is playing in Caiden's life. "I never realized how important it is for the father to be around so early in a baby's life." Jessica agrees on the importance of a father figure, noting that Aiden already looks up to Luis. "His father is very important to him, he wants to be just like him a lot of the time," she said.
Despite the huge responsibility of raising a child, both young women plan on continuing their college education. Jessica is a senior at Ohio Wesleyan University studying geology, and knows how important it is to get her degree. After graduation she plans on finding a job and moving out of her parents' house. "I'd like to settle somewhere permanent before he goes into elementary school so that he doesn't have to move around a lot, but that all depends on opportunities I can find," she said. Regina has recently transferred to Ohio State University to be closer to her family and Anthony, and has even found a job at Caiden's nursery. The combination of mother and student is a role she is still getting accustomed to. "I do still identify as a college student because I enjoyed the lifestyle so much. I identify as a mother as well, but I know women who identify as a mother and they let that title consume their life." Through their education and future plans, Regina and Jessica plan on being role models for their sons. "I plan on working hard in school and work to give him a good childhood, and teaching him that learning and spending time with family and friends is more important than the cool toy everyone else wants," Jessica said. "My parents have always worked hard, which I admire, and I want to set the same example for Caiden by continuing my education," Regina said.
Regina says the biggest surprise of being a mother so far has been the connection she has with her son. "It's cliché, but I cannot remember what life was without him. He feels like he has been in my life for so long." But being a young mother does come with its expected criticisms. "I get really frustrated when someone tells me what they think I should do with my child," Regina said. "This type of thing hasn't happened too many times yet, but I can already see how more and more people will give me advice I don't want in the future when it comes time to rearing and disciplining Caiden."
Jessica said she sometimes feels underappreciated for how hard she works. "A lot of times I feel like I don't get the recognition I could be getting, but I think about how it makes me feel knowing I do all that I can and it helps."
Jessica makes an effort to stay positive, although it is easy to get overwhelmed with the burden motherhood puts on her everyday life. "I try to remind myself every day that I'm not just waiting for something, now is the time to live and do what I'd like to do and be the person I want to be. Sometimes it's hard looking towards the future and having big goals like that on your mind a lot, so I have to remind myself to stay in the now."
Popular in the Community